The increasingly relevant Valour Consultancy recently suggested to Runway Girl Network that companies like Rockwell Collins and SITAONAIR are naturally well positioned to steer the inflight connectivity industry if and when significant M&A activity takes place (with the most likely M&A scenario entailing vertical integration, whereby a satellite operator would purchase a service provider, according to the UK firm).
So, RGN put some pointed questions to SITAONAIR chief technology officer Gregory Ouillon during an interview at the APEX EXPO in Boston.
Is M&A necessary? Surprisingly, Ouillon said:
I think M&A is not necessary. I think M&A is part of the OEM culture, which is 'as a large aerospace and defense group, I want to have control so the first thing I want to do is buy you' and you have to be very clear that several actors have very different positioning in this world and are not interested in consolidation or M&A because they feel that this is not in the interest of aviation overall.

So SITAONAIR – and SITA Group – is part of these companies that say 'we do not think that M&A is a strategic plus for the aviation industry overall.'

If everybody focused on being good where they're good, and be in a world where we all maximize aircraft footprint by collaboration, then that's a better world for aviation.
But while M&A in IFC apparently isn't on SITAONAIR's agenda, the company is a big fan of strategic collaboration in the industry such as the agreement forged between Inmarsat and Panasonic Avionics. And indeed, SITAONAIR appears well-positioned to benefit from the partnership, as it is a service provider to the Inmarsat GX service which Panasonic is now selling to new customers, and it has already worked closely with both firms to facilitate the Emirates IFC deployment of Inmarsat SwiftBroadband- and Panasonic Ku-supported connectivity as both integrator and ISP.
Moreover, SITAONAIR has made it abundantly clear it is willing to work with rivals, with management previously telling RGN that airlines want the different players to work together.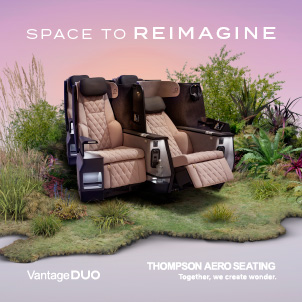 Ouillon agreed that SITAONAIR would be a natural partner to be brought into some of the discussions that Panasonic is having with IFE customers concerning GX, and that the Inmarsat/Panasonic collaboration could potentially mean more business for SITAONAIR.
At the same time, however, the pact does not give SITAONAIR any sort of favored nation status, and SITAONAIR  continues to pitch its open cabin offering "and defend the passenger interest", he said.
To be clear, the Inmarsat/PAC arrangement was not a surprise to SITAONAIR, said Ouillon. "If you recall, for the last few years now we say, 'footprint, footprint, footprint', and at the end of the day, this vertical world will end up because to get access to aircraft, at some stage you need to be pragmatic and do what you do best."
In so doing, IFC stakeholders can not only make some money but also get the type of unit costs required for sustainable business. Ouillon noted that if an airline has "five different portals because you have five different providers, that means you pay five times the cost. So, at the end of the day, the ability for an airline to pick the best in a loosely-coupled choice where they choose satellite, they choose IFE, they choose their satcom and they choose their ISP, that makes sense for them. That's what we defend." As we've learned, Lufthansa is among the airlines that wants to cherry pick in this regard.
Interestingly, SITAONAIR has already been doing some strategic collaboration of its own with (sometimes competitor) Teledyne. The two firms are presently rolling out an ACARS terrestrial data link cellular solution, which will not only support at-the-gate transmissions but also inflight transmissions, as detailed in a recent update on RGN).
SITAONAIR is also looking at doing the same with Astronics Ballard Technology, as it has "a very good and promising relationship" with the firm, and some of the "en route IP connectivity will be delivered through Ballard as well", said the SITAONAIR CTO.
Related Articles:
Featured image credited to istock.com/shironoso