Intelsat leases Ku-band satellite bandwidth, and that bandwidth may very well be in use already by inflight connectivity service providers to support broadband Internet on business jets. But Intelsat has never offered a service specific to the business aviation community. That is until today.
In back-to-back announcements that dropped at the big NBAA convention in Orlando, Intelsat both launched its new managed end-to-end service called FlexExec for business aviation, and revealed that Satcom Direct will serve as master distributor, as part of the new SD Xperience platform.
"By having one, cohesive network, service providers will immediately gain operational efficiencies and be in a stronger position to simplify the inflight experience for flight departments," said Intelsat in a statement.
Significantly, FlexExec is unique in that it is dedicated to the business aviation community. So, while the capacity will come from Intelsat's global, multi-layered fleet of 50 Ku-band satellites (including its six Epic high throughput satellites), it will not be shared amongst commercial aviation or consumer broadband customers.
This is a crucial aspect of the alliance, because business jets can quickly encounter congestion on satellite beams if commercial airliners are sucking up the capacity. To put the issue into perspective, that same Intelsat network currently counts at least 2,865 Ku-transmitting aircraft across more than 60 airlines. And these aircraft are supported by rival inflight connectivity service providers Global Eagle, Gogo, and Panasonic Avionics.
Speaking to Runway Girl Network in advance of NBAA, Intelsat VP and general manager, mobility Mark Rasmussen explained that FlexExec represents "our first service for business aviation, period", and because the capacity isn't shared, it is about bringing a service platform to the space that has never existed before.
Moreover, Satcom Direct will be able to craft its own plans, whether they be power-by-the-hour, high-speed plans, lower-speed plans, limited or unlimited plans to name just some of the options. In short, Satcom Direct has "enormous amounts of flexibility there and the sky's the limit then for them on how they go to market" and how they target users more specifically, says Rasmussen.
To be clear, the arrangement between Intelsat and Satcom Direct is not exclusive, "but our intention here is that SD is our master distributor and they're going to bring the best value out there whether for business aircraft owners or other distributors that want to join up and participate in FlexExec", adds Rasmussen.
Satcom Direct supports 7,000 business aircraft in service today, and has deep relationships with the OEMs, which is very important in this part of the industry. And because OEMs are increasingly looking for guidance on connectivity – and want to know which providers are going to be around for the long run – "that's where Satcom Direct is really bringing a special value here for our relationship and jet owners", notes the Intelsat executive.
Satcom Direct already has a relationship in place with Panasonic Avionics, which has addressed the business aviation market in partnership with Astronics, with the latter contributing its T-210 and T-220 tail-mount antenna packages to the project.
But Satcom Direct, in a press release today, said the FlexExec architecture will be delivered "via the upgraded AeroSat FlightStream (T-310) tail-mounted antenna system". And in a later statement, Astronics said its FliteStream F-310 and T-310 satcom products would be the "first to become qualified for the Intelsat business aviation service". It remains to be seen if Panasonic – or indeed other Ku-band inflight connectivity providers – intends to tap Satcom Direct for the FlexExec packages to support their business aviation clients.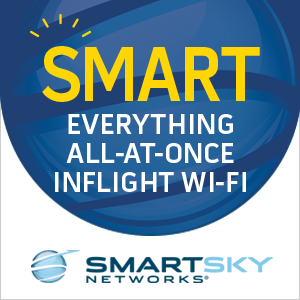 Meanwhile, when it comes to the battle over who is promising the highest speeds or most capacity in the business aviation market, Intelsat is opting not to participate in that conversation, with Rasmussen telling RGN he believes there is far too much hype out there with people making "crazy claims" about the speeds they can offer and the number of Mbps that passengers should expect. "We're doing it differently, bringing a lot of throughput to the network, but that will show up with more consistency to business jet customers."
News that Intelsat is more formally jumping into business aviation comes at a time when the industry is on an upswing after suffering in the doldrums for several years. The Honeywell Global Business Aviation Outlook forecasts up to 7,700 new business jet deliveries worth $251 billion from 2019 to 2028, up 1 to 2 percentage points from the 2017 10-year forecast.
Intelsat's Rasmussen agrees that the timing for Intelsat's entry represents "good fortune". He notes that Intelsat has been "working on this for quite a while, it's ready to go, it's operational, we haven't waited around to do it. We did it in a disciplined and methodical manner. We put the network in place, aligned our partnership with Satcom Direct, and now we're ready to go. The BizAv market is trending up and that's good for us. We're going to benefit from that."
Related Articles: