It's not every day you read a press release announcing bad news. That's why, when humidity control systems specialist CTT Systems this week published a statement revealing that its Zonal Drying equipment had been "de-selected" by Boeing on the 787, it came as a surprise.
The de-select of Zonal Drying, a system that prevents condensation, will lead to lowered OEM sales and have a financial impact on CTT from the end of 2019. It is a consequence of Boeing's decision "to remove the Moisture Control System (MCS) as basic equipment on the 787″ and is "consistent with other Boeing airplanes utilizing crown ventilation via upper recirculation air", according to the CTT statement.
"CTT Systems will remain a supplier for the 787, supporting humidifiers to flight deck and crew rest compartments," added the firm.
On reading the news about the Zonal Drying system, a frequent traveler asked on Twitter if Boeing's decision would change the humidification for passengers, leading to a negative #PaxEx. So RGN put the question directly to CTT.
Tomas Torlöf, chairman of the Swedish firm, assured that removal of Zonal Drying has no impact on the passenger experience, as the Boeing 787 program "has never offered humidifiers for the passenger cabin". The now-deleted Moisture Control System, he explained, "is designed to prevent fuselage condensation and moisture build-up. MCS co-exists with passive means for [a] total solution on condensation issues."
In short, the humidifier offering on the 787 remains unchanged, as supplier furnished equipment (SFE) for flight deck and as basic in the optional crew rest compartment, said Torlöf. "Selection rate for flight deck on global 787 fleet is approximately 85%."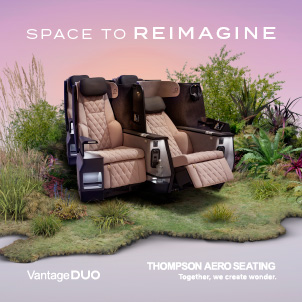 However, even though CTT cabin humidifiers have never been available for linefit on the 787, such a system did debut as linefit on the Airbus A350 (in Zone 1 – 3), and is also offered as optional on the Boeing 777X.
"During 2018, four airlines have selected humidifiers on board their A350 and Boeing 777X to be linefitted in first and business class. First entry-into-service will be China Southern Airlines (in business class on A350-900 – June 2019)," said Torlöf.
Moreover, CTT last month announced that an undisclosed airline had selected the so-called Inflight Humidification (IFH) system for linefit installation on its entire A350-900 fleet beginning in the second half of 2019 and running through 2023.
The IFH system ensures that a cabin climate is "optimized for wellbeing" as it replicates earth conditions, according to CTT. "Modern widebody aircraft, such as the Boeing 787 and A350, have made great progress in lowering cabin altitude, reducing noise and vibrations, generating draft-free and fresher air, multiple temperature zones and advanced mode lightning."
Explaining why the level of humidity is the "next cabin climate feature" poised to elevate the total cabin environment experience, CTT stated:
Although basic configured A350 and Boeing 787 aircraft obtain a passive increase in humidity of 1-2 % RH, it is still far too dry – drier than any of the driest climates on earth.

In a business class cabin, without a humidification system, air humidity is only 6-10 % RH. By selecting optional cabin humidifiers, available as SFE on both Airbus A350XWB and Boeing 777X, passengers can benefit from [the] best cabin environment in the air.
Although Boeing's decision to de-select Zonal Drying on the 787 represents "an unwanted change for CTT Systems, our target market for Zonal Drying is primarily single-aisle aircraft", commented Torbjörn Johansson, CEO at CTT.
"We are pleased to notice that our humidifiers in flight deck and crew rests are frequently selected on Boeing 787 and highly appreciated amongst pilots and crew."
Related Articles: