Global Eagle Entertainment Inc. has announced Canadian North Airlines as the first customer for Global Eagle's new product, Airconnect Go, a portable wireless in-flight entertainment solution.  Airconnect Go draws on Global Eagle's award-winning Airtime entertainment platform and content leadership to allow quick deployment of a proven and superior passenger experience.
"Every passenger expects entertainment and Airconnect Go is a high-quality portable system that takes advantage of Global Eagle's industry-leading passenger entertainment platform," said Per Norén, Executive VP and Chief Commercial Officer of Global Eagle. "We thank Canadian North for being the launch customer and we expect a significant number of airlines to follow."
"Throughout Canadian North's history, we have continually grown and innovated for the benefit of our scheduled service and charter customers, always with warm hospitality and an unyielding commitment to safety," said Steve Hankirk, President of Canadian North. "The launch of top-notch inflight entertainment options will further enhance our onboard experience. We're thrilled to be working with Global Eagle to introduce this exciting new inflight amenity."
The first deployments for Calgary, Canada-based Canadian North will be during December 2018 with four Boeing 737 aircraft. Canadian North operates daily scheduled flights to, from and across Canada's vast Arctic region. It also operates charter flights in North America and beyond for energy companies, sports teams, tour operators, cruise lines, government agencies and other large groups.
Airconnect Go: The Best Combination
Airconnect Go, which was unveiled in April 2018 at the Aircraft Interiors show in Hamburg, combines a reliable hardware system with Global Eagle's Airtime services, including a proven passenger experience and entertainment packages with industry-best movie, audio and video offerings. The product is so compact it can fit into the overhead bin of most commercial aircraft. A single Airconnect Go system, which is not much bigger than a loaf of bread, can stream concurrently to over 50 users. Passenger analytics can be tracked using Global Eagle's Airview reporting system.
The system is a low-cost and fast option for airlines. There is no hardware to install and the system complies with avionics standards without the need for additional aircraft certification or Supplemental Type Certificates (STCs). Passengers can use their own devices to stream content. Airconnect Go integrates Airtime's leading Digital Rights Management capabilities, enabling passengers to play back content via their web-browser without an additional application being required for Apple iOS or Google Android devices and laptops.
Global Eagle has experienced interest in Airconnect Go from a variety of airlines, including large and full-service carriers with service gaps, regional airlines, charter carriers, airlines with small or leased fleets and other companies where the combination of low-cost and high quality is the goal.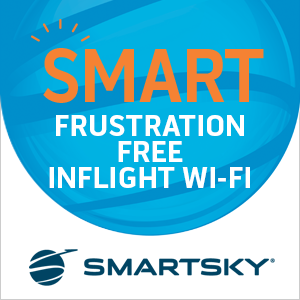 About Canadian North
Canadian North and its founding companies (Canadian Airlines, Pacific Western Airlines, Transair, Nordair) have proudly served Canada's North with passenger and cargo services for more than 80 years, with scheduled flights to 16 destinations in the Northwest Territories and Nunavut, via the southern gateways of Edmonton and Ottawa. Canadian North is also the premier provider of air charter services for large resource sector clients requiring dependable, efficient and economical fly-in/fly-out charter services, as well as charter flights across North America for sports teams, cruise lines and large groups. Canadian North is a subsidiary of the Inuvialuit Development Corporation, representing the Inuvialuit of the Western Arctic.
About Global Eagle
Global Eagle is a leading provider of satellite-based broadband connectivity, television and entertainment services, content and data analytics to aviation, maritime, enterprise and government markets. Global Eagle offers a fully integrated portfolio of rich media content and high-speed connectivity solutions for airlines, private jets, cruise lines, commercial ships, super-yachts, ferries, enterprise, government and military installations worldwide with proprietary performance-enhancing technologies and exclusive access to premium media. With 1,400 employees on six continents and leading global satellite and ground networks, the company delivers exceptional service and concierge support to its customers.