In a move that will surely stun many in the industry, long-time rivals Inmarsat and Panasonic Avionics have agreed a strategic collaboration that will see Inmarsat become Panasonic's exclusive provider of Ka-band inflight connectivity in commercial aviation.
The arrangement, which covers an initial ten-year period, means that Panasonic will now be able to offer Inmarsat's Global Xpress (GX) Ka-band connectivity to airlines, while continuing to invest in its own Ku-band network.
Crucially, however, GX will be sold as "a primary offering for new business" by Panasonic, and indeed will be positioned "to serve both its current and future customers" in what seems to be a tacit admission by Panasonic that it sees Ka connectivity as the future despite its own significant investment in Ku systems and satellite capacity for well over a decade, and despite its recent efforts to vastly improve data rates in the face of airline and passenger complaints.
Panasonic tells Runway Girl Network that despite its new collaboration with Inmarsat, it plans to stay the course with its already-announced Ku connectivity investments to support legacy customers. In March of this year, after years of broadly discussing the launch of extreme throughput satellites (XTS) in the Ku-band, Panasonic announced it will be anchor client on the high-capacity APSTAR-6D satellite, which has been jointly designed by China's APT Mobile Satcom Limited and Panasonic. The company in an interview with RGN says it will move forward with buying APSTAR-6D capacity, and is looking to add XTS capacity over America and Europe.
"For over 10 years, Panasonic has remained steadfast in its commitment to the connected aircraft. Still, many airlines have more than one connectivity partner, and this strategic collaboration ensures that even more airlines have access to a wide variety of industry-leading digital solutions," says Panasonic Avionics CEO Hideo Nakano in a statement.
By adding GX to Panasonic's NEXT inflight entertainment and connectivity ecosystem, "we're recognizing the need for IFC consistency across multiple fleets, and enabling digital solutions and services with unified customer support. It's really a win-win for customers," he adds.
The deal is not all one-sided, however. Panasonic is the leading provider of embedded IFE to airlines. Inmarsat will now be able to offer Panasonic's portfolio of services and NEXT solutions to its own airline customers. This includes customer support services available from Panasonic's Customer Performance Center and Technical Services teams.
"The collaboration, which is already being deployed with a mutual customer, presents a unique opportunity to leverage Inmarsat's proven track record of high-quality and innovative global mobile connectivity, and Panasonic's market-leading inflight entertainment, digital services and connectivity solutions," say the two firms in a statement.
Their surprising team-up comes at a time when the inflight connectivity sector is seen as ripe for M&A activity and creative collaborations, as multiple loss-making companies are scrapping it out to secure aircraft tails for their disparate connectivity systems. And it falls on the heels of fresh rumors in the industry about interest in inflight connectivity provider Gogo, the troubled Chicago-headquartered firm which has been focused on rolling out its next generation 2Ku satellite connectivity solution. Interestingly, Gogo and Inmarsat once had their own agreement for Gogo to offer GX, but that fell through a few years ago.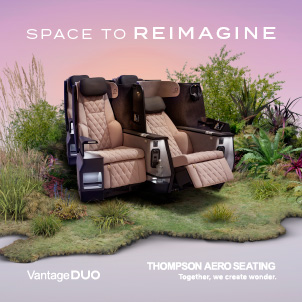 "Today's landmark announcement is clear evidence of Inmarsat delivering on its strategy and strengthens our conviction that, building upon the success of the global GX network, aviation will be a significant individual growth driver of our overall business. It also demonstrates Inmarsat's commitment to becoming the reference IFC network for airlines around the world," says Inmarsat CEO Rupert Pearce in a statement.
"We look forward to working closely with Panasonic as we develop the relationship and accelerate our respective innovation roadmaps to ensure we continue to provide airlines and passengers with the world's leading IFC experience."
Going forward, Inmarsat and Panasonic will collaborate on the development of a next generation GX terminal for aviation, as well as new connectivity-enabled services, data analytics and technology to improve overall end-to-end performance.
Related Articles: