This week's surprise announcement that Panasonic Avionics and London-headquartered satellite operator Inmarsat have agreed a strategic collaboration that will see Inmarsat become Panasonic's exclusive provider of Ka-band inflight connectivity in commercial aviation prompted some industry stakeholders to speculate that this development means the inflight entertainment and connectivity giant won't continue to invest in its own Ku-band network as previously planned.
But with a shortage of Ku capacity in the market – as recently expressed by Intelsat – Panasonic tells Runway Girl Network that it intends to move forward with its investment in extreme throughput satellite (XTS) capacity, even as Inmarsat's Ka-band Global Xpress service will be sold as "a primary offering for new business" by Panasonic to airlines. This will ensure that Panasonic is able to meet the needs of its legacy Ku-band connectivity customers, and ergo the passengers that rely on this service to stay connected in-flight around the globe.
Earlier this year, Panasonic announced it will be anchor client on the high-capacity APSTAR-6D satellite, which has been jointly designed by China's APT Mobile Satcom Limited and Panasonic. Asked by RGN if this arrangement is still in play, Panasonic senior VP network operations Ian Dawkins confirms that it is indeed still in play, adding that Panasonic is in negotiations with other providers for XTS coverage over America and Europe.
Referencing XTS satellite capacity, Dawkins says: "We see that as extremely important for our existing customers…"
More than 2,000 aircraft operate over Panasonic's Ku network today, notes Dawkins. And overall, Panasonic has "commitments of well over 3,500 aircraft on that network." Is there any discussion  to replace Panasonic Ku connectivity systems with Inmarsat's GX offering? Is rip-and-replace being considered on any level?
Says Dawkins: "I think from Panasonic's side is, these are very early stages in negotiations even though we have been working with Inmarsat for the last 10 months on this, and this is something that has been well thought through. At this stage, we're not going to encourage … we leave it up to the customers to make those decisions going forward.
"We've got two very good offerings and what's going forward is we will support what the customer wants. It's about providing high quality services to the airlines and to the passengers."
Explaining the alliance with Panasonic further, Inmarsat CEO Rupert Pearce tells RGN: "This is a ringing endorsement of GX for aviation and a wonderful, wonderful collaboration between two leaders in their field … We are the leader in mobile satellite services by a country mile. We've specialized in aviation for nearly 40 years. This is a ringing endorsement of our latest network and the projection of the future growth of GX and the new satellites that come in. It's also an endorsement of … Panasonic [which] is by far the leader in inflight entertainment and connectivity 'touch services' to the aircraft. We're bringing the best of the best together in an alliance that I think transforms the potential for global coverage and high-quality inflight connectivity and that's what's incredibly exciting for this market, for passengers, and also in due course for the connected aircraft market.
"So whilst Ian [Dawkins] has quite rightly focused on the fact that in no way will Panasonic fall short in providing its installed base with tremendous Ku-band services and capabilities, which is rightly their focus, looking forward to new customer wins, new aircraft wins, we are in a strategic partnership today that is game-changing in terms of the quality and consistency of what we can deliver and that's why we at Inmarsat are so delighted to be the primary offering for new business for inflight connectivity in this alliance. And we will go out there arm-in-arm with this transformational alliance.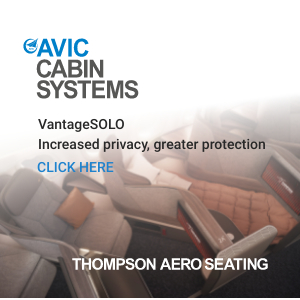 He continues, "That's why this is a very important day for inflight connectivity as a marketplace because Inmarsat and Panasonic believe that unless customers have a fantastic experience on the aircraft in terms of coverage, consistency and quality into the long-term – and this is a 10-year alliance – then this market will not take off. So, we intend together to be thought leaders and innovators at the cutting edge of this marketplace. And that's the takeaway from this alliance. It's not looking back, it's looking forward."
In terms of capacity, Inmarsat has four GX satellites in orbit, with two additional GX payloads launching on the two I-6s, a forthcoming GX-5 satellite for the Europe and Middle East, and additional flexible satellites launching thereafter. Pearce says Inmarsat intends to  continue to invest "hand-over-fist in a global end-to-end managed network that will seamlessly agglomerate GX-5, Inmarsat 6 F1, Inmarsat 6 F2, and the new era of GX flex satellites that will be appearing just over the horizon.
"In other words, we will continue to focus on the model of delivering an incredibly high-capacity, low-cost, high-capability network that just evolves as satellite after satellite is launched into it."
Related Articles: