Achieving more than 900 installs within a decade is not the stuff that inflight connectivity dreams are made of. But for Global Eagle, which has worked to surmount a number of challenges in recent years, it's a solid base from which to grow. To that end, the Los Angeles-based firm is increasingly approaching the airline market as a connected entertainment provider.
The 900+ connectivity install figure includes 700 tails at Southwest Airlines that are fitted with Global Eagle's Ku-band satellite-supported solution. But it doesn't include Global Eagle's wireless IFE installs. When those tails are factored in – including hardware at India's Jet Airways, which streams cached onboard content but is expected to ultimately get connected – Global Eagle's tally grows to an installed base of over 1,000, a milestone it recently celebrated in a press release.
Already a leading content service provider to airlines and maritime – Global Eagle is the largest independent distributor of Hollywood, Bollywood and Chinese content – the firm has been pursuing what it calls a "contentivity" approach, which describes how it delivers fresh entertainment content to wireless and embedded entertainment systems on aircraft via inflight connectivity, and sees a melding of entertainment and connectivity.
During the firm's second quarter earnings conference call, CEO Josh Marks further explained:
"[A]s entertainment and connectivity converge, delivering a great connectivity experience requires more than a big satellite pipe and reliable equipment. It requires portal interfaces that are the gateway to the connected and entertained passenger. That portal helps drive efficient delivery of media and television services that passengers demand."
It's true that Global Eagle's "contentivity" story remains heavily tied to Southwest, which offers nearly all of the services Marks describes – the portal, web browsing for $8, free live television, cached entertainment content and advertising. The live connectivity portion of Southwest's offering does not presently support a streaming class of service for passengers. Nonetheless, it has seen a meaningful improvement in the last year with the benefit of more Ku-band satellite capacity, and in the face of competition from the carrier's second source provider, Panasonic Avionics.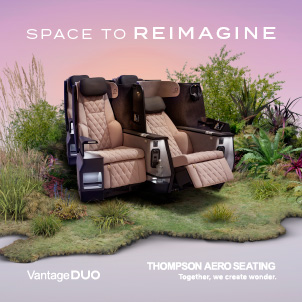 Having a major anchor airline customer – as Gogo enjoys with Delta – has doubtlessly contributed to Global Eagle's longevity in the connectivity space, though naturally it hasn't guaranteed profits. Norwegian remains the firm's second largest customer in terms of connectivity-fitted tails. However, unlike Gogo, which recently came clean about its hardware subsidies, Global Eagle has long insisted that it charges for its connectivity hardware. It then tailors the offering for each airline, adding entertainment and supporting sponsorships of such.
Consequently, Global Eagle's connectivity and content teams are working far closer together these days. It's "driving good results" said Marks. "We're all in on the connected entertainment experience. We look at take rates as a function of how you bring together different services through a portal, whether streaming, web browsing, live TV, music, etc. so to market those different capabilities, you need a commercial team that is well-versed across the board … and to be able to align that with a vision that an airline chief commercial officer or chief digital officer wants to have to drive at the airline."
It's the type of experience that is gradually attracting some new customers, with Marks noting during the earnings call: "In addition to North America, our strength in Europe continues to build. Our linefit installations on LOT Polish Airlines continue, and in the second quarter, we completed installations on Norwegian's 737NG fleet. Norwegian offers free Wi-Fi and has one of the highest Wi-Fi web browsing take rates for any airline globally."
A new European customer – rumored to be Air France, but as-yet-not-confirmed – has adopted the firm's new three-axis Ku antenna.
Different approach
Global Eagle's approach is somewhat different from that espoused by Viasat. The latter firm believes a high-capacity connectivity pipe is first and foremost necessary to satiate the needs of today's stream-happy passengers. It is seeing its Ka satellite-powered bandwidth unleashed on United Airlines, and others in the US.
Viasat VP commercial mobility Don Buchman explained: "I would say in general, over the last year or two, we've seen a lot of momentum towards the product we're bringing to market, which is that full Internet, serving the entire plane. It has fantastic economics."
Buchman noted that Viasat also offers entertainment (both the cached content variety and IPTV), but "we don't have entertainment in place of Internet and that's kind of the difference right now".
M&A activity?
UK-based market research firm Valour Consultancy is paying close attention to how the inflight connectivity market is evolving.
Is the firm identifying whether or not there is any serious risk that some IFC service providers will not remain a going concern in the long-term? And should any airlines be considering Plan B's at this time or is it still too early? Your author put these questions to Valour senior consultant, Daniel Welch, who said:
[M&A activity] is inevitable with a diminishing number of aircraft on which IFC can be installed and it is unlikely that the market can continue to support the current number of participants.

Although we have no firm evidence to suggest this is the case, the most likely scenario, in our opinion, is a satellite operator purchasing a service provider and assuming the benefits of a more vertically-integrated enterprise. Linked to this point, many in the industry see the inevitable M&A activity leading to IFEC 2.0. A scenario which entails a small number of large, vertically aligned players providing value added services where connectivity is bundled as an enabler, rather than the centrepiece. Companies like Rockwell Collins and SITAONAIR are naturally well positioned for such a scenario and others will join them.

We do see a number of airlines diversifying and selecting multiple IFC vendors to service their respective fleets. This could be seen as airlines reducing their risk, but it is more likely them taking more control than in previous years and seeking the right provider for specific routes/aircraft.

So, to summarise, yes there is an increasing likelihood we will see a service provider or two bowing out of the IFC sector in one way or another in the short-mid-term. But we aren't seeing or hearing about airlines, publicly at least, making plan B's yet based on this factor.
Thus far, the industry has seen some M&A nibbles. EchoStar recently walked away from efforts to buy Inmarsat after its second bid was rejected by the London-headquartered firm. While mainstream media saw the approach as one satellite operator vying for another, an Inmarsat buy would have seen EchoStar's aero story improve dramatically overnight, giving it prime positioning on various airline contracts, including notably with Qatar Airways.
Inmarsat also recently announced it has signed a contract with Mahata Aero Teknologi, an Indonesian wireless technology provider, to deploy its GX Ka connectivity on a fleet of 50 Airbus A320 aircraft for Indonesian low-cost airline Citilink. The satellite operator will partner with Lufthansa Technik and Lufthansa Systems to implement the program, with the former handling the installs and the latter handling cabin wireless infrastructure/portal, respectively. An Inmarsat spokesman confirmed to RGN that Mahata "is actually the ISP with this contract and they're also the prime interface with Citilink".
It's the type of non-US airline deal that Valour is now looking to see more of, across connectivity service providers. Notable announcements are expected from airlines in China and India. Global Eagle, for instance, has said it expects Jet Airways will move to connect once the final regulatory hurdles in India are cleared.
Said Global Eagle's Marks: "In India we continue to work with Jet Airways to be ready for the final regulations, which we expect will require local satellite gateways, Indian specific lawful interception in coordination with local telecom authorities, and finalization of applicable taxation. We are involved in the regulatory process and we have built the necessary partnerships. We expect our first Indian connectivity installations later this year, if the regulations are finalized this summer."
Meanwhile, despite other industry challenges – including the delay to Inmarsat's EAN (a program that is being fought by Viasat), and poor passenger take-up for paid wifi services – Valour anticipates the number of aircraft with IFC "will reach almost 21,000 by the end of 2026, up from approximately 7,500 today". That's very close to Routehappy's estimate that nearly 7,700 aircraft have installed and actually active systems. Installed but no longer active (ex-Transaero or Airberlin fleets) are not counted.
Related Articles: