Since coming on the scene in February of this year, the Seamless Air Alliance has enjoyed a remarkable trajectory. Its founding members – Airbus, Airtel, Delta, OneWeb and Sprint – have added Aeromexico, Air France-KLM, Cyient, GOL, Intelsat, Nokia and Panasonic as 'adopter members', and Inmarsat Aviation, Kymeta and Latecoere as 'associate members'.
Rockwell Collins has joined, "but they're just waiting to announce" formally, Seamless Air Alliance CEO Jack Mandala confirmed to Runway Girl Network during a recent interview. Thales is also eyeing membership, as reported by RGN.
Notably, Gogo is still not listed as being a member on Seamless Air Alliance's web site, despite the fact that the firm announced its membership in a February blog post. "So they want to be [member]; we're still working on getting them on board," explained Mandala.
"Obviously, they've been focusing on other issues at the moment, but they have every intent to join," he added, in reference to Gogo's well-reported present struggles.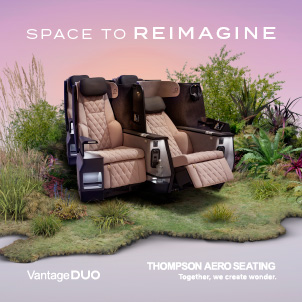 Mandala is hopeful that Airbus' rival Boeing, as well as Bombardier and Bombardier will come on board. "We're out there soliciting all of those [airframers]," he confirmed, adding: "We want those airlines. We want the full market. We want this to really come together as an industry thing, not just a select few players."
It would also make sense for LEO and MEO satellite operators that compete with OneWeb – such as Telesat – to join, he suggested.
The Seamless Air Alliance was specifically formed "to enable passengers to use their connected devices in a seamless way" ensuring that they can connect without login or credit cards as enabled by their current mobile operators. In the alliance's view, that requires standards that can be adopted industry-wide.
As RGN previously noted, SITAONAIR and Panasonic unit AeroMobile have provided inflight mobile connectivity for the last decade, and forged partnerships with telcos around the globe to support their services. "It's true" that they're already offering inflight GSM, acknowledged Mandala. "What we're doing is more than just that, so we're looking at every piece of the puzzle here. We're drawing in the vendors. We're looking at basically a redo. So many airlines that we speak to got into initial IFC deployment without really knowing what's important. They've learned a lot, that's why they want to participate in Seamless – to make sure the hooks are there [and to] ease maintenance."
He said the alliance's work will also ease airlines' purchasing decisions as they'll know that "they have plug and play equipment" and that it's "interoperable".
We want to encourage innovation in the industry and competition throughout the value chain, lower costs and expand the pie. That's really the interest from Rockwell and others; it is not that we minimize their margins and the profits they're making but actually maximize it. If we increase quality and experience, it will open the market and increase the slice of the pie. We don't want to continue with the model with a select few paying for poor service. All of these guys are coming on board with the intent that they can make money, to protect their interests.
The fact that inflight connectivity is clearly a longs game which requires deep pockets, and that some providers are financially hurting, makes it "the perfect time" for the emergence of the alliance, suggested Mandala. "The airlines started this adventure not knowing what they didn't know. And now, they have been through it, and they know everybody needs to make money; that's a big part of the puzzle. If they negotiated a deal that's too good, and their inflight connectivity supplier is not making money, it ends up being a bad thing, and it really needs to be a mass market approach and standardization needs to be a big part of that."
For some providers to have financed the initial equipment installs in the hopes of making money on service is "almost self-defeating", he suggested. "They can't put more money into it because they're not getting the money out of it."
Outside of improving #PaxEx, making airlines' lives easier and stemming the tide of providers' red ink, "the other big thing" is the participation of mobile network operators, noted the Seamless Air Alliance CEO. "So this is an exciting piece for them so they'll have the opportunity to advertise that their network doesn't end at 30,000ft, that this roaming network will extend to their customers in the sky. It's an exciting way for them to market their service going forward in addition to the industry vendor."
The alliance had its first member meeting the day before the recent APEX TECH meeting in Los Angeles, and established three working groups at that time – the value chain working group chaired by Airbus, the technical working group chaired by OneWeb and the operations working group chaired by Delta. "All of these groups will end up having sub-tiers so to speak and we're pulling in our new members to take those roles. We certainly don't want any one member to have undue influence."
The alliance isn't starting from scratch in all instances, however. It wants to tweak the nextgen antenna Arinc 792 spec "to accommodate for LEO", said Mandala. "We really don't want to recreate the wheel in any way, shape or form." After all, Delta played an important part in developing the Arinc 792 spec and "they want to leverage the work they've done".
That's also why the Seamless Air Alliance is in close contact with the APEX Association "to participate in connectivity and other technical working groups. So, we don't want to diverge from work that other industry players are putting together. The worst-case scenario would be that we work in silos and a year from now, will totally contrast with the others. We want to enable mass market."
RGN reached out to APEX CEO Joe Leader to understand where common work is being done between the two organizations. Leader said:
Seamless Air Alliance became an APEX member this year because they view APEX's mission as directly complementary to their initiatives. To that end, Seamless invited APEX TECH's connectivity chair to observe and contribute on behalf of our broader membership base. As an APEX member, Seamless Air Alliance joined us at APEX TECH and will also join us at APEX EXPO. APEX's connectivity working group has focused its efforts on aligning areas of improvement for passenger experience. We will advance that further with the APEX Official Airline Ratings capturing connectivity ratings for airlines and providers.
Could APEX envisage a future tie-up between APEX and Seamless or, if not a tie-up, a deeper cooperation? "APEX's role is to cover the breath of airline passenger experience advancing every airline and supplier in our industry. We view Seamless Air Alliance's new work in connectivity as complementary to our own," said Leader. "On the first day of the announcement, Delta Air Lines' Chief Operating Officer Gil West made introductions so that we could have great cooperation. We appreciated Seamless Air Alliance having their first meeting at APEX TECH and we view it as a great start to our partnership."
Mandala said in reference to a more formal tie-up with APEX that he would not rule it out, though it is not under consideration today. But the two are certainly talking about the ways to keep the groups aligned. "APEX values Seamless Air Alliance as a member, supports their efforts helping advancing connectivity, and appreciates their inclusion of APEX at their meetings.  We are proud of our first steps together and will be featuring Seamless Air Alliance's CEO on our connectivity panel at APEX EXPO alongside leading airlines and suppliers," added Leader.
The Seamless Air Alliance offers three tiers – outside of the initial members who enjoy a seat on the board of directors, charter members have full membership rights including the ability to submit candidates for board service over time and the ability to chair working groups, board committees, and board subcommittees; adopter members have benefits that include access to pre-release specifications and certification activities; and associate membership is primarily for start-ups and individuals who want to participate and contribute to working groups.
Some industry observers have noted that the Seamless Air Alliance is costly to join. "Right now if they want to get a feel [for the alliance], the most cost-effective way is if you join at the mid-tier [level for] $25,000, you can join for a prorated amount and join this quarter for $12,500 and see what we're doing, get a good view into the working groups and decide what you want to do next year." A number of members have come in at the mid-tier level, he said, because membership wasn't planned in their 2018 budgets, but he expects they'll up their subscriptions to top tier in time.
"Being a part of it is important, and the reason that we defined the three tiers is we want to attract members that are really interested in participating so if we made it free, everyone would join and people would just show up and listen and not have a vested stake in things  … That's not a big sum of money for the companies joining."
At the end of the day, the alliance wants "everyone in the value chain" to make money. It's an ambitious goal, but if you factor in the airline connected ops side of the value proposition for IFC, it should be attainable, he said.
Related Articles: