Riding high after posting record consolidated sales of $208.6 million in the second quarter, Astronics is nonetheless being very frank about broader challenges in the inflight entertainment and connectivity industry.
There are some "question marks in the whole business and the IFE space in particular about how 2019 is going to shape out", admitted Astronics president and CEO Peter Gundermann during the firm's recent earnings conference call.
He noted::
There is a fair amount of turmoil going on in the industry, with certain airlines switching models, from one supplier to another, or even going in a different direction, a different path.

And we feel like we're really well positioned because we're suppliers to pretty much all the contenders, but it's a little nerve-racking watching.
Having admitted it is seeking to renegotiate contracts with various airlines, Gogo is perhaps the most visible of Astronics' partners seen to be struggling right now.
At the end of 2017, Astronics acquired Telefonix PDT, and with it the business of providing the advanced airborne server for Gogo 2Ku, which "is going on every single new 2Ku system out there", Telefonix PDT told RGN in 2015. With Gogo now pursuing a model that involves fewer subsidies for 2Ku hardware, there are valid questions to be asked about growth prospects for 2Ku.
Now part of the new Astronics Connectivity Systems and Certification Group – which includes Armstrong Aerospace – Telefonix PDT was also previously tapped to provide the airborne modem controller unit for Gogo's next generation ATG network, whose future is now uncertain, based on Gogo CEO Oakleigh Thorne's comments.
Additionally, Astronics AeroSat's traditional Ku-band antenna supports Gogo long-haul aircraft connectivity at Delta Air Lines, and short-haul connectivity at Japan Airlines. The system, it should be noted, has proven robust, and has not suffered the sort of moisture issues that 2Ku continues to face.
But Gogo is certainly not the only Astronics partner dealing with change right now. Panasonic Avionics, for instance, has been reshuffling management at a near dizzying pace ever since details broke about the DOJ and SEC's corrupt practices probes, which resulted in hefty fines for the leading provider of embedded IFE, and at least some reputational damage that a newly appointed Chief Compliance Officer (a woman!) will no doubt work to address.
While embedded IFE is still installed on virtually all commercial widebodies, Panasonic's Ku-band inflight connectivity service has come under harsh scrutiny, including from United Airlines, due at least in part to a modem choke point which is now being addressed by the rollout of its third generation network.
Thales Inflyt and Zodiac Inflight Innovations – which like Panasonic are customers of Astronics' in-seat power systems – have grappled with their own unique challenges, the former losing prime positioning on its big JetBlue connectivity contract and encountering major delays to the rollout of new embedded IFE at the LCC, and the latter enduring knock-on pain stemming from its parent Zodiac Aerospace's production and delivery troubles.
Telefonix PDT got its start by developing cradles and cord reels, and later media loading devices and Android passenger control units for IFE, so Astronics' new Connectivity Systems and Certification Group boasts content here as well with large embedded IFE players.
Putting Telefonix PDT's second quarter contribution into perspective, Astronics' second quarter aerospace segment sales increased by $36.7 million to $166.2 million. Gundermann explained that organic sales increased $9.8 million, while Telefonix PDT contributed $26.9 million for the three-month period. He said the Telefonix PDT acquisition "is working out very, very well" and that management is "happy to have them as part of the team".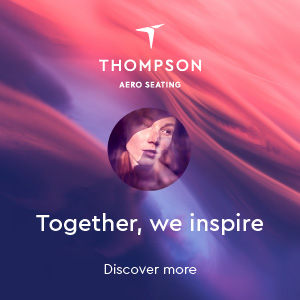 Despite broader uncertainty in the market, Astronics feels well-positioned "for whatever's coming down the road", assured the Astronics CEO during the call. And indeed analysts repeatedly congratulated Astronics for its second quarter performance.
The outlook for 2018 remains unchanged with consolidated sales forecasted to be in the range of $765 million to $815 million. Firmer guidance for 2019 won't be released until towards the end of the year.
[Editor's note: Astronics' recent presentation at the Canaccord conference is very useful indeed. While the webcast is not available, the slides features nice specifics on the firm's positioning, including its lighting and safety content on Boeing types. It highlights Astronics' relationships with Gogo, Panasonic, Thales and Zodiac Inflight Innovations, and notes that Astronics in-seat power is now installed on more than 1 million seats at 200 airlines. Download the presentation on Astronics' web site.]
Related Articles: