When AirAsia X takes its 100 Airbus A330neo widebodies as part of a massive expansion in the long-haul arm of the bellwether low-cost carrier, it will update economy seats but eschew both changes to the premium seats in the pointy end and any form of premium economy, says the group's chief executive officer.
Established just over a decade ago, AirAsia and its international airlines operate some two dozen Airbus A330-300 aircraft under the AirAsia banner, the standard configuration for which is a 377-seat high-density layout with 365 economy seats in the ultra-narrow 3-3-3 configuration, plus 12 Rockwell Collins angled lie-flat Minipod seats in what the carrier is in the process of rebranding from Premium Flatbed to just Premium.
Speaking to Runway Girl Network following the carrier's upgauge of its Airbus A330-900neo order from 66 to 100 at the Farnborough Air Show, AirAsia X Group Chief Executive Officer Kamarudin Meranun noted that the airline has studied other options extensively — both in terms of seating and in terms of aircraft, having leveraged serious consideration of Boeing 787 Dreamliners and the airline's existing orders of Airbus A320neo family jets against the A330neo deal.
"We were contemplating having shorter range [versions of the Airbus A330 family], where we would not have any business or Xtra seats in the front end, or premium economy," Meranun said.
"There were discussions on whether some of the seats we'd be able to change," Meranun noted, but highlighted that "you've got to think about the whole route big picture. If you change, then what about changing the aircraft from one route to the other? It gets a little bit complicated: rescue of aircraft and all that kind of thing. We've tried to maximise optimal operations. As of now, it's still the same configuration."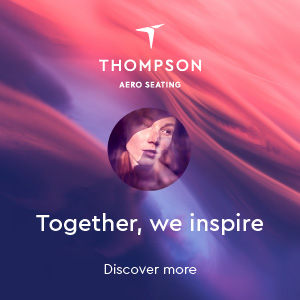 Meranun sait the airline has given its teams freedom to "look at all different possibilities, not only in terms of customer comfort but in terms of commercial availability", including around newer fully flat seats, several of which offer a superior passenger experience at either the same or a more efficient seat pitch.
AirAsia X is one of the few airlines still to take an angled lie-flat seat in its premium cabin, with most other long-haul low-cost carriers opting for the current premium economy standard (recliners in a 2-3-2 layout on an A330 or 787 with approximately 37-38" of pitch and 19-20" of seat width) or one of the newer types of seats (like Stelia's Equinox, as seen on Air Caraïbes' Airbus A350, or the bespoke Lufthansa business class seat manufactured by Rockwell Collins, as seen on Eurowings' Airbus widebodies).
Meranun said that the airline's research weighted factors "not only in terms of customer comfort but in terms of commercial availability of such a seat. Some of them may offer a better customer experience, so it enhances your sales, but there is a cost to moving to them. It's a totality."
Premium economy was also discussed and, Meranun explained, rejected in favour of the tried-and-tested model. "The success in AirAsia is in sticking to what we know best. Obviously you will have to listen to new technology. We're looking for lighter seats and all those things. All this is explored. Whether you should decide depends on more things than just getting the latest technology."
Meranun also revealed that the airline is "very happy" with the shipments of seats it has received from UK seatmaker Mirus, which won contracts to supply both AirAsia's fleet of Airbus A320 family narrowbody aircraft and the A330 family of widebodies. "So far," Meranun said, "no complaints."
Lastly, Meranun said in an aside, AirAsia X has no current plans to take the longer-range Airbus A321LR member of the neo family, although "we never rule out any possibilities".
Related Article: