Recently invited to meet with EASA officials in Cologne to discuss the regulatory and certification considerations for allowing disabled passengers to remain in their wheelchairs in-flight, Flying Disabled founder and disability rights activist Chris Wood is optimistic that his campaign is gaining momentum.
"What became apparent is that there is a lot of similarities with the automotive industry. However, the greatest difference is of course we're at 30,000ft in the air and we need to consider cabin pressure and turbulence," Wood told Runway Girl Network during the UK Civil Aviation Authority's PRM and Airport Accessibility conference, which took place last month during the British and Irish Airport Expo at Olympia in London.
Hoping to find solutions, Wood next intends to speak directly with wheelchair manufacturers. "So, there are other tests to do and these will be put forward to wheelchair manufacturers to see if they can get a chair 'cabin safe'," he said.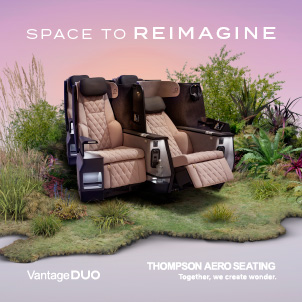 He also remains in close contact with Flying Disabled supporter Baroness Sugg, the Aviation Minister for the UK's Department for Transport. "Things are progressing at a very positive rate and we need to maximize the willingness of people to make this a reality," he added.
Aviation expert Graham Race, who joined Wood in Cologne, is also heartened about the discussions that transpired during the conference in Olympia, saying that easyJet customer director Ian Cairns' comments about the growing demographic of aging passengers who use mobility equipment really resonated with him. Accessible air travel expert Roberto Castiglioni agreed, saying, "When you have an airline like easyJet saying it time to get cabin accessibility, that's a milestone and a new starting point."
On the ground, Flying Disabled's Wood also sees efforts afoot to make the travel experience more accessible for disabled passengers. A new CAA report, for instance, indicates that UK airports are endeavoring to help passengers whose disabilities are hidden, such as autism, dementia and hearing loss, after the regulatory body issued guidance on the matter in December 2016.
"When it comes to airports there are now so many good technology tools and apps to assist the disabled passenger. I would like to see a cash prize for innovation to generate the best ideas possible for the wheelchair in the cabin," said Wood.
At London Heathrow airport, a special Heathrow Access Advisory Group is presently working to bring accessibility and inclusion to the forefront of the airport's agenda. It meets quarterly and primarily discusses and advises Heathrow on all facilitation topics that affect the quality of the passenger journey through the world's seventh largest airport in passenger numbers.
Castiglioni, who chairs the advisory group, said, "Today we have heard very encouraging news from senior industry and that's important." Moreover, having the CAA host an all-day conference on accessibility at a leading event with high-caliber speakers shows it's commitment to improving customer services, as well as awareness of the growing customer number of passengers who require assistance.
Related Articles:
Featured image credited to istock.com/Cunaplus_M.Faba