When United Airlines' chief digital officer, Linda Jojo, said the carrier was reviewing its position on embedded inflight entertainment, she surely meant it. United has confirmed it is removing the LiveTV in-seat IFE systems which feature DirecTV on board nine of its Boeing 757s.
"As part of a retrofit program, we are updating some of our 757s, including adding our new first class narrowbody seats. During this process, we will be removing DirecTV from nine of our 757s, and will continue offering hundreds of hours of complimentary entertainment via personal device entertainment," says a United spokeswoman.
She confirms to Runway Girl Network that these nine aircraft will also continue to offer Ka-band satellite-based inflight connectivity, which is powered by Viasat Exede service and managed by Thales. United does not intend to swap out the Ka system for Ku connectivity, which would have enabled it to offer connectivity to Hawaii.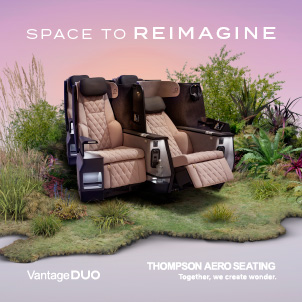 The United Fleet Website service, which is not sponsored or supported by the airline, has long tracked changes to the carrier's mainline and Express aircraft. On 26 June, it tweeted that the first 757-300 to have DirecTV removed, and to receive the new slimline seats is N75854. All slimline seats will offer personal device entertainment – United's wireless IFE solution – when the retrofits are completed, it added.
At present, roughly 220 of United's Boeing narrowbodies carry the LiveTV system, alongside Ka-band connectivity. LiveTV is the only form of IFE that United still charges for – a rarity in this market.
Some United passengers complain about the legacy IFE solution, whereas others see the carrier's move to wireless entertainment on domestic routes as a devolution in the passenger experience (#PaxEx).
Referencing embedded IFE, United's Jojo told RGN last month: "We talk about that a lot actually. I was a consumer, not an employee, of airlines when they started pulling IFE out of the seatback, and I think it might have been a little bit early. Because, you know, at the time my mother didn't have a tablet. She has one now, but I think to expect people to bring their own tablet was a little bit tough at first. I do think people are getting used to it [but] we're actively debating that right now. You know, is [embedded IFE] something that's a good customer-friendly thing to offer? We're looking at that."
Related articles: