Even if you've never watched a single hour of Shark Week programming, like most television viewers in America you are no doubt familiar with the concept thanks to Discovery Channel's cheeky, social media-savvy marketing tie-ins.
Partnering with everyone from Dunkin' Donuts and Volkswagen to Jell-O over the years, AdWeek was only half-joking in 2015 when it proclaimed Shark Week something akin to a televised national holiday at this point. And for the past five years Discovery Channel has taken that holiday to the skies thanks to a longstanding partnership with Southwest Airlines.
Launching this year's partnership with a splash worthy of a great white, Southwest jetted a plane full of Shark Week superfans from LAX to Phoenix for an inflight pre-premiere screening of Discovery Channel's Shark Week exclusive Great White Abyss.
Accompanied on the flight by marine biologist and Shark Week regular Luke Tipple (of Nuclear Shark fame), the flight also included drinks, Shark Week-themed swag, and a killer round of Shark Week trivia hosted at the front of the cabin by the man of the hour himself.
Carving out a little quiet, one-on-one time for an interview on a 55-minute flight filled with passengers in foam shark ears proved challenging. But your author was able to score a quick chat with Southwest's manager of brand partnerships and entertainment PR, Michelle Agnew, who put this unique partnership into perspective.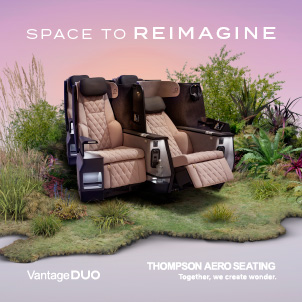 "I'll admit I haven't watched too many Shark Week episodes, but I know all about Shark Week," said Agnew. "And that's the thing, people might not even be huge fans of sharks themselves but they're a part of this pop culture phenomenon and this conversation that's taking place and it's just fun to be a part of it."
She added, "Southwest has been partnering with Discovery Channel for five years now and we really started with developing unique customer experiences. So we developed a custom Shark Week, onboard, on-demand channel [on our IFE portal] so customers could enjoy previously aired Shark Week content and then one pre-premiere Shark Week episode before it airs during Shark Week and those episodes are only found on Southwest Airlines.
"Also, now that we've got four years of this content under our belts we work closely with our wifi team and with our vendor, Global Eagle Entertainment, and we are able to see viewership numbers and our Shark Week content always out-performs any other content on the portal. So, we know our customers love it."
Southwest passengers also seem to love following the adventures of Shark Week's official mascot, Chompie Jr. – who posed for pictures and handed out goodie bags at the gate at LAX – and the carrier's five Shark Week branded airplanes online as well via the hashtag #SharksTakeFlight.
But aside from all the social media love, and the hours of Shark Week content found on board, perhaps the coolest element of Southwest's partnership with Discovery Channel is the carrier's annual Dare to Dive sweepstakes, which jets two lucky winners to an exotic locale featured on Shark Week.
"People ask why would an airline partner with Shark Week … but the main thing that we utilize this relationship for is to show off our brand personality," said Agnew. "So, that's why we decal the planes and do fun things like that. We usually get to promote a new international destination as well, so, every year we launch a Dare to Dive experience sweepstakes. In years past we've sent people to Aruba [and] Costa Rica, and this year we're flying a winner and a guest to San Diego and they are then, with Islander Charters, sailing to Guadalupe Island, which is one of the key great white shark diving locations…" It's also the setting for Great White Abyss, the show that premiered on all 700 of Southwest's planes last week.
And though some fans have groused that Shark Week has become less about sharks and more about selling Swedish Fish and Shark Week-branded Vineyard Vines neckties, Tipple said anything that can bring attention to the fact that the world needs sharks is alright in his book.
"Shark Week originally started as sort of a kitschy documentary fest about scary sharks and it has gone through its up and downs in terms of what it means to the audience and to the network but I think it's coming to a really good place where it can be both entertaining and scientifically valid and viable," he suggested.
"I think the best programming on Shark Week highlights work by real scientists out in the field [and] increases the public knowledge and awareness of the animal's environment and also the necessity of sharks."
Many Shark Week partnerships and cross-promotions are playful, but Tipple is also quick to point out that Shark Week show's aren't just for fun.
"Watching sharks jump out of the water is fun but it also lets us see the majesty of an animal that can do that. But I think the best of the shows are the ones that have a scientific theory that they go out and try to prove or disprove," he said. "Science is expensive, particularly on the water, and when a network like Discovery Channel can get behind it and say: 'Look, we need something entertaining out of this, but, consequently, we are going to fund your research in one way or another.' That is, I think, the best deployment of a lot of the Shark Week shows, and they are doing more and more of that now, which is fantastic for us."
Shark Week airs 22-29 July on the Discovery Channel and starting on 22 July, Southwest passengers will be able to tune into Shark Week live on all Southwest flights when the Discovery Channel becomes a live TV channel on Southwest's IFE portal.
Related Articles: