As Zodiac Inflight Innovations' RAVE on-demand inflight entertainment system has made its way on board with smaller operators and renovated subfleets of larger carriers, the system has largely performed well, with positive reviews from airlines and passengers alike.
Yet the next generation of the product — both in hardware and software — seem set to be a step change in how the IFE looks, feels and is delivered. A new generation of thin, elegant screens named RAVE Ultra features a modern design with solid-state drives, and Bluetooth audio, while a backwards-compatible upgrade will create RAVE cloud, opening up terabytes of storage for thousands of hours of content.
Zii demonstrated its new system to Runway Girl Network earlier in the year at the Aircraft Interiors Expo, where the design factor of the RAVE Ultra hardware was matched only by the promise of the cloud software. The new screens' futuristic design and clean profile are markedly beyond the industrial design with which passengers are presently familiar.
RAVE Ultra, explains Zodiac Inflight Innovations EVP and Chief Commercial Officer Larry Girard, "will utilise a capacitive in-cell touchscreen capable of supporting multi-touch gestures, providing a comparable experience to the passengers' own mobile phones, with a display that delivers brilliant 4K resolution. Through the use of optical bonding in the production process, all of this will come in a package that is about 0.3″ thick and a third of the weight and power of current generation displays."
Zii is planning four sizes for RAVE Ultra: 27", 17.3", 15.6", and 13.3". Each supports variable bit rate playback of modern compression standards, including H.265 HEVC [High Efficiency Video Coding], which the company suggests more than halves the size of files required for high-definition video, including "ultra-HD" 4K.
RAVE Ultra will also support the growing numbers of Bluetooth headsets brought on board, and Girard says the system can handle wireless headsets used at every seat on the aircraft. A camera for QR code scanning and payment options, plus USB-A and an option for USB-C, are also on offer.
"Consistent with our RAVE philosophy," Girard tells RGN, "the Ultra displays are backward compatible with our current generation of RAVE. Airlines can mix and match displays on our common RAVE backbone."
A new way of thinking about storage may well be the biggest seller for airlines, however. Each screen system contains a solid-state drive holding "up to 1 TB" of local content (based on the carrier's needs), but which also serves as part of a cloud of drives offering more than 10 TB (10,000 GB) of content across a widebody aircraft. Zodiac calls this RAVE Cloud, and it should help to put to rest any lingering storage questions about the seat-centric RAVE solution.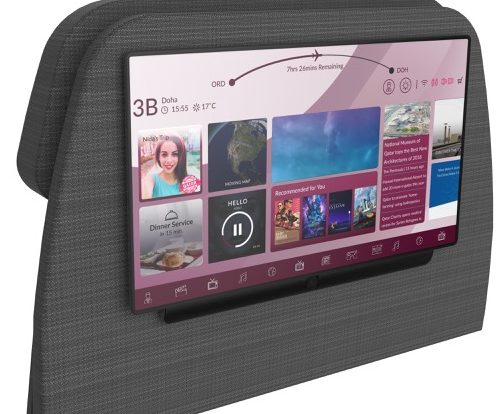 Each seat will store both local content and RAVE Cloud content. Image: ZodiacRAVE Cloud will be backwards compatible to what the company says is "most" installations, with only "very few" older SCU-1 System Control Unit (SCU) deliveries not covered. The company says, however, that a single LRU replacement would upgrade the SCU to cover these few systems.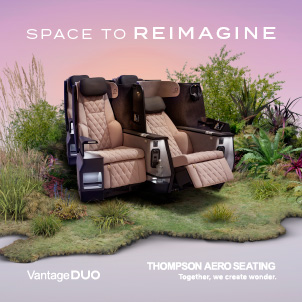 Essentially, the network of screens — themselves growing more akin to networked tablets or computers in functionality — serve as a distributed storage system. If a particular piece of content is stored on the passenger's own seat, since each screen functions independently passengers can continue watching even if the upstream system fails entirely.
Further, "since RAVE offers significantly more content to each passenger than can be stored locally at their seat," Girard explains, "the airline may identify certain titles as premium seat content. In this way, titles that are expected to be most popular with passengers, like early window releases, are prioritised for transfer and storage locally at the seat. All content is available to the passenger, but RAVE allows the airline to make sure the most popular or important titles are stored locally."
But the ability to store and transfer video across RAVE Cloud seems a real winner. If the passenger in seat 23A wants to watch a film stored in the system of seat 3F, RAVE can deliver that content across to that passenger, almost entirely seamlessly.
"When the passenger accesses content that happens to be stored in the cloud, there is a slight delay of up to 3 seconds before availability," Girard says. "In the case of movies, this delay can be hidden if advertisements are being inserted prior to the start of a movie. While the passenger is watching the movie, the remainder of the movie is transferred very rapidly — typically less than three minutes — to the seat and is locally stored since all playback of content is from locally stored content."
In the event of upstream failure after transfer, the content is stored locally on the screen and the passenger can continue to watch it. When searching, only content that is actually available via RAVE Cloud is displayed: so if for any reason the cloud functionality is not working, the passenger's screen will not show cloud content.
In real-world storage terms, Zii quotes an H.265 4K file size for 2 hours of video with four audio tracks of 4.1 GB. While converting those numbers into a count of movies is complex and depends on a number of factors, the back-of-envelope calculations would mean 10 TB could hold an equivalent of nearly 5,000 hours of content.
"Our next software cloud update is scheduled for early 2019 and will extend the cloud to 10TB," Girard notes. "It will be available at EIS for our launch customer. This is a software only solution and will not require any update to the seat monitors or additional certification."
"We are finalising the product and have taken the concept to several airlines and Airbus and Boeing. We currently have two committed customers with several others that are considering it as part of [our] competitive proposal," Girard says. "The RAVE Ultra Displays for our launch customer have an on-dock of mid 2019 and we are well underway on the design and qualification."
From a linefit standpoint, it is not immediately clear if the new models are aimed at the 777X. Last year, Boeing and multiple sources shared color about the airframer's decision to redirect new IFE evaluations from the 787/777 to the 777X for Zii, due to the wider problems it was having with Zodiac Aerospace.
Related Articles: