Japan's Mitsubishi Aircraft Corporation is preparing for the aerial debut of its MRJ regional jet on the world stage at the upcoming Farnborough International Airshow. Although a test aircraft made a static display appearance at last year's Paris Air Show, the aircraft has yet to fly for an international audience. Last week in Moses Lake, Washington, the company provided a full program update to journalists.
Japan and Mitsubishi have had a hand in building parts for commercial jets for many years, including for the Boeing 787. However, this is Japan's first "clean sheet" designed commercial jet. Some turbulence is to be expected in situations such as this. The MRJ program is significantly delayed.
Asked what tweaks had been made during the flight test process, Mitsubishi Chief Development Officer Alexander Bellamy said some changes were made to wiring locations, avionics locations, and the environmental control system.
Unlike competing aircraft manufacturers, Mitsubishi placed its aircraft testing program far from the place where its jets are built. MRJs are built in Nagoya, Japan, but testing facilities are located in the United States, at Moses Lake, due in part because of its history as a flight test site.
Journalists who attended the MRJ update witnessed a handful of Boeing aircraft performing maneuvers overhead, including the new Boeing 737 MAX 7.
Mitsubishi houses four MRJ90 prototypes at Moses Lake. Two more will join the fleet there in the coming months.
Although firm orders have been weak, Bellamy expressed optimism saying, "Once the aircraft is demonstrated to be what it's supposed to be, orders will come." Currently, firm orders for MRJ aircraft are as follows:
ANA (Launch Customer) – 15
Trans States Holdings – 50
SkyWest – 100
Air Mandalay – 6
Japan Airlines – 32
Aerolease – 10
In January of this year, Mitsubishi suffered a blow from Swift Air, which purchased the defunct Eastern Airlines in 2017 and subsequently cancelled the Eastern order for 40 MRJs. Although Eastern lasted only a short time, any airline with pending MRJ orders has to be frustrated by the protracted delays to the program.
Launch customer ANA now expects to receive its first aircraft in 2020 – seven years behind schedule. ANA was also the launch recipient of Boeing's 787-8 Dreamliner, which suffered significant delivery delays as well.
It is common for a new aircraft program to receive new orders following a successful entry into service with its launch customer. Mitsubishi is also hoping to win a sizeable amount of the estimated 900 replacement orders for 50- to 100-seat seat regional jets that will retire in the 2022-2027 timeframe.
Mitsubishi also has a smaller MRJ sibling in development – the MRJ70, which will have an expected capacity of 76 seats. Because it will only be seven feet shorter, this jet will share the same engine maintenance program, pilot rating, and spare parts as its larger sibling. Flight testing and certification of the MRJ70 will also take place at Moses Lake.
The MRJ cabin was designed by Zodiac Aerospace, and features a 2-2 seating configuration, with the widest and tallest cabin in its class, and generous 18.5-inch wide seats. Unlike many other regional jets, the MRJ will also have overhead stow bins large enough for standard rolling carry-on bags. The MRJ90 features 88 seats based on 31" seat pitch.
Its flight deck features Rockwell Collins Pro Line Fusion integrated avionics including four large 15-inch instrumentation monitors.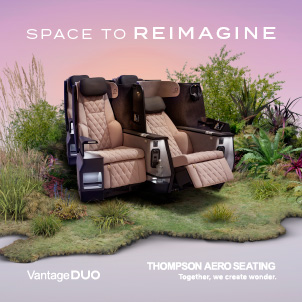 Can Mitsubishi develop a successful, or even viable jet program? In addition to its development delays, the company still has to clear hurdles presented by US scope clauses (which limit the number or size of aircraft that airlines can contract to regionals) as well as the partnerships between Airbus/Bombardier, and potentially Boeing/Embraer. The company may now regret its choice of an aluminum wing over composite material. The weight savings could help bring the MRJ90 within the scope clause weight requirements, if not completely alleviate it. If necessary, orders for the MRJ90 could be converted to the MRJ70, but that is still four years from service entry, if the schedule stays on schedule.
In addition to the MRJ presentation, Bryan Rivard, program director at Pratt & Whitney provided an update for the PW1200G engine program. Since its entry into service, Pratt & Whitney geared turbofan (GTF) engines have achieved 900,000 revenue service hours on over 170 aircraft. Despite some early teething problems on the Airbus A320neo, GTF-powered aircraft now boast a 99.9% dispatch reliability, according to the firm.
The PW1217G engine specific to the MRJ90 was certified in 2017. Pratt is collaborating with MRJ in both Nagoya and Moses Lake. Mitsubishi Heavy Industries Aero Engines has completed building its first 1217G in Japan. Rivard also stated that all engine performance parameters have been as expected for the MRJ program.
In addition to the MRJ, the Pratt & Whitney GTF engine family is also found on the Airbus A320neo series, the Bombardier CSeries, the Embraer E2 series, and Russia's MC-21.
Editorial disclosure: Mitsubishi provided roundtrip ground transportation between Seattle and Moses Lake, Washington, along with some meals during the two-day event. All accounts, descriptions, or observations of the event belong solely to the author.
Related Articles: