The entity once known as Row 44, now Global Eagle, has been a cornerstone of Hughes Network Systems' aero mobility story for well over a decade. But while the two firms remain tight – announcing an expansion of their equipment and capacity arrangement in March – Hughes has been pushing out in other directions, including playing a pivotal role in Thales' launch of FlytLIVE Ka-band connectivity service in North America.
Peter Pardee, the long-time vice president of business development at Hughes Network Systems, has been involved with Row 44 since shortly after Hughes executed the original MOU with the firm in 2004. He tells Runway Girl Network that the reason why Hughes isn't front and center in the inflight connectivity discussion today is "first of all, we don't sell to airlines directly and we're not out there marketing ourselves to airlines directly".
We power airline service providers' inflight connectivity so our customers are the likes of Global Eagle and Thales, who you know about. And also, to grow that customer base, that would involve other players like the other service providers in this industry, such as Gogo and so forth. So, that's our target market.
He notes that Hughes' inflight connectivity service partners "have a lot to bring to the table and have a lot of strengths". The decision to work closely with these partners, and to focus on forging new relationships – rather than going direct to airlines – remains a key part of Hughes' strategy going forward, "a conscious decision", with Pardee saying, "where I sit, I don't see that [going direct] on the radar at all."
He acknowledges that this is "a different model from some other folks in the industry" but one that Hughes believes will ultimately "be a very strong model".
Those "other folks" are, of course, Viasat and Inmarsat, which have pursued a more direct approach with airlines. Interestingly, earlier this month Inmarsat was the focus of what the London-headquartered firm characterized as "a highly preliminary" takeover approach from Hughes parent EchoStar. The offer was rejected by Inmarsat, which explained that it "very significantly undervalued Inmarsat and its standalone prospects".
More recently, Eutelsat expressed interest in possibly making a bid for Inmarsat, before it said it was no longer interested. Now it reserves the right to change its mind after the six-month period required by UK law, providing other circumstances don't present themselves beforehand, such as receiving consent from Inmarsat's board, or if a third-party announces a firm intention to make an offer for Inmarsat. Bloomberg suggests that Eutelsat's decision not to bid for Inmarsat clears the way for EchoStar to make another approach.
On the issue of consolidation within the inflight connectivity industry, Hughes' Pardee did not mention Inmarsat, but broadly noted that consolidation "continues to be the common thought" given the size of the aero market that everyone is fighting over.
One big advantage for Hughes in the current climate is "our financial strength as a company and the resources" at its disposal, he says. At the corporate level, Echostar saw consolidated revenue of $1.89 billion in 2017, and "Hughes contributed $1.47 billion of that". The firm has over 1.2 million residential users on the HughesNet Internet service via satellite today; this is delivered primarily over Hughes-owned Ka-band satellites, Jupiter 1 and 2, as they are commonly referred to in the industry.
Hardware positioning
Though Hughes' satellite broadband communications solution has long underpinned the Row 44/Global Eagle connectivity system, the company has provided myriad other aero connectivity-focused services to the firm.
In 2012, Hughes noted it was "providing Row 44 with its advanced HX System, as well as the uplink service, network operations, space segment, and maintenance services". In 2013, Hughes, SES and Global Eagle sealed a pact covering satellite capacity and infrastructure on Global Eagle Ku-fitted transatlantic flights. Moreover, notes a Global Eagle spokesman, "We have Hughes systems running in Russia, China, Africa, Middle East and Southern Asia."
In 2016, Hughes announced that Global Eagle had tapped it to support its new Ka-band connectivity solution and to upgrade to the Hughes Jupiter modem. (Global Eagle is also working with other satellite operators for its Ka offering.) This was followed up by the March 2018 announcement from Hughes that it would provide Global Eagle with enhanced capabilities including more capacity in North America and higher throughput speeds globally.
Outside of its arrangements with Global Eagle, Hughes last year inked an agreement with Thales, and SES to deliver Ka connectivity under the Thales FlytLIVE brand. The Jupiter aeronautical system is the backbone of FlytLIVE, which is presently in flight-test phase and will roll out across Spirit Airlines' fleet.
Today, roughly 1,000 aircraft in total carry Hughes technology on board, Pardee reveals to RGN. He says Hughes won't "break out the 1,000 number at this stage" in terms of the specific content (prior-gen and nextgen modems, modmans, etc), but notes that the hardware supports both its near-global Ku footprint (offered through multiple satellite partnerships) and the North American Ka footprint.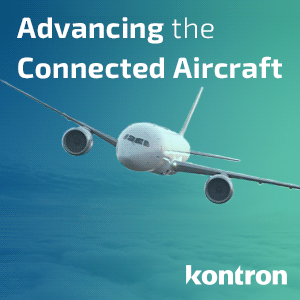 There are several pieces to the integrated Jupiter terminal for aero, however, including the option for service providers to adopt a dual Ku/Ka-band antenna developed in partnership with Israeli firm Gilat, and a complementary high-performance modman. The platform, which is designed to operate with both spot- and wide-beam satellites as well as both the Ka and Ku-bands, is a gate-to-gate offering, and based on Arinc 791 architecture.
Pardee says Hughes is in discussions concerning "certain opportunities" for the hybrid antenna. "I'll leave it at that," he says.
Last fall, it was revealed that Hughes is working with Yahsat, Etihad Airways Engineering, and Carlisle Interconnect on an inflight connectivity solution, and Get Connected reported that the antenna used in testing appeared to be dual-band.
Asked by RGN if Global Eagle would consider offering the dual-band antenna to airlines, the Global Eagle spokesman quoted company EVP and chief commercial officer Per Norén: "We favor open architecture focused on the best Ka solution for each customer." In short, Global Eagle is open to offering the best solution for its customers in terms of their market or geographic needs. It is both band agnostic, and embracing open architecture, as evidenced by its new relationship with Telesat.
Room to grow
A common perception in industry is that the North American inflight connectivity market is largely spoken for, due to Gogo's dominant position. But perhaps unsurprisingly, especially given Thales' recent news that Spirit Airlines is adopting FlytLIVE, Hughes sees further opportunities in North America, with Pardee saying that, in his perspective, the market continues to evolve "and as these solutions become available, and new aircraft deliveries are coming online, I think what I'm seeing anyway is a movement to where an airline may have multiple service providers so that seems to be becoming more commonplace."
To be clear, Hughes hasn't put a number on the addressable market in North America, with Hughes executive VP of sales and marketing, North America Mike Cook responding to RGN at the Satellite 2018 exhibition that, "Thales has a lot of market power and experience" and because airlines are awarding deals "order by order, lot by lot, I don't think the opportunity has passed" Thales by. Or indeed passed Hughes by.
One way for Hughes to gain ground is, as Cook mentioned, to be aligned with connectivity service providers which are winning deals with airlines on a subfleet level. Another way is to crack into current arrangements when service providers cannot meet the quality of service (QoS) metrics agreed with airlines. Pardee notes that "even the existing relationships … they are not without their own requirements with respect to contractual requirements and conditions that need to be met, and should they not be met, then that opens the door up to new entrants to come in and prevail."
He adds, "I think both of those things are happening and especially in North America where one of the key differentiators is – can you come up with the capacity density and economics that are needed to operate in this business? And I think that's clearly one of our differentiators, our Ka satellite assets, in combo with our leading technology platform. And right now I think that's probably our most compelling proposition if you look from a differentiation point of view in North America."
Additionally, there is the whole service delivery part of it, and being able to offer the QoS that airlines are demanding, he says. "I think that's an area we're very strong in, both in a B2C and B2B point of view, we have a lot of history in that area," and it's really a focus for everything Hughes does. With Hughes building the ground network for the OneWeb low earth orbit constellation, and a high-capacity Jupiter 3 Ka-band satellite expected to launch in early 2021 – and being touted for IFC – Hughes is clearly getting very serious about the sector.
Related Articles:
Featured image credited to istock.com/Herbert Pictures