Boeing is investing heavily in developing its additive manufacturing capabilities ahead of an expected increase in the number of applications for 3D printed commercial aircraft parts.
The airframer already incorporates additive manufactured components into various aircraft cabin products, and expects the technology to provide airlines with a new way of customizing their interiors in the future.
Boeing last month signed a memorandum of understanding with Israeli software company Assembrix, which the manufacturer says will enable it to transmit additive manufacturing design information more securely.
"As we grow our additive capabilities, Boeing's collaboration with Assembrix will help us expand our cybersecurity digital thread to ensure the appropriate measures are in place to help safeguard the company's intellectual property," says Kim Smith, vice-president and general manager at Boeing Commercial Airplanes Fabrication, and Boeing's leader on additive manufacturing.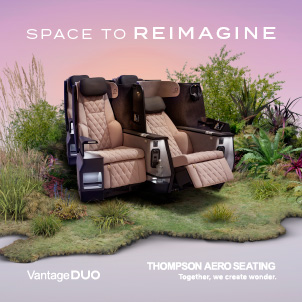 Assembrix's cloud-based platform virtually oversees the entire 3D printing process, which it says results in "simpler, secured and more efficient processes".
Boeing currently has additive manufacturing capabilities at 20 sites worldwide, including at its Salt Lake City, Utah facility, where it makes 3D-printed composite parts such as footrests and air ducts for the 777X flight deck.
"We also work with a diverse global network of supply chain partners to produce 3D-printed parts for our commercial airplane programs," says Smith. "An example of that is our collaboration with Norsk, which is using a Boeing design and its titanium 3D printing technology to build an interior galley bracket for the 787."
Boeing Commercial Airplanes' Interiors Responsibility Center in Everett, Washington currently produces 180 additively manufactured parts, including cabin interior components. More than 60,000 3D-printed parts are already flying across Boeing's commercial, space and defense product ranges, and the airframer says it "expect[s] to see an increasing number of applications for 3D printing going forward".
"Additively manufactured components are incorporated into stow bins, sidewalls, ceilings, furnishings and crew rests. These parts include lanyards, seals, spacers, as well as premium fairing closeouts and sign bezels," says Smith. "Boeing continues to develop ideas internally and with suppliers and customers as the technology and materials mature."
In addition to producing standard parts, Boeing sees additive manufacturing as "another potential way to allow airlines to further customize cabin furnishings in selected applications, via textures and logos".
The main advantages of 3D printing are the reduced amount of time it takes to design, build and deliver products, and less manufacturing waste.
"By way of analogy, instead of carving a statue out of a block of marble, additive manufacturing produces the statue itself from a digital design. With this technology, our engineers can design, prototype, redesign (if needed) and qualify parts or tooling faster than ever before," says Smith.
"In addition, by allowing an engineer to deposit material only where it's structurally needed, parts are made with less raw material and can improve product performance by making an aircraft lighter and more fuel-efficient."
Boeing started researching and developing additive manufacturing capabilities in 1997 and says it is "continually" developing new uses for the technology, and exploring new supplier partnerships "to help accelerate our ability to utilize additive manufacturing in production".
"Using additive manufacturing for airplane manufacturing is no different to implementing other new technologies: we use a range of criteria to assess how 3D printing can add value for our customers and support Boeing's business goals," says Smith.
"In addition, 3D-printed parts must, of course, meet the same rigorous certification standards as any other part installed on our airplanes and products."
Other aircraft and aerospace parts manufacturers are also making strides toward including more 3D printing techniques in their future products. For instance, Thales Group last year opened a 3D printing plant in Morocco, and manufacturing and validation testing of avionics parts is already under way.
Related Articles: