The ability to provide early window movie content to passengers is a driving force behind Air Canada's continued adoption of in-seat IFE across the lion's share of its fleet, and the reason why the carrier remains disinterested in moving to a wholly wireless world on board. So said Air Canada VP, products Andrew Yiu during an interview with Runway Girl Network.
Noting that Air Canada was among the first airlines to actually provide seatback IFE, Yiu said passengers very much expect the carrier to offer new-run Hollywood movies "so for us just to move away from it overnight would be difficult. It has become an expectation of our customers."
Air Canada's commitment to ensuring passengers have access to the latest content is impressive. In stark contrast to American Airlines – which made a big tadoo about not offering seatback IFE on its new Boeing 737 MAX twinjets – Air Canada is accepting new MAX deliveries with the latest generation Thales IFE system. Even large regional jets in the fleet are equipped with prior-generation Thales seatback IFE, and new widebodies come linefit with Panasonic systems.
"If you look at the CRJ900s as an example, they do up to a three or four-hour mission – Toronto-Houston, that's a four-hour flight – so just because we use a regional jet doesn't mean we have to have an inferior product. So our decision around whether to go streaming or not will probably depend on where [is] Hollywood eventually going to shrink the earliest window," said Yiu.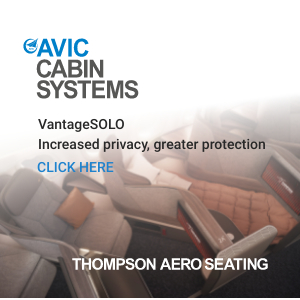 There is definitely a push by some carriers, including American, for the ability to stream EW movies to passengers' own devices versus having to deliver the content over secure, studio-approved in-seat and portable IFE systems. But despite the push, it seems that major Hollywood studios have been largely reticent to relent. Is Yiu hearing the same?
"It's the same as probably what you've heard. They're willing to do it, but not quite willing to go right up to zero. So what are we happy with? Are we happy with two months [after the content is made available as EW]? At this point, we're not because we're so used to the fact that we're able to show early window content on the IFE as soon as it's ready." So, Air Canada is "not quite ready" to go wireless-only.
That EW movie content continues to help underscore the business model for in-seat IFE on long-haul flights is not news to IFE stakeholders, including digEcor, whose CEO David Withers noted, "There are still lots of people talking about the 'fact' that seatback is going away but it's not going away at all. We're seeing materially 100% of widebodies delivered out of the factory with IFE. There certainly are some second and third lease rounds, older planes going high-density in economy and going wifi instead of seatback IFE, it's totally understandable [given that the aircraft are nearing retirement]. In-seat IFE is also seen as a comfort factor for passengers.
Indeed, Air Canada is looking at ways to enhance its embedded IFE. While various VR and AR offerings being touted for IFE seem kind of PR-ish, agreed Yiu, a lot of solutions on offer "whether Panasonic, Thales, whatever" are now enabling passengers "to control the TV using the phone as a remote" and use companion apps. "Singapore Airlines, I think they were the first," he noted. And this functionality is of keen interest to Air Canada.
Even as it eyes IFE enhancements, Air Canada believes Gogo 2Ku connectivity on its widebodies will help to further differentiate the carrier from its competitors, including WestJet, which recently unveiled its Boeing 787 interior plans, with Panasonic IFE nose-to-tail, and Panasonic Ku connectivity.
Being able to offer 2Ku helps Air Canada differentiate "1000%, yeah," said Yiu. "Because if you actually go on WestJet's website, there is a section on connectivity and they actually tell customers 'you cannot do streaming [of Netflix] on board. If you want to watch stuff like that, make sure to download it before you get on the airplane'. So if you're a customer thinking, 'there is wifi on board' and expecting an experience as at home, they're not going to get that."
Air Canada currently offers a streaming class of service on its Boeing 777-300ERs via 2Ku, with the 777-200LRs next in line for equipage as part of an admittedly delayed install schedule. The cost of offering a streaming service is not immaterial. And even though the price for Ku capacity is coming down, it's not where airlines want it to be. Yiu said candidly:
Connectivity is not something any airline can make money on. So nobody makes money on connectivity. It's an investment. It's an expectation. It's like hotels. If you look at hotels 10 years ago, they were charging $20 or $30 per night for Internet. Now everybody is offering it for free. We're not quite thinking of offering it for free because it is expensive.
As the world fleet is equipped with connectivity, is there a sense among airlines that this is an expense that can be collectively shouldered via a collective fare increase, RGN asked. "Probably not," said Yiu, because, in Air Canada's perspective, most other airlines are not offering a competitive product.
"If you look at airlines, at least in North America, still not everybody is equipped [with the ability to offer a streaming class]. So, over the ocean, not everyone is equipped. United is never going to have it. American is never going to have it."
United management recently admitted that the carrier's connectivity offering is falling short. Company EVP of technology and Chief Digital Officer Linda Jojo confessed that ensuring consistency of wifi is "a hard problem".
But what if Air Canada starts to see big take-up for streaming; can 2Ku accommodate a plane load of passengers streaming? The number it takes for Air Canada to reach the max capacity point "is pretty high", said Yiu. "I'll give you an example. We recently had a flight from Asia coming back to Canada and had 100 people connected in-flight. And everything was smooth and perfectly fine."
Added the Air Canada executive, "With 2Ku, the capability is actually really there. You're probably going to need at least 60% or 70% people connected, and be on streaming, before you're going to run into problems. Because remember we're offering browsing-light packages, and streaming, all at the same time."
Even so, Air Canada is cautious about putting all its eggs in one basket. With consolidation a hot topic within the inflight connectivity industry, and some service providers grappling with well-reported struggles, Air Canada sees a benefit to a multi-source approach, akin to how it has approached embedded IFE with Thales and Panasonic as suppliers.
Yiu confirmed that Air Canada held recent discussions with Global Eagle. And while he remained tight-lipped on whether Thales has been tapped to support Ka-band connectivity on the Boeing 737 MAXs, he said a multi-source approach would help Air Canada to protect itself should anything happen to any one partner.
Related Articles: