Inmarsat is predicting that the international inflight connectivity market will transition from being served by Ku-band satellites to largely Ka over time.
"What we think there will be in the market over the coming years is a shift even from established Ku-band operators towards Ka-band. It's easier said than done, but we believe that we will start to [see a shift] on that," says Inmarsat's new aviation business unit president Philip Balaam.
The reason for the pivot? Claims Balaam: "What we see is that in Ku-band, for example, there just physically isn't enough capacity out there and there won't be tomorrow to be able to keep up with demand. We think the future is Ka-band. It could be GX, it could be other systems. But we think that the future is fundamentally Ka-band. It has a lot more spectrum … and there's a lot more spectrum available."
Certain traditional Ku-band connectivity providers are already embracing band agnosticism. Global Eagle, for instance, makes the 'band agnosticism boast' and is readying to roll out a Ka-band connectivity solution, though it has offered Ku for many years to Southwest Airlines, Norwegian and others. The IFEC firm recently announced a collaboration with Telesat covering user terminal development plus inflight and at-sea testing of hardware which will be compatible with the satellite operator's forthcoming Ka-band LEO constellation.
Industry heavyweight Panasonic Avionics, on the other hand, has oft-times suggested it will remain flexible on the matter per its airline partners' wishes, but it recently underscored its continued commitment to Ku when it inked a deal for an extreme throughput satellite (XTS) with China's APT Mobile. It regularly dismisses the notion that there isn't – or won't be – enough Ku capacity.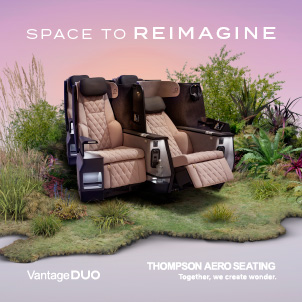 Next generation Ku-band LEO networks – which will launch in the coming years and are expected to support hybrid LEO/GEO scenarios for inflight connectivity and other applications – make the Ku inflight connectivity proposition more attractive for some stakeholders. But Inmarsat's Balaam believes his forecasted shift of IFC players from Ku to Ka will "absolutely" occur even in the face of the promised migration to shared LEO/GEO Ku networks. Indeed, perhaps unsurprisingly given Inmarsat executives' comments in the past, Balaam takes a negative view on the prospect of such next-gen networks.
"I'm relatively bearish on the ability of the Low Earth Orbit networks. I've been in the industry a long time. I've seen two generations lose cumulatively more than $12 billion dollars and none of them have worked really successfully on a commercial basis. … I don't think even the first generation will be able to deliver the services that at least the mobility will be looking for," he says.
And in contradiction to what RGN is being told by myriad companies in the Ku space, Balaam adds, "Can they [hybrid networks] deliver services to the cabin connectivity market? I strongly doubt it."
Like most inflight connectivity services, Inmarsat GX has generated mixed reports in the wild, with your author observing online chatter from less than happy #AvGeek journos, in particular. Whether the issues are related to capacity constraints or simply teething pains is, at least from this personal vantage point, unclear.
But Balaam insists GX will have more than enough capacity to support the type of experience expected by passengers, especially with the launch of GX-5.
What we have now, between GX, we have four GX satellites up there. We've got two additional GX payloads going to be launched on the upcoming Inmarsat 6s over the next two to three years, and they'll bring incremental capacity.

But one of the biggest steps is going to be the satellite that we call GX-5, which we're launching late next year. And this satellite alone will bring more capacity than the current smaller existing satellites combined …

What it will do is this satellite is specifically tailored for the aviation market. So it will be principally for Europe and the Middle East because we have some pretty significant customers there. And we already have the general GX kind of layer of capacity that's global.

Now, do we have as much as we'd like? We have as much as we'd like in most places. Now what we can do is overlay that capacity on board in the high-density traffic corridors and the hubs. And that's our approach from now on, and GX-5 will be the first step of that…
After GX-5 and the I-6s (supporting L-band and Ka-band services) which will "densify" in areas, the next step "is a more flexible, agile set of satellites that we're working on now which will bring far more surgical and flexible capacity. It's capacity that we can put up there and move around at will. We will be able to follow individual aircraft, for example from a satellite," says the Inmarsat executive.
"So on the question of [will there be enough] capacity, yes, absolutely. And obviously us and our peers in the industry, we do a lot of capacity modeling, a lot of tracking modeling and future demand. We do see demand [for Ka] increasing; is it exponential? I don't know. It will be increasing dramatically."
Related Articles: