Having spent over 11 years as an executive at multinational IT company SITA, and now serving as SITAONAIR VP, Asia-Pacific, Katrina Korzenowski is certainly no novice to the world of aviation technology. But on hearing her speak about cockpit communications at the 2018 Air Transport IT Summit India, one would hardly have thought that this Aussie gal who is so passionate about aviation had no serious knowledge about the subject before she joined SITA.
"My only association with aviation was my love for travel," she said endearingly to Runway Girl Network in an exclusive interview held on the sidelines of the summit in Jaipur.
Having studied business and computer science in Sydney, Korzenowski did her industrial training at SITA, where she returned once she finished her degree. She has now spent nearly 14 years at the firm. "SITA is like family," she says.
Within SITA, the SITAONAIR division offers nose-to-tail connectivity solutions, supporting vital communications in the cockpit as well as inflight Internet and wireless entertainment for passengers. With a close-knit team of eight based in Singapore, Korzenowski is responsible for securing new contracts and ensuring continued growth of existing business with full-service carriers including Qantas and Singapore Airlines (SIA). She has also won business with key budget carriers in the region including, Jetstar Asia, Indigo and Lion Air.
"I must admit a bit of a bias towards Asia-Pacific," where Korzenowski is the key point of contact for airlines. "This is a diverse and dynamic market offering immense opportunities for growth," she says.
Those opportunities extend to women. "This field is more than ever for women to take a leap into it," says the SITAONAIR executive. She urges, "When the opportunity arrives, be brave … If I think back on my personal experience, when a break came along, I took it."
Interestingly, Korzenowski aided pioneer SIA, and later Malaysia Airlines in adopting strategic products such as SITAONAIR's Flight Tracker, following the tragic disappearance of MH370. SIA was also the first SITAONAIR customer to deploy 'Link ONAIR'-branded high-speed connectivity services (on 777s and A380s) over Inmarsat's Global Xpress Ka-band satellites.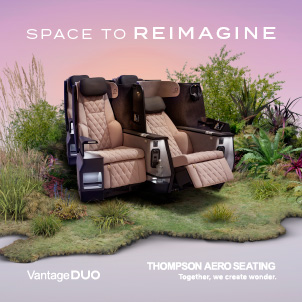 As airlines manage mixed fleets, "SITAONAIR's unique service proposition is our ability to be an integrator for the airline, and supporting them in their digital transformation programs", says Korzenowski.
This includes supporting airlines as the evolution of cockpit communications continues apace. "VHF ACARS communication will continue to have its place for both reliable and efficient cockpit and ATC communication," she predicts, but "ACARS over IP will bring about new opportunities for airline operations". To this end, SITAONAIR is a service provider for Inmarsat's SwiftBroadband-Safety solution.
Meanwhile, SITAONAIR also sees compelling prospects for bringing nose-to-tail solutions to Indian operators, especially as the country moves to loosen restrictions on cabin connectivity. ACARS over IP is already under study in India by various airlines, reveals SITAONAIR. However, adoption of cabin connectivity may be slow, as Indian airlines want to ensure a return on investment and are still mulling various business models.
Related Articles: