Mahata Aero Teknologi (MAT), Inmarsat, Lufthansa Systems and Lufthansa Technik have signed a Memorandum of Understanding to provide a world-class inflight broadband service to passengers onboard Low Cost Carrier (LCC) Citilink Indonesia's fleet of Airbus A320 family aircraft.
The collaboration between these four leading technology companies will enable Citilink to provide a unique onboard experience and build passenger loyalty through a market-leading BYOD (Bring Your Own Device) connectivity offering.
President Director of PT Mahata Aero Teknologi (MAT), M Fitriansyah, said: "The option to deliver inflight passenger Wi-Fi services for Citilink is particularly interesting due to the airline's strong technology focus. There is significant interest in this new era of digital technology and through this collaboration, we will bring the passenger a state-of-the-art inflight wifi experience with GX Aviation."
Ben Griffin, Inmarsat Aviation's Regional Vice President, said: "Asia Pacific is a key region for Inmarsat Aviation and we are delighted to welcome Citilink as a customer of GX Aviation. In partnership with MAT, Lufthansa Systems and Lufthansa Technik, we will provide an advanced inflight broadband solution that will allow Citilink passengers to browse the internet, use social media and stream online content in the air, just as they do on the ground."
Jan-Peter Gaense, Head of Passenger Experience Products & Solutions at Lufthansa Systems, said: "Thanks to BoardConnect´s open architecture and the use of modern docker technology, MAT will be able to include any additional e-commerce service Citilink wishes for. We are happy to support another airline in the Asia-Pacific region to get connected in the clouds."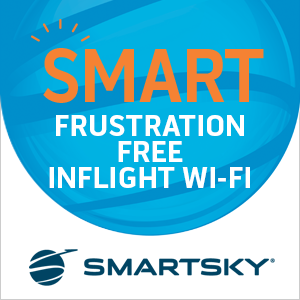 Nina Schulz, Head of Product Sales Aircraft Modification at Lufthansa Technik, said: "We feel very privileged signing the first agreement with an Indonesian provider. With 15 years of experience in state-of-the-art connectivity, we are able to tailor the equipment of even the largest fleets to our customer's individual requirements in the shortest possible time. I am convinced that we will contribute significantly to Mahata Aero Teknologi's goal of providing market-leading wireless solutions for passenger airlines services. This is a further proof of our successful cooperation with our partners Lufthansa Systems and Inmarsat. Both Mahata Aero Teknologi and Citilink Indonesia will benefit from our multiple expertise."
PHOTO CAPTION: The team from Mahata Aero Teknologi, Inmarsat, Lufthansa Systems and Lufthansa Technik will provide inflight broadband to low cost carrier Citilink Indonesia
ABOUT PT MAHATA AERO TEKNOLOGI
PT Mahata Aero Teknologi (MAT) is the first Indonesian wireless solution service provider for airline passengers, and is one of the few companies providing wireless solutions for passenger airlines in the world. MAT provides all services in the system, with end-to-end solutions, backed by innovative technology. The Integrated Solution offered by MAT is supported by a competent partner in B2C E-Commerce Platform, Multi Enterprise Application and Data Relationship Management, and Decision Support System. MAT services include Maintenance and Support System for Connected Aircrafts, and Passengers BYOD Application and Facilities. These services include Inflight WiFi, Seamless WiFi, and Unlimited Inflight Entertainment.