Bluebox Aviation Systems is hopeful that airlines will voluntarily adopt accessible inflight entertainment for blind passengers before regulators require them to do so.
The company's game-changing iPad-based inflight entertainment for the visually impaired – developed in partnership with Virgin Atlantic and respected UK charity The Guide Dogs for the Blind Association – recently won the Crystal Cabin Award for IFEC during the Aircraft Interiors Expo (AIX) in Hamburg. The secure portable solution uses audio description through Apple's VoiceOver technology, and features early window movie content for optimal passenger enjoyment.
Speaking to Runway Girl Network at AIX after Bluebox's big Crystal Cabin Award win, company business development manager David Brown said, "We are looking forward to being able to offer it to more and more airlines as the word gets out. Hopefully, we can encourage airlines to have this kind of solution on board prior to the regulatory rules changing, and enforcing it."
Does he believe there will be a domino effect given the product's success with Virgin Atlantic's fleetwide rollout? "I think so. I honestly do think that. Because it's a case of why wouldn't you do it? It's not an expensive solution. If airlines are going to have to change their seatback systems in a year or two time, well then why not bring it forward a bit and buy a few iPads? Basically, it's as crude as that. It would make a huge difference."
He continued, "What we're finding with Virgin Atlantic is even the cabin crew are absolutely delighted to be able to offer this to blind passengers on board. We've had great feedback on that. So hopefully, it will have a domino effect."
Disability rights advocates have been pressing for airlines to offer accessible IFE to blind and deaf passengers for years. Some airlines are ahead of the game in this regard – Air Canada, for instance, offers accessible Panasonic Avionics IFE for the visually impaired on its Boeing 787 aircraft – but many others are not.
In 2016, the US Department of Transportation conducted a negotiated rulemaking to agree future measures to improve accessibility of aircraft lavatories and IFE. The DOT turned to a variety of parties for advice, including the Airline Passenger Experience Association (APEX), as represented by long-time IFE industry veteran Michael Childers.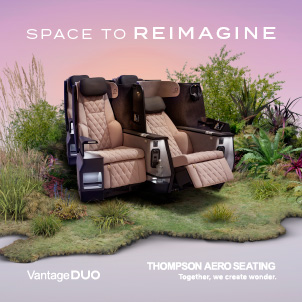 The ACCESS Advisory Committee, among other things, established deadlines for airlines to ensure that any new seatback IFE systems installed on new or existing aircraft are accessible.
"Following seven months of negotiations between air carriers, original equipment manufacturers, the disability community, researchers, and other allied groups, a consensus was reached on access to lavatories on single-aisle aircraft and inflight entertainment," said the American Association of People with Disabilities in a 1 December 2017 letter to the DOT. But movement has been slow, noted the association, and it urged the department to move forward in publishing rules.
Explaining the delay in a Significant Rulemaking Report, the DOT said additional coordination was necessary. The proposed rule on accessible IFE for deaf and blind passengers, and accessible lavatories on single-aisle aircraft is now expected to drop in March of this year.
See RGN's full interview with Bluebox's David Brown below.
Related Articles: