A well-known line in To a Mouse by Robert Burns states, "Even the best-laid schemes of mice and men oft go awry." The same could be said for media preview flights. No matter how carefully curated and choreographed, more often than not, there is a system glitch or malfunction that sours the desired outcome for all.
On 20 February, Airbus delivered its first A350-1000 to Qatar Airways in Toulouse, France. Nearly 100 international journalists were on hand for the celebratory gala, attended by retiring Airbus CEO Fabrice Brégier on his last official day of work for the company.
The following morning, over three dozen travel bloggers and influencers were invited by the airline on the six-hour delivery flight to Doha, Qatar. The aircraft featured Qatar Airways' luxurious and problematic new Qsuite business class seats, along with Inmarsat's GX Aviation connectivity service.
The flight wasn't billed as a Wi-Fi test flight in any way. However, during a question and answer session for media, Qatar Airways CEO Akbar Al Baker touted the plane for having "the best Wi-Fi" available, and assured that "it's already rolled out". Prior to our departure from the Airbus Delivery Centre, each guest was given a password in order to log on once we were airborne and at the appropriate altitude.
Everything seemed to go okay for a few minutes, but trouble began shortly thereafter. The heads of bloggers began popping up over the Qsuite walls like lemurs on the savannah. We concurred that none of us were receiving Wi-Fi as expected. It did work on and off throughout the flight, but mostly off. Many of us simply gave up and enjoyed the festivities and hospitality. Al Baker came through the cabin to survey our thoughts on the seats and service, but was surely aware of the Wi-Fi fault.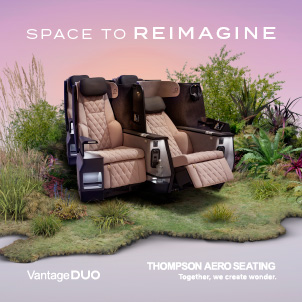 Of course it would have benefitted the airline if all of us could have shared the flight experience with our audience in real-time, but it was not to be. I only managed to publish one tweet and wasn't able to test the speed of the network, though I did get to test it a few days later from Doha to New York JFK on a Boeing 777-300ER, which was also equipped with GX.
Once in Doha, a representative from the airline told the blogging contingent that the contract for GX on the carrier's A350 fleet does not begin until March, contradicting Al Baker's statement.
Further contradicting Al Baker's statement, a Qatar Airways spokeswoman tells RGN: "The A350-1000 flight was equipped with the SwiftBroadband connectivity rather than GX Aviation connectivity. The aircraft was not equipped with our latest generation Super Wi-Fi, which will begin roll out to A350s soon, and currently is only available on our B777 fleet."
Perhaps it would have been better to have no Wi-Fi on the flight, versus an offering that was glitchy at best. After all, Qatar Airways likes to present its new aircraft once everything is absolutely perfect, and the carrier has delayed deliveries on several occasions because of it.
It was only last year when a similar situation occurred. Lufthansa Technik brought a group of aviation journalists to Malta to learn about the MRO firm's Wi-Fi installation, which coincidentally was also Inmarsat GX. We flew aboard an Airbus A321 from Malta to Frankfurt. Likewise, the system failed just a few minutes into the flight, and blame was placed on a base station communication fault in that case.
A couple of years before that, a media flight with Gogo played out in a similar fashion. The 2Ku system aboard the company's since-retired Boeing 737-500 became too slow to use the streaming services that Gogo had claimed it was capable of supporting.
To be fair, each passenger was using a smart phone and a laptop computer, and really pushed the system hard in that case. A follow-up demo flight in the spring of 2017 proved all was well with the 2Ku system.
By now, your author and fellow industry observers have learned to smile and shrug when these things happen, knowing the kinks will eventually be worked out, because neither the airlines nor their providers want to present a poor product or deceive their customers in this age when all faults become public.
Disclosure: The author's attendance on the A350-1000 delivery flight from Toulouse to Doha was by invitation from Qatar Airways, and facilitated by the carrier. All statements and accounts of the flight are those of the author.
Related Articles: