United Airlines has endeavored in the past to make its inflight connectivity service – provided by multiple disparate providers – as consistent as possible, including by disallowing streaming video. But inquiring minds want to know if the carrier will unleash the anticipated power of Viasat's latest generation inflight connectivity solution when it launches the service for passengers on United Boeing 737 MAX twinjets and other aircraft.
The US major has tapped Viasat to directly provide its new Ka connectivity kit for 70 aircraft, including 58 737 MAXs; these United aircraft will be capable of 'talking' to the current ViaSat-1 and ViaSat-2 satellites, and ultimately ViaSat-3 platforms when they launch. Viasat will also power United's Private Screening entertainment option on the aircraft; the service offers customers access to hundreds of entertainment titles from its onboard library direct to their own devices.
The new 70-tail deal is in addition to the "around 280" aircraft in United's domestic mainline fleet that are already powered by Viasat connectivity service, but see integrator Thales serve as prime on the contract, noted Viasat chairman and CEO Mark Dankberg during the firm's fiscal third quarter earnings conference call. Viasat later corrected that number, saying "the actual number of United aircraft we have in-service today is actually around 325".
Asked by an analyst how United will manage #PaxEx expectations with the new direct service on 70 aircraft, Dankberg said.
We don't want to speak for United in terms of what their fleet-wide planning is. I think they'll speak for themselves in terms of how they're going to kind of deliver the services through the course of the fleet, throughout the fleet.

I think our understanding is, in general, they're excited about the capabilities that we offer, and I think you'll see that they are probably more likely to try to figure out how to leverage them than to subvert them.
If the connection is leveraged rather than subverted, that could prove to be welcome news for passengers, who must contend with United's current messaging: "Live video and Internet streaming services are not permitted. Streaming video from a website requires extensive bandwidth and will not work as well on a plane as it does on the ground."
However, United is presently staying mum on whether it will allow the Viasat service to operate to its full potential. "We will work closely with Viasat to ensure the reliability of connectivity and our entertainment on board. Forming this new relationship is just one of many steps we're taking to improve our Wi-Fi and enhance the onboard experience," a United spokeswoman tells RGN today.
Service over Viasat's high-capacity ViaSat-2 satellite will begin shortly for residential customers. Viasat is facing an antenna glitch on the satellite, which Dankberg describes as an "anomaly". The firm has alerted insurers and is working with them to quantify it. Viasat may try a fix, but wants to ensure "anything we do is prudent", he says.
Dankberg adds, however, that Viasat didn't base its ViaSat-2 business plans on perfection, and that ground portions of the network are performing beyond the firm's expectations.
Asked by RGN if Viasat is anticipating any tweaks to its inflight connectivity rollout plan given the ViaSat-2 anomaly, a Viasat spokeswoman says, "We can confirm, our IFC business will not be affected by the current satellite antenna issue."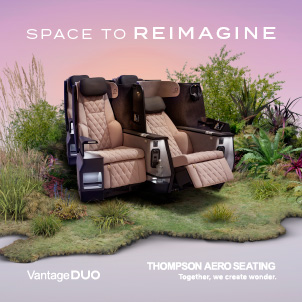 For its part, Thales is also offering a new Ka-band connectivity service to the market in partnership with Hughes and SES. While ViaSat has made known its interest in assuming prime positioning on United domestic aircraft for which Thales is prime, time will tell if the company succeeds (as it has done over at JetBlue).
At the end of the fiscal third quarter, Viasat supported broadband connectivity on 589 commercial aircraft, including JetBlue's fleet, the aforementioned United aircraft, and 737s operated by American Airlines and Australia's Qantas. It also held contracts for a further 912 aircraft at that time, but the new 70-aircraft connectivity deal with United brings the total contracted number closer to 1,600.
Viasat believes its inflight connectivity business could triple in the next three years. In the near-term, it expects to see a ramp-up of aircraft installs in the next two quarters, with management saying the fiscal fourth quarter will see "double what it was in Q3 and then Q1 will double that". The summer will see a slowdown as airlines focus on aircraft utilization during the high-traffic summer months.
Related Articles: