Airborne Wireless Network (OTC QB: ABWN) is pleased to announce that on December 14, 2017 it entered into a Support Agreement with GE Aviation, one of the GE (NYSE:GE) Business Units.
ABWN anticipates that this relationship should significantly accelerate the development of ABWN's proprietary Hybrid Radio and Free-Optics Communications System to be demonstrated the 2018 calendar year.
Michael Warren, CEO of ABWN said, "Our collaboration with GE Aviation should provide the highest quality of engineering support in our upcoming Hybrid Radio and Free-Optics Communications System test. The expertise provided by GE Aviation, which will arrange for tactical-grade Inertial Reference Units (IRU) with embedded GPS that can be utilized for heading, pointing, attitude, and stabilization for the System, should help assure a successful result."
"GE has provided inertial reference systems to our customers for more than half a century," said George Kiefer, GE Aviation Product Management Executive. "Tactical inertial navigation and the support of satellite communications solutions are areas of expertise for our team and we're excited to support Airborne Wireless in its mission to reduce the cost of Aviation connectivity and to help connect underserved markets. This is a rapidly evolving market, requiring innovative technologies to enable the future.  GE product engineers stand ready to provide world-class product expertise to help Airborne Wireless successfully achieve this important testing milestone."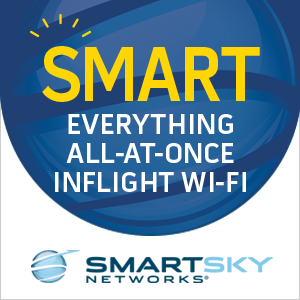 About GE Aviation and GE
GE Aviation is a world-leading provider of commercial, military business and general aviation jet and turboprop engines and components as well as avionics, electrical power and mechanical systems for aircraft. GE has a global service network to support these offerings. GE and its customers are also working together to unlock new opportunities to grow and deliver more productivity beyond traditional services.  GE Aviation is becoming a digital industrial business with its ability to harness large streams of data that are providing incredible insights and in turn, real operational value for customers.
GE (NYSE: GE) imagines things others don't, builds things others can't and delivers outcomes that make the world work better. GE brings together the physical and digital worlds in ways no other company can. In its labs and factories and on the ground with customers, GE is inventing the next industrial era to move, power, build and cure the world. www.ge.com
About Airborne Wireless Network
The Company intends to create a high-speed broadband airborne wireless network by linking commercial aircraft in flight. It is projected that each aircraft participating in the network will act as an airborne repeater or router, sending and receiving broadband signals from one aircraft to the next and creating a digital information superhighway in the sky. The Company intends the network to be a high-speed broadband internet pipeline to improve coverage and connectivity. The Company does not intend to provide retail customer coverage to end users, but, instead, act as a wholesale carrier with target customers, such as internet service providers and telephone companies.