Are inflight connectivity providers offering sweetheart hardware deals to airlines with the promise of revenue share once the program launches? We know that some low-cost and financially-struggling carriers expect nothing less.
But when it comes to subsidizing a piece of equipment, Global Eagle says "you'll see that our path differs" than certain other providers.
"We would rather invest the dollars in building the right product, the right return on investment, the right portal and partner with our airlines where we work together, than to give everything away," says Global Eagle EVP connectivity Josh Marks.
Some of Global Eagle's previous declarations support Marks' assertion. Back in January 2014, during the Citi Internet, Media & Telecommunications Conference in Las Vegas, Global Eagle founder Harry Sloan said: "What I find interesting about the Russian deal [UTair] is that we were able to confirm our business model in which…the airline pays for the equipment."
He added, "We got Southwest to pay for all 500 planes, $100 million dollars."
Whether Southwest was also willing to pay for the level of Ku satellite capacity required to provide robust Internet to passengers is a question that industry analysts and observers have pondered for years. Both the airline and Global Eagle have faced scrutiny for the quality of service on board.
But Global Eagle is now pushing new bandwidth in the direction of Southwest's 737s, and doing a lot of work behind the scenes to improve the passenger experience. Your author observed some improvements on recent Southwest flights, though a search of "Southwest wifi" and "Southwest Airlines wifi" on Twitter shows that more work needs to be done (and that passengers increasingly expect to be able to stream video, which the connection does not support).
Norwegian, which offers Global Eagle-supported wifi for free to passengers, is also accustomed to doing a bit of trouble-shooting online to manage passenger expectations.
But at least your able to Tweet!😅 I know the WiFi can be very slow, but all it need sometimes is a little patient 😝 Best regard, Ben

— Norwegian (@Fly_Norwegian) December 1, 2017
Growth in developing markets
In a bid to drive profitable growth, Global Eagle continues to address the North American and European markets, whilst also pursuing developing markets including South America, China and India.
"You have to understand the market to be able to drive success," says senior VP aviation Per Norén, so for example, "you can't approach Brazil or Argentina with the same business models as you would in North America. [You] need to partner with the airline." The financials around these creative partnerships are not known, but Global Eagle says it isn't handing out hardware.
In Brazil, Global Eagle's work with Avianca Brasil has progressed. Five of 43 airplanes are equipped "and we manage the whole process for billing, portal, advertising, entertainment and connectivity and when I got on board, and Josh and I talked it through, we said 'let's give it a real deep analysis first and work with Avianca Brasil's team to make it a success'," says Norén.
"It's easy to say 'we'll connect all the airplanes', but if you're going to drive success in a developing market, you have to understand the demographics and passenger analytics…" he continues. "We're looking at take rates, together with Avianca; they drive success and we drive success."
"We are trying to manage risk, and drive the right product."
Global Eagle's Vodanet subsidiary in Brazil, picked up during the EMC acquisition, already "connects thousands of land sites", notes Marks. "We have deep capability in Brazil from teleports and data centers; we know the Brazilian market well and [have] hundreds of employees in Argentina where we have these operations too. We know the challenges of the LATAM market and it's part of what's driving our cautious optimism in aviation."
Global Eagle also sees the Chinese market opening up, having just fitted a 9 Air Boeing 737-800 (pictured at top) in conjunction with Boeing Shanghai Aviation Services Co.
"We are pleased with the Wi-Fi installation performed by Boeing Shanghai. The modification allows 9 Air to create a more passenger-friendly experience for our customers. We hope it is a good start to our long-term and mutually beneficial cooperation," says 9 Air vice president He Jian in a statement.
As China allows smart phones to be activated in-flight, adoption of connectivity solutions by Chinese operators is expected to speed up. Panasonic is also well positioned, as it already operates over China today.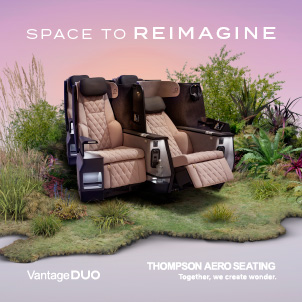 India is, however, a separate conversation, according to Global Eagle. The Indian government "has been back and forth between administrative branches" in terms of commentary "and it will come down to government setting rules how inflight connectivity will be licensed and delivered so there are still open questions around what gateways will be used, foreign operated satellites, or will they have to operate exclusively through Indian-owned capacity. Those are still pretty fundamental questions. We are participating in that process; we have local Indian subsidiaries."
However, Global Eagle believes inflight connectivity in 2018 will be explosive in certain developing markets. "And I think we are as well positioned as we can be to take advantage of that," suggests Marks.
Whether analysts see it that way is another matter entirely. William Blair, in a recent note, says it sees "Viasat, Gogo, Panasonic and Inmarsat" generally splitting market share for new awards.
Interestingly, while Viasat VP commercial mobility Don Buchman notes that some carriers have a business model where subsidized hardware up front is "the only way to approach it", the firm is looking for customers that want to buy what it's selling – i.e. high-speed, Ka-band connectivity. "We haven't had customers that will buy us because of that [type of model]. They're doing it because they're aligned with what we're trying to build."
Meanwhile, Global Eagle's protracted delay in filing its 2016 financials with the SEC, finally submitted in November, and its delay in submitting its Form 10-Q report for the fiscal quarter ended 30 September 2017 make it challenging for analysts to see what the firm is doing, according to management.
"It limits our ability to communicate our wins. Our philosophy at Global Eagle is not to announce every LOI or positive indication of news. We execute and then talk about executions. There are a lot of good things happening and we want to show results," says Marks.
Notes Norén, "Performance matters, so we have used the period of time that has been hard for the company with the filing, used it to consolidate, structure, organize, [obtain more] market penetration and we are convinced that the results will come."
Related Articles: