Sandwiched between an awkwardly inappropriate comment – to a sea of white faces – about being "glad nobody took a knee" during the national anthem and a video clip which skated a mite close to propaganda, the Aerospace Industries Association (AIA) last Thursday delivered a refreshingly honest statement about its ever-growing role in civil aviation safety.
During its annual luncheon in the Washington DC area, AIA confirmed that when it comes to safety, civil aviation is effectively working in lock step with government.
"Turning to civil aviation, although this is not headline making news, it's worth noting the close and productive working relationship we've developed with the FAA to enhance aviation safety. Indeed, we've entered a period of unparalleled cooperation with our regulators," said AIA president and CEO David Melcher.
"The FAA and its certification office is transforming how we do business, by taking a risk-based approach to the certification of new products. This enables the FAA to improve their oversight while maintaining the safety of the system and allowing industry to focus more on the airplanes of the future. That's a very positive but little noticed development."
It might be convenient for certain parties to, depending on which camp they're in, either credit or blame the Trump Administration for the change. But the fact of the matter is that the wheels have been in motion for years.
Journalists who cover the civil aviation industry, and savvy consumers, are well aware that operators have long adhered to voluntary safety reporting programs. And even on the aircraft system certification front, a big chunk of post-delivery work is farmed out. For instance, most inflight entertainment and connectivity providers hire companies that are designated to act on behalf of the FAA – under what's known as Organization Designation Authorization (ODA) – in specialized areas of systems design and certification.
But in 2015, the FAA issued a broad order which set forth a new Compliance Philosophy as the overarching guidance for implementing its safety oversight. This philosophy, which eschews a traditional, enforcement-focused regulatory model, is the first step in the agency's culture shift to use safety management principles to proactively address emerging safety risks.
"We are shifting our culture because the aviation environment has reached a level of complexity where we cannot achieve further safety improvements by following a purely rule-based approach," said the FAA in an online statement.
"Therefore, FAA will encourage a more proactive approach by airports, airmen, and organizations to disclose and develop measures that identify safety risk, prevent deviations, and ensure corrective actions are taken when deviations exist. At the same time, FAA is evolving its business processes to a risk-based model to better target our energy and resources."
What does this mean in real terms? In an Op-Ed first published by Aviation Week & Space Technology, and republished by Rockwell Collins by permission, Kent Statler, executive VP and chief operating officer commercial systems at the avionics and aircraft interiors powerhouse, made the case for why industry needs seamless aviation certification standards. He noted that while flight safety has improved significantly over the years – indeed US commercial flight, in particular, is on a remarkable safety streak – the certification process "delays innovation, keeps OEM and airline costs needlessly high, increases ticket prices and encourages bureaucracy".
At the core of the aviation certification challenge, said Statler, "is the lack of global harmonization, a desired end state where certification standards and procedures are similar, and, importantly, mutually recognized and accepted within each of the global certifying authorities, the six biggest being: the US (FAA), Europe (EASA), Canada (TCCA), Brazil (ANAC), Japan (JCAB) and China (CAAC). While the relationships between these certifying authorities are cordial at the senior executive level, mistrust is common at middle-management levels and below. This lack of trust leads to second-guessing and the demand for duplicative certification—many times on systems that have been flying for years with no safety issues. This is a waste of time and financial resources."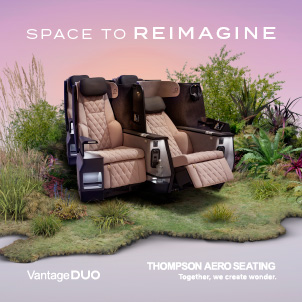 He described how, after completing a comprehensive FAA certification on one of Rockwell Collins' integrated avionics systems, "it took an additional seven years to get approvals from five international authorities. Tens of millions of dollars were spent with one certification authority alone because it demanded its own redundant engineering and certification tests rather than recognizing the FAA's approval and validation. Despite jumping through numerous hoops over many years, in the end it resulted in no safety improvements. It was a preposterous experience." The full Op-Ed is worth a read.
But Runway Girl Network readers will no doubt be wondering how a risk-based approach will affect certification of passenger experience (#PaxEx) products, including but not limited to the certification of aircraft seats, full aircraft LOPAs, and inflight entertainment and connectivity systems.
The seat certification question seems particularly timely given that the FAA was recently called to task by the DC Circuit for not providing aircraft seat test data to consumer advocacy group Flyers Rights to back up its claim that safety isn't compromised by high-density configurations.
And so your author put the questions to the FAA.
How does taking a risk-based approach meaningfully change the current paradigm for #PaxEx stakeholders? Appreciating that US air travel is extraordinarily safe, will a risk-based approach lead to an even safer regime?
A spokesman for the agency tells me:
The FAA certification process is geared toward maintaining the appropriate level of safety for the type of aircraft and its operation.

In a risk-based environment, we limit our involvement/oversight based on that level of safety and the level of experience that the modifier has with carrying out the design change. Our main concern is that passengers make it safely to their destination.

For example, we would limit our involvement/oversight of an applicant/modifier installing a seat in a proven/standard configuration that has been demonstrated to meet the aircraft's required level of safety.

In some cases, for new seating configurations that have not been proven, we may elect to be involved in the approval process to assure the new configuration is not introducing a safety hazard.
Such a frank admission, that the FAA can elect to be involved (or indeed not be involved) in the approval process may be troubling to some. But given the FAA's evolution, it is hardly surprising.
What is abundantly clear now is that mobile, social, vocal passengers are more important than ever. They can and indeed must help to keep industry's nose clean.
If you see something, say something.
And please consider tagging it #PaxEx.
Related Articles: