Editors and reporters from some of the most respected and relied upon business aviation publications recently participated in the first media demonstration of the SmartSky 4G LTE-based network. SmartSky Networks' Citation Excel took flight Tuesday morning, Nov. 14 from Melbourne International Airport (KMLB). Aviation International News/Business Jet Traveler, Business & Commercial Aviation/Aviation Week, Flying, Professional Pilot and Rotor & Wing/Avionics were all represented.
SmartSky has conducted multiple demonstration flights for current and prospective customers. The most recent were last month at the National Business Aviation Association's Business Aviation Convention and Exhibition (NBAA-BACE) in Las Vegas. A dozen demo flights were held over three days. This was SmartSky's first for the media. During the flight, the media was encouraged to do multiple things online simultaneously. And they did. They conducted real-time video calls with colleagues across the country. They seamlessly streamed movies (no buffering), and used their phones to do everything from check their calendars to search the web. They easily accessed corporate clouds, and successfully sent and received data on multiple VPN sessions.
"Basically, we said, put us to the test," says SmartSky Networks Vice President, Product Management Eric Brooks, who was on the flight. "They experienced what we've been saying from Day One: SmartSky delivers on the promise of office-like internet access in the sky."
Following the flight, the media participated in a debrief at the Satcom Direct hangar, then toured Avidyne. SmartSky partners with Avidyne for the manufacture, certification and support of its air-to-ground wireless connectivity products. SmartSky and Avidyne have worked closely to develop specialized products for business aircraft, including airborne radios and antennas. Avidyne secures Parts Manufacturing Authorization (PMA) for new hardware, provides ground- and flight-test services, and develops the initial Supplemental Type Certification (STC) for installation. Avidyne has a 23-year history of advancing avionics products through the certification process.
"Our team of strategic partners truly is the best of the best," says SmartSky Networks Vice President, Business Aviation Alan Goodnight. "Avidyne is a perfect example of that excellence and drive to transform inflight communication in both cabin and cockpit. It's led to where we are today. We're redefining what it means for multiple passengers to be able to stream, chat and text in real-time onboard a business jet."
After the tour, the group returned to the Satcom Direct (SD) hangar for an interview with SD Senior Commercial Director Derek Donahue and Director of Sales-Strategic Partnerships Jim Huntoon. SD has achieved many firsts since its founding in 1997, including its patented Global One Number (GON) simplified calling to an aircraft in flight. Today, with SmartSky 4G LTE it enables smartphones and computers to work with the same reliability and speed in the air as on the ground. SD serves as SmartSky's exclusive customer service and support provider. SD offers many value-added services and products, including the industry's premier airborne router.
SmartSky sets a new standard in aircraft Wi-Fi, delivering the best value and in the most secure manner possible. The ingenuity of its patented 4G technology with beamforming and efficient air-to-ground network gives passengers an office-in-the-sky experience and operators a new, better way of managing their aircraft communications. An analysis of the data operations during the media demonstration flight confirmed SmartSky 4G LTE's unrivaled speed and capacity
Multi-GB per hour actual data consistent throughput.
Actual peak speeds well in excess of 10 Mbps, with individually run speed tests showing high multi-Mbps bidirectional data rates, as well.
Average return link traffic representing nearly 25 percent of the data. No other inflight connectivity network supports these crucially needed ratios to run the popular applications customers want, need and expect to use.
Average of more than 50 seamless beam handovers per flight, proving the most difficult engineering aspect of the system works, and demonstrating the system's inherent scalability.
SmartSky demonstrated capabilities that have been difficult or impossible to consistently achieve on either the incumbent's ATG network or new satellite systems. These include conducting a live WebEx, or quickly sending large PowerPoint files, even while other passengers were streaming video. SmartSky enables bi-directional live communications at speeds that match Wi-Fi on the ground.
SmartSky's 4G LTE nationwide network deployment involves many steps on the way to a transformative air-to-ground connectivity solution, including secure datacenters strategically located in California, Colorado and Virginia that are already operational. SmartSky is manufacturing its proprietary antennas and ground stations, and deploying them nationwide on existing cell towers as the equipment rolls off the production lines. It's working with the three leading U.S. tower companies: Crown Castle, SBA and American Tower. Together, they own a vast majority of the existing towers across the country. These three along with a fourth company, Powder River Development, are experts in the additional steps necessary for installation at each site, such as delivering high-capacity fiber optic backhaul links.
The brains of SmartSky's network are housed in three massive datacenters, strategically located across the country for maximum efficiency and redundancy. Instead of spending unnecessary resources to build its own hardware, SmartSky works with Datapipe and Equinix to host its virtual core (or software) at their facilities in California, Colorado and Virginia. The nearest center to a customer's aircraft is always sending and receiving data. Those close gateways to the internet mean low latency, which eliminates communication lag time. Having three centers, as opposed to the current ATG provider's one, also makes the system more fail-safe. For example, it can provide backup in case a massive storm takes one center offline.
Years in the making, SmartSky 4G LTE will go live nationwide in mid-2018 for business aviation operators. For a limited time, customers can sign up to take advantage of SmartSky's Network Launch Promotion, which rewards them with bonus data. It also includes an unlimited data option (subject to terms and conditions) that represents the lowest price per GB in airborne connectivity.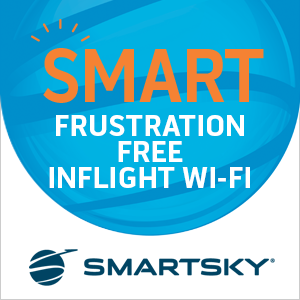 "SmartSky 4G LTE is the only system that can deliver multi-Gigabyte-per-hour data rates inflight, bi-directionally and with low latency," says SmartSky Networks President Ryan Stone.  "The meaning of that doesn't truly hit home until you experience it. The promised revolution in connectivity is underway."
ABOUT SMARTSKY NETWORKS
Headquartered in Charlotte, North Carolina, SmartSky Networks was formed in 2011 by senior aviation and telecommunications executives seeking to transform aviation using disruptive communications technologies and related tools. Working with leading aerospace and technology partners, SmartSky has begun the rollout of its innovative, air-to-ground network, SmartSky 4G LTE. The network takes advantage of patented spectrum reuse, advanced beamforming technologies and 60 MHz of spectrum for significantly enhanced connectivity. SmartSky 4G LTE delivers data to the aircraft with speeds comparable to next generation satellite solutions and provides unmatched speeds for data transmissions off the aircraft. This real-time, low latency, bidirectional link makes SmartSky 4G LTE a key enabler for the new and enhanced apps, services and hardware that will usher in the digitization of the aviation industry. www.smartskynetworks.com