A UK-based company that has been working with Boeing to find a large-scale recycling solution for carbon fibre from the aerospace industry says it has achieved its goal.
The challenge now is for dismantling companies to work out a way of separating the composite material from the rest of the airframe so that it can be sent for repurposing.
"We've done many practical studies and I can now say confidently that we can recover carbon fibre [from aircraft] and recondition it for use in other industries," ELG Carbon Fibre managing director Frazer Barnes tells Runway Girl Network. "Once you get the stuff off the aircraft in a reasonable form, we can recover it."
However, the large commercial aircraft that feature carbon fibre-heavy structures are newer models which only recently entered service, meaning "nobody has done this yet". For this reason, stripping out the carbon fibre remains a "challenge" for aircraft dismantlers.
But Barnes says the aviation industry is "working together to look at how we address this", and he is confident a solution will be found "long before" these aircraft come out of service.
Amy Bann, director of sustainable materials at Boeing Commercial Airplanes, points out that "most aircraft with carbon fibre structures will be in service for many more years", and the majority of retiring aircraft over the next two to three decades will primarily consist of aluminium.
"For retiring aircraft that contain carbon fibre parts, an active recycling and teardown industry is trying a variety of approaches," adds Bann.
"Some are doing research and pilot projects while others are using carbon fibre to create boutique projects such as furniture. Some carbon fibre may go to landfill. In addition to our work with technology developers, we partner with AFRA [Aircraft Fleet Recycling Association] and airlines to foster best practices."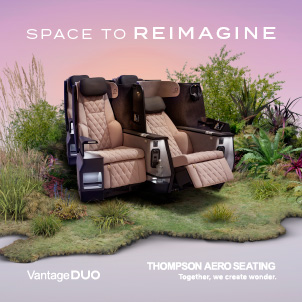 Up to half the airframe on new-generation aircraft such as the Boeing 787 and Airbus A350 is made from carbon fibre, a much lighter-weight alternative to aluminium. However, unlike aluminium – which can melted and reused relatively easily – carbon fibres are sealed together with polymers and cured at high temperatures, making the recycling process much more complex.
"The biggest difficulty is producing a consistent product with a mechanical performance that is similar to the original carbon fibre. Our focus has been on how to design a process for consistent output," says Barnes, adding that getting to this point has involved "lots of hard work".
While other companies are doing similar work on carbon fibre recycling, Barnes claims that ELG is "ahead of them at the moment".
ELG uses a modified pyrolysis process to recover the fibres, and has found pathways for selling the recycled materials on to industries involved in thermoplastic compounding, thermoset compounding and composites.
"To make a viable business you need to put that carbon fibre back into the market," says Barnes.
ELG converts fibres into non-woven materials for use in automotive manufacturing, for example to make car seat structures. Recycled carbon fibre can also find a second life in the electronics industry.
At the moment ELG has just one recycling plant in the UK, but its plan is to expand to North America, Asia and mainland Europe "in a short number of years", says Barnes.
"We've demonstrated it: now we've got to scale it up."
While he does not want "to sound too bullish" because "there are still things that could come out of the woodwork", Barnes says ELG has "got a viable path to recycle materials from Boeing aircraft", and the company is also working with Airbus.
It is now up to the aviation industry "to take this forward".
Related Articles: