Pressure is mounting for industry to do more to accommodate disabled passengers, including enabling them to stay in their own wheelchairs when they fly. Among the powerhouse individuals getting the word out about the so-called Flying Disabled campaign is "Rocket Girl" Mary Doyle, a wheelchair user, coach and disability awareness trainer.
In the following interview with Runway Girl Network, Mary explains why she is passionate about the customer experience, inclusion, human potential and technology, and she brings us up to speed on the important work being done by Flying Disabled.
Runway Girl Network: First, can you tell us a little about your background? I read that you have been a wheelchair user since the age of 13. What challenges did you face as a young woman and today?
Mary Doyle: When I became a permanent wheelchair user, following a failed surgery to improve my walking due to Cerebral Palsy, it was extremely difficult for me to return to my previous life as a young person with independence. We lived in a maisonette, above a shop (lots of stairs, no lift), and I had to navigate a home environment which couldn't accommodate a wheelchair with any ease. I also had to transfer to an accessible school (and I could no longer catch the bus). Consequently, when I left school, job searching was challenging as I often couldn't attend interviews due to the office access, or use public transport to get to potential work places. My experience above is an example of the Medical Model of Disability. This is still an issue today, which is why campaigning for inclusive transport is still a high priority for me.
RGN: You refer to yourself as "an old school analyst and programmer from the late 1980's". What attracted you to the software and telecoms industry? Was your employer supportive of you? Did you ever feel as if your disability stifled your career trajectory? 
MD: I knew I wanted to work with computers/technology after spending months in hospital (before the Internet and multiple TV channels) after mostly listening to the radio, all day and every day. I'm excellent at a pub quiz! At school I took computer science, and then programming in college. I secured my first job on a trainee placement scheme when I was 18 years old, and my first manager was extremely encouraging and supportive, although the money was the lowest possible. I was treated like one of the boys and there were very few women in my department, and only me as a trainee programmer/analyst. Although over the eight years I worked there, we did get a second female programmer. Slow progress. In the years working as a hiring staff manager in technology, I rarely received a resume from a woman or a disabled person (or at least someone comfortable enough to say they were disabled). Woman aren't getting past the first hurdle in some environments. 
RGN: The tech industry is still male dominated. As a woman, were your contributions valued by your employer? Did you have any mentors (male or female) in your life?
MD: I have been very fortunate to have many smart managers who have gotten the best out of me, and there are people who mentored me (although I'm not sure I recognised this was happening at the time) and I wanted to operate with their level of knowledge, ethics and influence. I have only had one manager who was a huge disappointment to me, and I put this down to her need to build her own career at any cost. I am still in regular contact with many old bosses, and one amazing customer service champion based in the US, and we have both grown in our respective careers due to our ability to believe people want to do the right thing. The vast majority of women I have worked with have been extremely supportive of each other.
RGN: You worked for years at electronic banking specialist ACI Worldwide, and were promoted regularly. What are some of the biggest lessons you learned whilst there?
MD: Be useful. People are hired to solve a specific business problem. And don't get too distracted by internal politics; you have to drive your own career. I definitely learned a huge amount as a staff manager for 15-plus years. People (and their lives) can be complicated and may not act as you expect, and therefore you need to keep an open mind. Also, sharing your industry knowledge and helping others will only build your team up. Holding onto your knowledge may work in the short term but it does not build trust or relationships. Accept new assignments and ask for help, if needed. Work can be very stressful, but don't forget to be human in all of your engagements, including those towards yourself.
RGN: When did you first get involved in coaching people to get past their own challenges and find new directions? Are your clients mainly those in the disability community, or do you offer your services more broadly to anyone who needs them?
MD: I have always adored working with people (and technology) and after I received treatment for depression several years ago I decided to become a listening volunteer for a UK charity called Samaritans, for people who are going through very difficult times. This involves supporting people mostly over the phone, which is a skill useful in everyday life, and was hugely helpful for my customer support and staff management roles [in the past]. People frequently confide in me or ask for advice, and I have volunteered for years. It became apparent to me I needed to do this as a new career, and although my coaching is open to all, I regularly hear from people with a disability and often career women. I'm currently undergoing my coaching training towards formal accreditation [in the Alchemy of Coaching program], to ensure I provide the best possible service. This training is a combination of learning evidence-based tools and techniques, and learning about your own wisdom and presence in coaching. This level of mastery allows coaches to create the best possible environment for our clients, to help identify the issues to be discussed and promote self learning. It is an amazing course run by two absolute legends and it's a privilege to be a coach.
RGN: Can you tell us about your Disability Awareness Training for industry? What does this entail? It seems that the aviation industry, especially, would benefit from more awareness. Are you seeing positive movement in that regard?
MD: My experiences above, after leaving hospital, shows an example of the Medical Model of Disability [whereas] the problem is viewed as my own medical condition, and I should be fixed by doctors and nurses so that I can fit into society and the current set up. The Social Model of Disability is based on the environment and the physical, attitudinal and organisational barriers around the disabled person. Its focus is on ability of the person. If the barriers are removed by society, disabled people will see full inclusion in society. I am enabled when I have an office I can easily attend, shops I can enter, and transport I can use freely, etc. This is a very different approach for the majority of the population who are not disabled or have limited contact with disabled people.
Education is everything. Showing people that a person with a disability has a valuable contribution to make – and by designing buildings and technology, and using positive language around disability – will have a massive impact on future generations. When you include disabled people in your business strategy as customers, you will be including all people as you will have accommodated for everybody. Employees regularly fly for business now and that includes wheelchair users, as I did for 20 years. I think there has been slow improvement globally. However, disabled people are still not treated with the same level of respect as other minority groups. It is still seen as socially acceptable to ignore our needs without any real consequences. Recorded incidents of disability hate crime have risen dramatically in the last 12 months. We need to make bad treatment of disabled people as unacceptable as sexism or racism.
RGN: When did you become a student pilot? What attracted you to aviation?
MD: I started flying lessons in 2012 (I was already over 40!) when I was awarded a flying scholarship for disabled people. I was obsessed with NASA's Mercury 7 and then Chuck Yeager/Pancho Barnes. I never thought it was possible to be a pilot as a wheelchair user. I went solo on the last day of my 21-day scholarship. I know now, that it is very possible with the right support and hard work. I fly a Piper PA-28 using a hand control to control the rudder; there are no other adaptations. Flying is a great equalizer. I'm a pilot and aviation geek first. It is also a huge personal achievement to join the relatively small community of female flyers on merit. 
RGN: You volunteer to help disabled people fly through Flying Scholarships for Disabled People? What does this work entail? What attracted you to this charity? 
MD: Following my scholarship I wanted others to benefit from the experience of being airborne and in control, and the change in confidence which follows. The scholars, their family, and the community all benefit from the experience. I have provided mentoring for scholars for many years. I also provide a listening service as part of the selection process at RAF Cranwell [a Royal Air Force station in England]. I attend fundraising events and do whatever is required to make the charity a success. It is very dear to my heart.
RGN: When did you first meet Chris Wood, founder of the Flying Disabled campaign, and what role are you now playing in Flying Disabled?
MD: I saw Chris on Twitter and I immediately thought 'that's important, and I need to help', as a disabled business professional in customer service. With a history of travel for work, services and training, I'm consulting, writing, and providing tech support [for Chris]. Anything to get this moving as much as possible. It's extremely exciting to think we can invoke real change in aviation that will benefit the passengers, the entire industry, and also the shareholders.
RGN: What changes do you personally want to see to ensure disabled people have access to all modes of transport?
MD: I want people to have the choice. Changing people's attitudes will have a big impact and getting people to work collaboratively will have the best chance of success. I am not into beating any industry with a stick. I do want to be heard and for real dialogue – and process change – to take place (possibly supported by legislation), so everyone wins.
RGN: How can people help support the Flying Disabled project?
MD: By sharing tweets to increase visibility, commenting on the items which resonate with you, completing the short online survey, contacting your local Member of Parliament/Government to get them involved and making the needs of disabled travelers known. If you can sponsor a meeting, if you have specific aviation industry knowledge or are a legal eagle (this is a global project, with differences in legislation), please get in touch via the website. This is going to be a team effort and disabled people also need to drive this initiative along as an equal party and influence it directly. 
RGN: As you've said yourself, something amazing happened at The Base at Virgin Atlantic on 22 September 2017. The inaugural Wheelchair in the Cabin Symposium, supported by Virgin Atlantic Airways, was a landmark event for disabled passengers. Tell us about the Symposium?
MD: In August 2017 I reported on the upcoming event here on Runway Girl Network, and explained the need for Flying Disabled, which is a positive campaign by British activist Chris Wood to help enable wheelchair users to fly with dignity and safety. By working with the airline industry, government bodies, wheelchair users and designers, the intention is to be able to have a wheelchair board an aircraft easily, as well as have seat spaces in the cabin for a wheelchair user to remain in their own power or manual chair. This would remove the pain of the transfers, the use of an unsuitable aisle chair, and the very real risk of wheelchair damage when chairs are placed in the hold.
There were very high calibre speakers at the event, including representatives from government, industry, entrepreneurs, aircraft interiors designers, airlines, travel agencies, and charities for disabled people. It was also broadcast live to remote attendees.
The presentations covered very specific areas, including the customer experience of disabled travelers. Details were shared of a short survey by the Queen Elizabeth Foundation for Disabled People, which was taken by attendees prior to the symposium. The results were very stark. The overwhelming message was that the experience of flying can be difficult or challenging. Of the respondents with a disability, 50% said the wheelchair in the cabin would be life changing.
The financials were not avoided and were covered by respected interiors designer Paul Priestman, who quoted £5-10 million to design a new economy seat for disabled passengers. Paul has already drawn up prototypes independently which can be viewed here. Though the design was first shown in 2013, it highlights one of many possible options that industry could consider.
RGN: What are the barriers to bringing wheelchairs on board? 
MD: The engineering considerations were discussed by Graham Race, who has a long standing career at the Queen Elizabeth Foundation and has pioneered equipment enhancing the lives of disabled people. Michele Erwin has made significant progress crash testing wheelchair tie-down/occupant restraint systems and wheelchairs for cabin use, and is the only person in the world currently doing this. She shared some very interesting crash test videos and this generated further audience dialogue on how to safely restrain wheelchairs. Michelle also noted that there are 20 million wheelchair users worldwide, and that in 1943, President Franklin D. Roosevelt flew in the first ever modified wheelchair-accessible plane. The plane was outfitted with an elevator and an aisle and cabin space wide enough for FDR to use his wheelchair.
RGN: While Flying Disabled began as a UK-based initiative, the campaign actually has global implications, doesn't it?
MD: This a worldwide issue and requires a global solution. No one is under any illusions that the regional/country specific legalities at different airports don't need to be considered at part of the project. The full experience from turning up at the airport to exiting the destination airport terminal requires a holistic approach to disabled passenger management.
Listen to UK Minister of State for Disabled People Penny Mordaunt's update; her drive and network will be essential in influencing industry to adopt any proposed steps.
RGN: Did the Symposium's attendees believe the goals are achievable?
MD: The audience believed the issues covered can be addressed in the next five to ten years, and there is very much a feeling of collaboration to bring the industry in line with 2017 inclusion goals. There are many talented and successful people involved with skills, energy and good intentions. I believe this project will require backbone and heart to ensure it does maintain focus and show the significant gains to all airlines and many customers, both commercially and within corporate social responsibility. To be successful it will need CAA/IATA/EASA/FAA to commit and drive these changes with all the parties involved.
The day concluded with an agreement that the project had initiated a very important discussion which must be continued. The project stakeholders will share a roadmap of stages and deliverables to ensure success. I am in agreement with designer Paul Priestman, who said that, for the best chance of success, one of the three major airline alliances (SkyTeam, Oneworld or Star) needs to be a trailblazer, and airline rating system Skytrax should create a new award category for accessibility.
Disabled people must also come together with their organisations to connect locally and internationally to ensure the message is heard.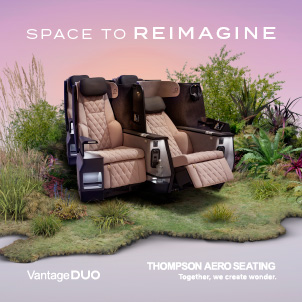 RGN: What changes would you like to see transpire for the disability community in your lifetime? 
MD: I would like disabled people being able to live and work, with the same opportunities currently presented to non-disabled people. Disability needs to be normalised. Comparing the black civil rights movement and LGBT rights, it is ethically and legally wrong to exclude members of society based on their ethnicity and sexuality. Being seen as a minority today often gives a position of confidence and a strength. Disability is, however, still not recognised at the same level. I want all want people to celebrate their differences, their own valuable contribution (and awesomeness!), and see it for the strength it is.
RGN: Last but not least, given your work in tech, do you have any advice for young  girls considering jobs in STEM fields? Any advice for disabled people thinking about their career paths?
MD: STEM is a field of work with so much potential to create, empower, and build products or services in multiple industries. Being a female in male teams may appear daunting at first, there are many networks providing support and mentoring so you should pick the career/subject which matters to you most. You'll be at work for 40-plus years so you have to love it, even if you change direction in years to come, and why not, there's a lot to learn.
With so many people working remotely or being self employed, technology allows real flexibility to work around/with your disability. And if you are part of the neurodiverse population, you have real skills to called upon by employers. Technology is an enabler, and every item needs superior design to make it work for all.