Though rival inflight connectivity providers serving business aviation are fighting to displace ViaSat's Yonder Ku-band service on large business aircraft flying globally, the Carlsbad, California-based satellite operator and service provider is seeking to make it as difficult as possible for them by offering what it says is a "near-seamless transition" to its "best in-cabin connectivity solution", a new Ka-band offering that will be powered by its own high-capacity satellites.
Having served the business aviation community for ten years, ViaSat's message to its existing Ku-band connectivity subscribers at this week's National Business Aviation Association (NBAA) showcase in Las Vegas is that "more data" and "faster service" is coming their way, as ViaSat provides "up to six times the amount of monthly data – and speeds up to 6 Mbps at very compelling price points".
Notably, operators "don't have to change hardware for Ku; the current hardware they have is capable of the increased speeds" today, ViaSat's James Person tells Runway Girl Network. "It's just a provisioning on the service plan. Our global Ku network has been used by the military and government for years now and we've been offering the higher speeds to them so we thought we'd bring that to [business aviation] and then add the Ka shipset".
Does ViaSat have access to the level of  Ku satellite capacity required to support such a service? Person boasts: "We have more capacity over the US – Ku over the US – than competitors have Ka. That's where our customers spend most of [their time]." He says ViaSat has had "some long-term [Ku] contracts in place for five years or more and newer ones as we need them as well." The firm has encountered no challenges in obtaining Ku capacity, he adds.
ViaSat has committed to keeping the Ku network up until 2025. But Ka is obviously the future for ViaSat in business aviation and indeed commercial.
Migration to near global Ka
The company's new "Global Aero Terminal 5510″ Ka shipset – a 12-inch tail-mount antenna with a new global modem, power supply and just three LRUs – is going through certification right now on a couple of different airframes.
"By mid-2018, it will be certified and ready to be put on all the large cabin business jets," says Person. It will be "future-proofed" insofar as it will be backwards compatible with the ViaSat-1 satellite in service today, whilst being able to talk to the in-orbit ViaSat-2 satellite when it launches service next year – with coverage over North America, Central America, the Caribbean and a portion of northern South America, as well as the primary aeronautical routes across the Atlantic Ocean – and later the planned ViaSat-3 near global constellation.
The Ka service will be "significantly faster" than Ku and offer "much larger data allocations" and, interestingly, when current Ku connectivity customers migrate to Ka "there is no extra charge for the [Ku] data" that they'll continue to use. Indeed, Ku data will be offered as part of the same package with Ka as ViaSat builds out a near global Ka offering, says Person.
IPTV will be available over the Ka network "so our TV offering doesn't require additional hardware. It comes over the Ka-band network and it has no impact on [customers'] data plans. We've been doing that for our commercial airline customers already so we're leveraging that [for business aviation]."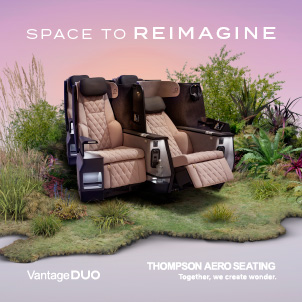 The large cabin business jets from Gulfstream and Bombardier have room for two shipsets combined in the tail. "A lot of operators have a separate 12-inch dish for TV reception so they now [with ViaSat Ka] don't need that TV reception dish." And thus they are well-primed to begin the migration to Ka, he posits. "And by 2019 [those dishes] will no longer work as DIRECTV and others move from standard definition to HD."
ViaSat's broadband connectivity rivals in business aviation include Inmarsat Jet ConneX value added resellers Rockwell Collins ARINCDirect, Honeywell and Satcom Direct, as well as a new Ku offering from Gogo, and Ku via the teaming of Panasonic and Astronics.
Has ViaSat lost a material number of Yonder Ku customers to competitors as yet? "We haven't seen migration," says Person.
Moreover, ViaSat is "very comfortable with the market share we're able to obtain".
Related Articles: