Portable wifi boxes are gaining material traction with operators. Small, lightweight and easily slotted into overhead bins or galley compartments, these wifi units stream cached entertainment content to passengers' electronic devices without requiring a major aircraft retrofit and supplemental type certification (STC).
AirFi says its popular portable wifi boxes are now flying with 40 clients on over 350 aircraft. Lufthansa Systems is gearing up to announce new customers for its BoardConnect Portable at the forthcoming APEX EXPO in Long Beach, California. And Illinois-based Telefonix PDT is being lauded by content service providers for its innovative Encompass All-In-One Server. The systems are billed as being ideal for commercial and business aviation aircraft where expensive, embedded solutions are not economical or necessary. Low-cost, narrowbody operators seem particularly keen.
But as the competitive landscape hots up, each provider must distinguish itself from rivals.
Telefonix director of aerospace business development Alan Manns says "raw horsepower" makes the Encompass product unique. "The Encompass All-In-One Server is the most robust portable system on the market. With our experience designing and manufacturing embedded inflight entertainment and connectivity (IFEC) solutions, we challenged our design team to develop something that could possibly beat the performance metrics of fixed installed systems in terms of number of client streams.
"The final product is a powerful solution that supports a fully operational flight day with its 12+ hours of battery life. We couldn't be happier with our solution and the experiences our customers have been reporting."
Boasting 1TB of data storage (SSD), Encompass can store hundreds of hours of HD video content. "Encompass was designed to meet and exceed the standards within the portable IFEC space. We use an enterprise class wireless access point in the Encompass server, which enables our partners to achieve performance in line with installed solutions," explains Telefonix PDT digital marketer Logan Fox. "Additional testing is currently underway to validate maximum number of concurrent streaming devices for various content types (i.e. HD, 4k, etc.) and device types. Airlines are using one or two servers per narrowbody aircraft, depending on the planned take up rate and their business model."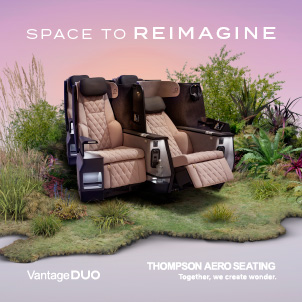 Content service provider Inflight Dublin tells RGN that it recently executed a very bespoke program for PrivatAir, using its wireless entertainment software and Telefonix's portable wifi unit. As a hardware-only manufacturer, says Fox, Telefonix offers an open architecture system "that supports CSPs or integrators".
The company's product offering is actually primarily focused on embedded hardware solutions; it supplies both hardware and low-cost access to its growing STC portfolio. With specific regard to the Encompass portable unit, however, Fox says, "We saw a niche in the marketplace where we could leverage our extensive knowledge of the IFEC space and offer a hardware-only portable solution to CSPs and integrators as a platform for them to provide a robust and unique solution to the marketplace."
In the portable marketplace, however, the business model is absolutely key.
The full solution needs to match the expectations of the airline. If the expectation is ancillary revenue, it needs to have a robust model developed around revenue generation. If the expectation is to provide a full-featured wireless IFE system, then it needs to have a model that provide top quality content. What we do is provide rock solid hardware performance that supports every business model.
EASA in 2016 issued some safety guidance around portable wifi units. Noting that these types of solutions are currently flying all around the globe, Fox says Telefonix "works very closely with customers to ensure compliance. Our team tracks updates and discussions on the latest standards and we stand ready to assist as the industry evolves."
Related Articles: