A lawsuit filed by Eutelsat and ViaSat aimed at preventing Inmarsat from launching the hybrid satellite/air-to-ground European Aviation Network (EAN) – which will support inflight connectivity in Europe – is not keeping Inmarsat up at night.
Publicly supported by Panasonic, the suit "is not against Inmarsat; they are suing regulators. We are not even a party", noted Inmarsat Aviation president Leo Mondale in a wide-ranging conversation with Runway Girl Network.
"We don't think it's going to go anywhere."
Suggested Mondale:
It's pretty obviously sore loser behavior. Eutelsat had a license just like Inmarsat's at one point and couldn't find anything to do with it, and they were proposing to do 5G or 4G service with it way back when. I think they're complaining now because they weren't able to build a business case around the band, which has always been hybrid terrestrial. So it's very late in the process and frankly hypocritical to say you're [fighting] something that [you] didn't do basically. We already have the bulk of the regulatory approvals and expect the remaining ones to complete in the next few months so we don't see it changing.
Eutelsat could not be immediately reached for comment. However, both ViaSat and Gogo recently weighed in on the lawsuit during their respective earnings conference calls. ViaSat CEO Mark Dankberg said the firm doesn't believe the hybrid S-band satellite/air-to-ground EAN network is consistent with the objectives and requirements of the S-band application. "So we made that case and we're still waiting for that to play out. We think it's a pretty clear case … We don't think it had been considered in the way that we framed, and we'll find out," he said.
For his part, Gogo CEO Michael Small said: "I do believe Inmarsat has taken an extraordinary liberal interpretation of their roles to implement their European network but … we're focused on winning on the playing field. We think we have far superior service regardless."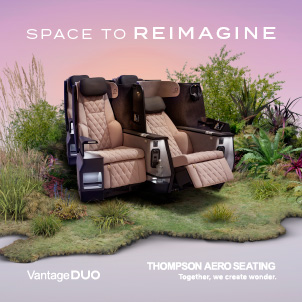 The S-band satellite portion of EAN launched at the end of June. "We've got the satellite up and checked it out. We are deploying the pieces that bring to bear on the hybrid service," said Mondale. "The program is moving quite quickly now as you can imagine, now that we have the big milestone of getting the satellite up and operating."
When is the go-live date? "As you know we are very much tied into the IAG group, so rather than steal their thunder on the connectivity service we" will let them announce, he said, adding that, "As is always the case, in a program of this size, there are pieces that stay on schedule and others that lag a bit, but by and large we're very comfortable we'll execute to the timelines we announce. It's imminent."
In a formal statement, Inmarsat says it has confirmed that the satellite "now stands ready to support inflight internet services when the European Aviation Network (EAN) goes 'live' later this year".
IAG has already begun equipping its aircraft and aims to have 90% of its short-haul fleet complete by early 2019.
Related Articles: