For the past few decades, content service providers (CSPs) have played a pivotal role in bringing entertainment content to IFE systems on board aircraft. Working directly with Hollywood and other content providers, CSPs curate engaging movies and TV programs for their airline clients, and ensure content works across a variety of IFE platforms.
Global Eagle and Spafax might be the most visibly dominant CSPs in the sector, but a scrappy, independent Irish CSP called Inflight Dublin has put itself on the map, and is growing market share by offering a highly flexible and customized experience to carriers.
"We are open to working with everybody but a lot of the airlines we work with would be Tier 2, Tier 3 who need a bespoke, tailored service. They need kind of a responsive, quick 'click-on-the-button-if-any-changes-are-required' service. They need that flexibility, which I am not saying the other guys don't offer, but it's certainly something we pride ourselves on, 24/7 support," Inflight Dublin chief commercial officer Barry Flynn tells Runway Girl Network.
Second and third tier airlines in growth mode can find themselves a bit stretched when it comes to resources. "They require a lot of last-minute changes. We're there, we are very flexible to cater for those changes and needs. And that is something that we have always been doing," says Flynn. "We work very hard with Hollywood, and have a long-standing relationship with them … and that helps us as well. So we can push hard, and try to get some good deals done, and try and get the content across at a good price. So, [competitive pricing] is important as well."
Though Inflight Dublin has traditionally served as a CSP, in recent years it has branched out further into software and design. For instance, its portfolio includes an 'Everhub'-branded streaming entertainment software solution that is compatible with all wireless IFE hardware configurations available on the market today, and allows for the transfer of content and data both manually as well as wirelessly.
These types of solutions "give the airlines a lot more flexibility" than the more traditional, embedded IFE, suggests Flynn. "Every airline we talk to, they want more control. More control of their content. More control of their services, and sadly the more traditional systems don't allow that."
Flynn notes that there is "an eight-week window from when you select content to when it gets on board" and in front of passengers' eyeballs over in-seat or portable IFE. "That's a large window; that's too long." And that's among the reasons why new wireless systems are getting the attention of airlines "because they feel they can update content and update services a lot quicker and also do it themselves".
Hollywood continues to disallow the streaming of early window movie content for passengers' own devices. But early run movies aren't "the major play for wireless" anyways, as the systems in their essence are generally being targeted at "shorter routes", says Flynn, noting that the focus instead is largely on "bespoke TV shows or documentaries or even YouTube channels, educational channels. Stuff like that. Something a little bit more nuanced. A little bit more bespoke."
"I think movies obviously have a role to play but wireless systems that we're seeing, the take-up is for shorter routes. Maybe 5-hours max, and in that time period, you might get one movie watched. Predominately, it's a lot about the services that come with it as well, a lot of destination services and revenue generation for airlines. The passenger experience is an important factor but most airlines that we deal with, with wireless, a lot of them are looking at more of the revenue generation." And these services can be customized for different routes. "So we can bring in different partners like Groupon, Ticketmaster, stuff like that."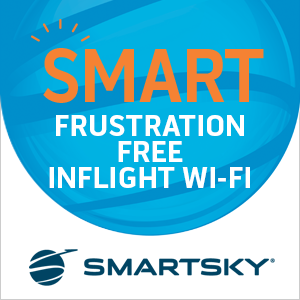 Inflight Dublin remains totally hardware agnostic. "We are not into building boxes, we not going into building hardware. That's not our space. We are a service provider who literally will offer bespoke software and content solutions. That's the game we are in," explains Flynn.
So for instance, Inflight Dublin works with Telefonix PDT and Kontron, whereby "we would be the software and content provider. But again, that's up to the airlines. The airlines might have a preferred supplier but in most cases, we've tested across the majority of [wireless] systems out there."
He continues: "I think we originally tested on the Flight Focus system before it was taken over by Rockwell [Collins]. And then we went onto Kontron and did some good testing on that. And then we went into Telefonix. And Telefonix had their portable unit as well, which was an interesting solution we felt; very powerful. So we tested on that as well. It worked very well. And then a lot of airlines started looking at kind of the Kontron, Telefonix portable and fixed [wireless IFE units] and that's where we have been over the last kind of two years. Testing and developing, and we've launched on a few airlines now [including PrivatAir] and the feedback we are getting on the portable unit that's live at the moment is very good. It was a very bespoke build we did for PrivatAir. The [Everhub] software base was there."
Explaining the PrivatAir rollout, Flynn says the operator's main challenge was around crew and logistics. "They had 50 iPads on board and they were preloading these iPads every night and to preload them was taking 6-7 hours a night… So we put our portable Telefonix unit and our software on it but then we developed a bespoke crew app as well to allow them to push publications directly to the server every morning. So they download the publications and then they push directly to the server rather than bring all the iPads off and synchronize each one."
"So Everhub, as a base offer, is there and it can be modular – [offering] streaming, retail, destination services but we're very flexible and we can be literally anything they need. Each airline needs something different.
"There are solutions out there that are very much off-the-shelf – here you go, take it or leave it; you are getting what it is. We don't really operate that way. It's back to the flexibility point I was making. The base offer is there; you can pick and choose which model [hardware] is going with it … So it's really flexible and that takes a lot of work on our side but that's our game. We are all about flexibility about delivering the service that meets the client's needs not just that suits are needs and that's worked well for us in the IFE space so I think in the wireless space that's same attitude we take."
Related Articles: