Astronics delivered another down quarter in the three months ended 1 July, missing its second quarter target by a wide margin and issuing revised, lower guidance for its full year 2017 expectations. Its aerospace component business – which produces in-seat power and the motors/electronics for premium cabin seats – was particularly weak, continuing a trend that was evident in the first quarter.
The troubles have evolved from what CEO Peter Gundermann described as being a "soft patch" in the first quarter to a "lull" in the second quarter, as airline investment in fleet upgrades was pushed to the right. Although RFP quoting efforts are "as strong as ever or stronger," according to Gundermann, deals are not being signed at the pace expected.
"Our in-seat power is closely linked to airline decisions regarding passenger entertainment, passenger amenities. Our sense is that there is a lull in the market for whatever reason in airlines making decisions and moving forward with new programs. We think that's a temporary thing," he said. "We certainly don't think that power is going out of fashion and we are not aware of any substantial market share loss or competitive change in our position."
In an interview with Runway Girl Network, IFEC giant Panasonic Avionics said it is actually seeing more volume of aircraft mods than ever before, but for smaller frames. Said Panasonic's David Bruner:
There's definitely a shift, a lower number of widebodies but not the workload entirely. Just a different ratio of widebodies to narrowbodies…Narrowbodies was small penetration in the past and now it is really growing.
Astronics previously revealed it did not bid on the USB-only power deal for AirAsia's narrowbodies, saying "most airlines that we work with tend to prefer the full-fledged 110v/USB combination". In its recent earnings call, management did not specifically discuss activity in the LCC sector, through Astronics certainly faces competition from many more players on the USB-only front.
The slowdown in Astronics' power installations has hit even as narrowbody production rates have increased at both Boeing and Airbus. That does not translate directly to additional installs for Astronics because most of its narrowbody programs occur in the aftermarket. The planes rolling off the line today represent orders made a few years ago, when the Astronics products "were not as offerable" across narrowbody types, according to Gundermann. Changing those orders is "a relatively painful experience compared to doing it aftermarket".
Gundermann believes that Astronics' current approach – to support potential customers and remain visible as a partner – is the right one. The company does not believe a shift or pivot in behavior would be helpful.
We believe the lull in activity will fix itself in the foreseeable future. It is a question of when and how fast. There's just not much we can do to respond to the lull we're facing in the market right now.
Supporting this view is the fact that improving passenger amenities appears to be a trend that will continue across airlines, though timing is unclear.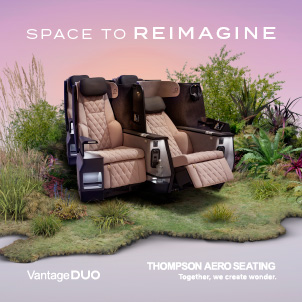 "It is no longer a luxury, it is a basic requirement to have wifi and have IFE of various forms. Pretty much all those forms require power, which is what we specialize in. We don't see that going away," said Gundermann.
The in-seat motors and electronics portion of the business, meanwhile, remains challenged by ongoing delays in the widebody programs at both Airbus and Boeing. Recent news from leasing company AerCap that the ME3 are discussing further deferrals – on top of the A350s Qatar Airways recently decided to leave in Toulouse – will not help that recovery.
While Gundermann previously suggested that Astronics can pressure suppliers to help hold margins as it tries to wait out program delays, it is unclear how long that will last or how significant those cost cuts can be.
Related Articles: