Inmarsat is expressing doubt about the future of some big name industry projects across multiple swaths of spectrum and orbital planes.
The London-headquartered firm recently saw two consecutive successful launches of geostationary satellites – its fourth Ka-band satellite which will augment global capacity; and an S-band satellite that will support the hybrid air-to-ground European Aviation Network.
But when it comes to the dense Low or Middle Earth Orbit (LEO or MEO) satellite constellations being planed by companies that also have their eyes on the skies, Inmarsat doesn't yet see the attraction.
Making (Dollars and) Cents of LEO/MEO
Even as SpaceX makes the cost of launching many smaller satellites palatable, Inmarsat CEO Rupert Pearce says he does not believe the numbers add up to justify Inmarsat investing in such an offering.
"Why aren't we building a OneWeb v2 or an O4b or O5b? The answer is because we have not yet seen the magic in these swarms of LEO satellites," says Pearce. "We haven't seen why it is better for us. We haven't actually seen why it is a business model and not a science experiment. We can't see how you make money from this. There are a lot of scientific issues that need to be fixed. And when they're fixed you're talking about networks that cost $3-4 billion and I'm not sure where you make the money back. That's just our perspective from the markets we serve and the applications we like to deliver."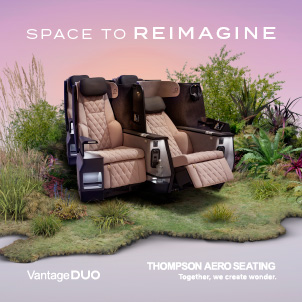 That view is, of course, skewed by the fact that Inmarsat is not keen to provide service to billions of consumers. "We're focused on B2B and B2G [business to government] in developed vertical markets. It is a very different proposition."
The LEO and MEO constellations are more attractive today in the maritime and energy (e.g. remote oil rigs) markets with thin panel, electrically steered antenna technology not sufficiently developed to operate cost-effectively on aircraft (though Inmarsat competitor Intelsat has intimated that its work with Phasor on phased array antennae for small jets is progressing well).
When the appropriate technology arrives – and if it happens in a manner that is financially viable – Pearce believes Inmarsat will be able to adjust its course quickly to meet that competition and demand. "We're not luddites. We're not saying, 'it is different so we couldn't possibly do it.' We're not saying, 'We're an L-band operator so we couldn't work in another band.' We'll adopt whatever technology we can to serve our customers as well as we can. We can't really see why it would make sense economically to build these networks. When the penny drops we'll go build it, because we can."
In short, Inmarsat is comfortable in letting others take the lead in LEO and MEO and catching up later, if it deems fit or necessary. Either way, Pearce is excited by the pace of development in the market, "There's never been a time in our industry that we've had so much innovation coursing through our industry."
A Bandwidth Factory in the Sky
"The people who make money are the ones who fill them up, not the ones who fly big, speculative amounts of capacity." So said Leo Mondale, Inmarsat's president of aviation, in discussions with RGN about what he perceives as the need to design networks that serve specific demand rather than "to put a giant factory up and hope you can fill it".
This comment could be seen as a dig at high-capacity Ka satellite operator ViaSat, whose ability to drive down the cost per bit is cited by Boeing Satellite Systems International president Mark Spiwak as among the reasons why there is a current slowdown in GEO satellite orders, as reported by Via Satellite. The other driver behind the GEO slowdown? Non-geostationary satellite orbit (NGSO) systems, including the LEO satellites, is giving the industry pause, Spiwak told the publication.
Intelsat, meanwhile, is already playing ball with LEO. Though a Softbank-supported tie-up with OneWeb did not come to fruition, Intelsat still plans to work with OneWeb to "jointly develop integrated solutions utilizing both of our fleets [GEO and LEO in the Ku-band] and to act as a sub-distributor to SoftBank for the attractive application segments of mobility, energy, government, and connected car".
Unsurprisingly, Intelsat does not buy into the notion that a global network operated by just one provider, such as Inmarsat, offers advantages over a patchwork quilt of Ku satellites with different providers supporting inflight connectivity. "Actually I view it just the opposite way," Intelsat VP and general manager of mobility Mark Rasmussen told RGN.
"I think a global network with being a closed system creates limitations where you are depending on the capability of a single beam to provide the throughput that's needed anywhere. In our system, our approach and our philosophy has been an open system where we … can provide bandwidth but that whole entire Ku ecosystem is there to provide bandwidth."
Time will tell which approach proves more attractive in aero.
Additional reporting by Mary Kirby.
Related Articles: