Panasonic Avionics seems to be stealing a march on its inflight connectivity competitors by working closely with regional jet and smaller airliner manufacturers as they move towards certification and production of their aircraft.
Senior executives at both Embraer and somewhat surprisingly Bombardier told Runway Girl Network at the recent Paris Air Show that Panasonic is the only inflight connectivity provider working with them presently on connectivity for their latest aircraft, even though neither airframer has objections to working with others on a supplier-furnished basis.
Demonstrating the evolving E-Jet E2 mockup to RGN inside the Embraer chalet, Luís Carlos Affonso, Chief Operating Officer of Embraer Commercial Aviation, confirmed that the Brazilian airframer is currently working to pre-certify the Panasonic Avionics GCS Ku-band solution for Internet connectivity as well as wireless IFE for the E2.
"It's a Panasonic Panasky solution installed on the mockup," Affonso said. "We are pre-certifying that. We have in-seat screens, and that's wifi. We have selected Panasonic for wifi broadcast inside the aircraft and satellite connectivity. You can have either stored content for a simple solution, or you can have stored content plus Internet connection if you go for the full bundled solution."
But, RGN asked, will other providers be available? "Our policy is to have — for those important options — more than one option in our standard options guide. We are in the process of searching for those, so they are not selected yet. Panasonic is the first one: it's the one that we are marketing together with the aircraft as the first option," Affonso explained.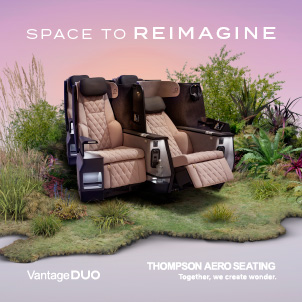 This early work will give Panasonic an 18–24-month lead in the market, Embraer's Affonso suggested when asked how quickly another system like Gogo's 2Ku might be certified. "That's a tough question. It depends a lot on the aircraft, it depends a lot on the configuration, but normally it takes one year and a half to two years to certify a system like that for it to be supplier-furnished equipment. Airlines might elect to go via supplementary type certificate, but that doesn't have the original equipment manufacturer stamp, which gives [the aircraft] more value."
Embraer has no objection to doing the work to get more supplier-furnished linefit options, however. "No, indeed we like to do it. We understand that's something that values the aircraft, and it's also business."
For Bombardier's part, Vice President of Commercial Operations Ross Mitchell explained to RGN in reference to the CSeries, "We're working with our partners Panasonic to make sure we're up to the latest standard in terms of Ku-band. The airplane will be ready. Right now, customers are mostly looking at wifi [to stream entertainment] and in-seat power, but we know there'll be more and more demand for connectivity."
Would the Canadian airframer also look to offer something like 2Ku, particularly given a large upcoming set of deliveries to Delta Air Lines, a longterm Gogo customer? "I don't know that that's been discussed yet," Mitchell told RGN. "There's always the option for them to do something after the airplane delivers. But right now Panasonic is our supplier. We've flown the Ku-band radome during the test flying to make sure we had a solution for the radome."
"They're just the one we've been working with," Mitchell said of Panasonic Avionics. "You have to pick someone to go with, so that you have something to offer out of the box. They have a lot of experience, so they're a good partner to have."
After the air show, RGN sought clarification from Bombardier on the matter of Gogo 2Ku, given that its largest CSeries customer, Delta, has publicly stated it expects the Gogo solution to be linefit. Bombardier product marketing manager Antonio Ficca corrected Mitchell's statement.
"Yes we can confirm the Gogo 2KU solution will be available for Delta Linefit. Also, should a customer ask for the same system in the future, we can definitely discuss it with them in a case by case basis," stated Ficca in an email.
It is notable that whatever 2Ku work is taking place was not at the front of Mitchell's mind, as involved and senior a player as he is.
Though Gogo did not provide a program update to RGN, company spokesman Steve Nolan said, "The Delta program and the CSeries is still moving forward and what Delta had announced publicly is still accurate."
The Mitsubishi Regional Jet program, meanwhile, isn't yet working with a connectivity provider, Program Management Office Senior Director Alex Bellamy reiterated to RGN at Le Bourget. "We're looking at that, but we've got a bit of time to make a selection. We haven't chosen anybody yet, but we know that's really important."
In terms of radome certification, Bellamy said, "We don't have that on our plan for now. I have a couple of people in our product strategy team, who have the roadmap of all of these pieces versus customer demand and what we think we want. Currently we're going through the exercise right now of aligning the priorities along all of those pieces."
MRJ is keeping even the start date of that work close to its chest: "I can't tell you now, but I hope in three to six months, we'll be able to talk in more detail about that," Bellamy promised.
Additional reporting by Mary Kirby
Related Articles: