Established three years ago as a business aircraft charter, sales and acquisition specialist Dallas-based Horizon Air Group has acquired local aircraft operator Starbase Jet, in a deal that takes Horizon into a new market.
Starbase's fleet features a mix of owned and managed aircraft, but for the purposes of charter the operator makes no distinction. Business aviation hardly lacks providers in this arena, but according to Horizon CEO Luis Barros, the specific combination of Horizon and Starbase offers something new.
"On the charter side, there is no more reciprocal relationship than that of a broker (Horizon Air Charter) and an operator (Starbase). It's basically like cornering the market as both a vendor and distributor. To have that under one roof puts us in a unique position as a company," he says. "On the sales and acquisitions side, the ability to not only sell a client a plane, but then immediately manage it for them is also a huge competitive advantage."
Re-emerging under Horizon ownership as Horizon Jet Management, Starbase brings with it a Part 135 air carrier certificate, which is key to the business going forward. "It adds a third division to Horizon's capabilities. Now we can offer aircraft management services, including 135 commercial operation, to help aircraft owners offset the cost of their asset," says Barros.
Aircraft will operate out of Horizon's Dallas and Houston bases, with a new facility coming soon in Oklahoma City. Additional management contracts are in the final stages of completion, with bases in southern California. The firm's near-term goals are to have assets under management coast-to-coast.
"Meanwhile, the air carrier certificate has global reach with its FAA-approved worldwide operating authority. Combined with the many years of successful experience providing safety-vetted charters around the globe that our charter brokerage now offers, it makes for a very attractive proposition," says Barros. "But at the same time we're going to completely change the way Starbase did things."
He explains:
Horizon's management programs will be transparent – a word seldom used in this field – and performance-based, heavily in favour of the aircraft owner. Unlike most management companies, we'll share all the revenue earned on a charter trip. This is vastly different from many current models, which only pay owners for the time the aircraft is in the air.
Starbase represents a major, ambitious acquisition, for which Barros has grand plans; his vision for the next decade is no less so: "Our goal is to add an aggressive, yet sustainable number of managed aircraft every year, while expanding our charter brokerage and aircraft sales divisions by 50-100% annually."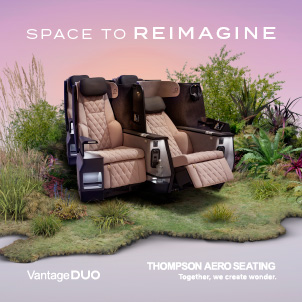 He adds, "Continuously growing based on trust, hard work and mutual respect within the industry, our private aviation conglomerate will be the premier operator in the country."
Though Horizon was only just established in 2014, "Individually we've been in the business many years and our combined experience levels are very rare to find in a company of this age," suggests Barros. It was positive relationships across  industry "that directly led to our big and fast accomplishments. We have great relationships with our colleagues in the business, and in a world as small as private aviation, that's served us tremendously in the long run."
Barros now intends to leverage those relationships to take Horizon to the next level.
Related Articles: