If you think of Snapchat as just another annoying social media app for your kids to torment you with on wifi-enabled flights and road trips, Vijay Gurbaxani, the director for digital transformation and Taco Bell Endowed Professor of Information Systems at UC Irvine's Paul Merage School of Business suggests you think again.
Sharing the stage with Thales executives for a spirited panel discussion about digital transformation and disruptive technologies in aviation at a recent press event at Thales Inflyt's Customer Experience Center in Irvine, California, Gurbaxani said that apps like Snapchat may, in fact, hold the key to understanding not just how the next generation of flyers think, but also how they communicate. And though almost everyone in attendance (including Gurbaxani) admitted to having very little actual, hands-on experience with Snapchat, Gurbaxani cautioned that the airline industry as a whole ignores the explosive growth of social media apps like Snapchat and Instagram at their own peril.
"You and I grew up in a generation where we took photographs to memorialize an occasion, it was called a Kodak moment, right? Weddings, anniversaries, children's birthdays, whatever the case may be, these were things that we put in photo albums, that we put in shoe boxes and we stored them forever," said Gurbaxani. "Today's generation is using this technology to communicate in pictures … photographs as disposable records of your day. If you talk to teenagers and how they're using this – and by the way, I don't use Snapchat, I tried it and I don't get it, so, now I only talk about it – it speaks to the challenges that Thales and other companies are confronted with in that that's your next generation of customers and they're very, very different than we are. We communicate by text, they communicate with pictures."
"There are very few times in our lives when we move from one kind of world to another kind of world," he continued. "We all throw around the term digital revolution very easily, but I want to step back and have you think about what that really means, because when you move from an agricultural world to a manufacturing world, when you move from a manufacturing world to the information world, when you move from an informational world to a digital world, things really change."
The UC Irvine professor urged his audience to look at what happened with electricity. "The reason we have high-rise buildings is because of electricity, because without electricity you don't have an elevator and without an elevator you can't go high. So, when you change business you change society. The same thing is happening right now with digital, the world is changing very, very profoundly … how people consume, how people supply … but drawing it back to the business model, this is about ecosystems, this is about a platform, and right now companies have to prepare themselves for a world of experimentation. And I think Thales is doing really, really well at this because fortunately, in many ways, they've been in digital fields for a long time."
Some travel brands are already communicating on the same frequency as the next generation of traveler. For instance, travel search engine Kayak has rolled out an emoji search functionality in which users can use emojis to look up flight or hotel deals for their destinations, reports Business Insider. Last month Royal Caribbean Airlines' Snapchat channel immersed viewers in a one-of-a-kind underwater adventure thanks to a custom-designed scuba mask dubbed "SeaSeekers". Meanwhile, Icelandic low-cost carrier has taken an unorthodox approach to social media marketing, allowing travelers to "flirt" their way to Iceland using the popular dating app Tinder.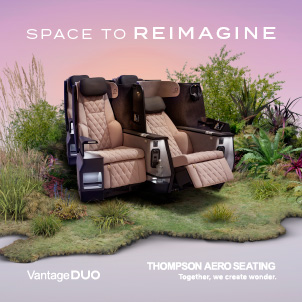 The key word moving forward, suggested Gurbaxani, is know-how. "My view of the world is that we're all software-driven companies. I have an article in Harvard Business Review called: 'You don't have to be a software company to think like one,' and the real focus is how do you invest in know-how?"
First off, said Gurbaxani, "You have to be good at identifying know-how, you have to become a knowledge management company, you have to be good at clarifying that in software and you have to be really, really good at analytics because analytics is all software and then you have to think about partnering, because no company can do it alone.
"Partnering for your ecosystem, for the content that you feed your customers, but it's also partnering to develop all of the capabilities that you will ultimately put on your platform, so, it could be satellite connectivity … analytics … all of these things."
Analyzing the data and figuring out what people are actually doing will ultimately aid stakeholders in enhancing the passenger experience.
"It's not a world that you or I grew up with but I think that's sort of the interesting thing," noted Gurbaxani. "I interviewed a bunch of teenage girls and asked them why they liked Snapchat and it's everything from precisely because the pictures disappear to: 'I can be myself.' 'I don't have to worry.' 'I don't want a record of what I'm doing.' and 'Why not use pictures to communicate? A picture's worth a thousand words.' The reason I mention this is because [Snapchat] really shows you what happens when you reimagine conversation. So, that's what they're really doing.
"Snapchat call themselves a camera company and the point I'm trying to make is that these kids who use it are going to be passengers in ten years and that's the next generation and that's the sort of thing they're going to be expecting from the passenger experience, so, we need to really think about that."
Related Articles: