Photos of El Al's first 787-9 circulated online late last month. Of particular interest is the presence of a radome atop the frame, kicking off a round of speculation about who is the service provider. The most obvious candidate for such is ViaSat, given the existing relationship for the carrier's 737 fleet. That deployment has been slow or stalled for a while now with only four aircraft believed to be fitted, and the service is still not available to passengers. Still, RGN now understands that the 787-9 fleet will be fitted with ViaSat hardware.
ViaSat director Don Buchman says: "At this time, ViaSat cannot confirm a relationship with EL AL, or its partners, on any aircraft other than the 737s flying routes from Tel Aviv into several European cities."
If the solution has been technically "linefit" at the factory, then this is an impressive feat indeed. ViaSat first announced it was working towards linefit four years ago, saying at the time, "Factory installation avoids costly down-time involved with taking planes out of service for post-production retrofits." The same holds true to this day. Gaining linefit on the 787 would be a major coup for ViaSat, and would give 787 operators a factory-delivered broadband option other than Panasonic Ku on the type.
Interestingly, El Al this week announced that it has selected Panasonic's eX3 inflight entertainment (IFE) system for its 16 Boeing 787 Dreamliners. Under the terms of the agreement, EL AL will install eX3 across nine Boeing 787-9s and seven 787-8s, "with the first aircraft being delivered in August 2017".
Will the ViaSat connectivity system be integrated with the Panasonic IFE system? ViaSat would not provide comment beyond its statement above. Panasonic could not be immediately reached for comment.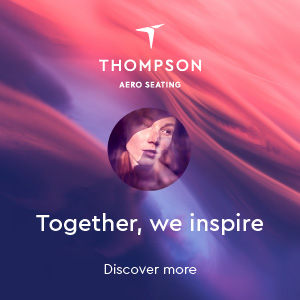 El Al is expected to take advantage of the ViaSat-2 satellite launched at the end of May plus the Eutelsat KA-SAT satellite to deliver Ka-band satellite connectivity on flights from Tel Aviv to destinations in Europe and North America.
One interesting challenge is that the 787-9 is currently scheduled for three destinations: Newark, London-Heathrow and Hong Kong. The first two will be fully within the Ka-band coverage area while Asia is decidedly not. ViaSat's combination Ku/Ka kit could solve that problem but it is unclear if that will be the hardware deployed on the 787s.
Other questions remain about this deployment. Do the El Al 787-9s carry ViaSat provisions or a full antenna hardware install (the differences are explained by Panasonic here)? In short, is there anything under the Boeing tri-band radome hood that we're seeing atop the 787-9?
RGN will update readers as details are confirmed.
Photo at top credited to El Al's 787 promo video
Related Articles: