With as many as 50 wireless IFE providers working to secure airline clients, any start-up in the space should bring something unique to the table if it wants to distinguish its solution from the pack and carve out market share.
China-funded FTS Technologies, which produces the Xstream-branded streaming entertainment solution, boasts offices in Beijing; Newport Beach, California; Singapore and now Paris. It has seen its profile grow quicker than many other newbies, which must surely be a testament to its seasoned management team.
Former Lumexis chief technology officer and long-time industry veteran Rich Salter serves as CTO of FTS; former digEcor sales exec Ben Fuller is director of marketing, Americas; and Darrel Chua, the former president of Chinese games and airline content developer Enveesoft is general manager based at FTS' Singapore office.
As announced recently, FTS has received EASA STC for the Airbus A320 family of aircraft to support installs on Myanmar Airways International, a privately owned Burmese operator. But Salter tells RGN that "our next customer is First Air in Canada, and the customer after that is called Canadian North in Canada". FTS is pursuing FAA STC on Boeing aircraft types, and says it expects to be awarded such in September 2017.
A lot of other wireless IFE providers have "similar" functionality, says Salter, confirming that Xstream will initially stream cached content from the server to passengers' devices. "But our competitive advantage is that we manufacture the whole system; we don't buy a WAP or a server or modem from somebody else. We manufacture each box in-house and have control over the whole system."
He adds, "We're funded by a company in China and that Chinese company is the one that manufactures the hardware."
Each box in the Xstream suite "is superior to its competitor", insists Salter. The server box is packaged in a 2-MCU embedded file server "instead of 4-MCU so it's half as big and it doesn't require any cooling. It doesn't have to go into the engineering bay with cooling, though that seems to be where airlines want to put it anyways. Most WAPs for IFE have two radios and we have four radios in our WAP box so we don't need as many WAPs on board. The [3G/4G cellular] modem box has four sim card slots so if an airline wanted to fly into four different areas, they can plug in four sim cards."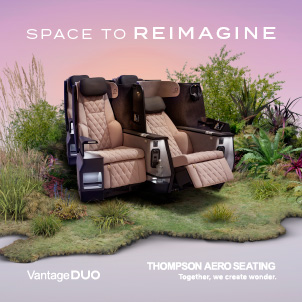 The company is connectivity agnostic insofar as it would "interface with the Ethernet" of whatever satcom system has been selected by the airline, says Salter. "But in China, they're also working on their own satellite modman and their own system," says Salter of FTS. By next year, the Xstream product family will feature "Ku and Ka HTS satellite connectivity and In-seat Wireless Smart Display solutions as our customers demand a viable product upgrade path with smooth transitions", according to the firm's statement.
FTS is also working on smart watch apps; one known as the Flight Butler flight attendant app has not yet been adopted by airlines "but everything we can do on the flight attendant panel, you can do on the watch. So there are a lot of neat tech [and] all of the tech is coming out of China," says Salter.
FTS is competing with a raft of wireless IFE and e-commerce software and hardware providers. Indeed, it sometimes seems as if virtually everyone is in the game, from major IFEC players with linefit and retrofittable solutions to onboard caterers to boutique firms scrapping out business in the portable wifi box market. Even major avionics providers have taken Global Eagle's wireless IFE software platform and branded it as their own. But with the Chinese government favoring home-grown tech, the opportunities for FTS to grow there and elsewhere is evident.
Related articles: