Rockwell Collins, Thales and Honeywell are among the firms offering nose-to-tail content on board aircraft, be it avionics in the cockpit, broadband connectivity for passengers or, in the case of Rockwell Collins, even seats throughout all travel classes. But further down the supply chain, a leading provider of alloy sheet products to aircraft interior stakeholders, Boltaron, can lay claim to nose-to-tail positioning as well.
Boltaron's 8800-branded "soft-touch" material for thermoformed and fabricated close-out seal assemblies was developed in conjunction with Boeing for cockpit areas "where they want extra security, extra flexibility on the parts. So there is no rigidity if there is any type of impact, no exposed part," Boltaron director Adam Mellen explains to Runway Girl Network.
Notably, the product is found on the Boeing 787 flight deck and "we're actually on the 757 and the 777 so it's all throughout", the portfolio, across platforms, says Mellen, noting that the material is ideal "for smaller parts, below 1 sq ft and meets FAR 25.853a", the FAA-designed vertical Bunsen burner test which determines the resistance of materials to flame. "So if it gets to be a larger part that requires a heat release this wouldn't necessarily be the product for you."
Flammability testing is conducted in-house at Boltaron's Newcomerstown, Ohio-based facility. "We have an in-house lab for both heat release and just regular vertical burn," says Mellen. But most OEM seat manufacturers require third-party testing. "So we do all testing in-house and then just for accountability, we also use third parties."
Airline passengers will be most familiar with Boltaron's work in aircraft cabins. The company's high performance thermoplastic sheets form the basis of components such as furniture paneling, tray tables, IFE screen bezels and premium class privacy screens to name a few. A recent project saw Boltaron's translucent material used in the United Polaris business class product.
The firm, a Simona America subsidiary, has three core disciplines – calendering, extrusion and press laminating. Boltaron explains the three processes thusly:
In extrusion, the original powder blend is converted into a molten plastic mass that is squeezed through a lip die, flattening the mass into a sheet of designated width and thickness. The process lends itself to multiple custom colors, textures and gauges.

Calendering produces a thinner gauge sheet than with extrusion. Molten plastic is fed into a series of heated revolving rollers that squeeze the material to the desired thickness. The resulting film can cap thicker-gauge extruded sheet to produce composite sheet products that offer superior aesthetics and/or properties including resistance to chemicals, impact, scratching and UV degradation.

Calendered cap films include integral metallics, and clear films that are reverse-printed with custom patterns such as woodgrains, pearlescent effects, abstracts, and woven looks. Substrate colors match the predominant printed color to render scratches inconspicuous.

In press laminating, multiple sheets of calendered or extruded sheet are layered and fused applying heat and pressure over relatively long cycle times to form one compact solid sheet. Individual sheets comprising the layers can be varied to provide coloration, patterns, texture, reinforcement or special properties.
Boltaron's chief competitor in the aviation space is Bloomsburg, Pennsylvania-based Kydex, part of Japanese firm Sekisui SPI's product portfolio. "We are very similar manufacturers in one sense that … our base product is the same, but our range is very different. Kydex is a great company. What they do primarily is extrusion," says Mellen.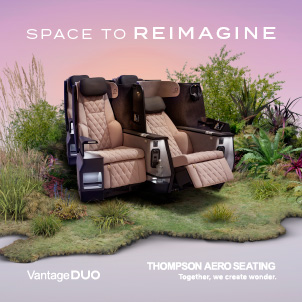 So while Boltaron also extrudes, says Mellen, the company can combine all three disciplines to produce sheets that will create a selection of products with distinct qualities.
Pointing to Boltaron's 9815-branded metallic forms, Mellen explains: "So it's an extruded base substrate like what a Kydex would do, it's a calendered film on top which allows us to put the metal in because we can put metal through a calender (you can't put metal into an extruder), and then [with] our press laminating machine, we press it altogether. So what you get is a true metal composite."
By marrying the three disciplines, he adds, Boltaron can have "thin, thick, textured, non-textured, printed, non-printed, really dependent on what's best for [the customer's] needs. A super wide range."
Does adding metal add significant weight? "Not really in any significance," says Mellen. "Some want to see metal where we would use something like this… Some designers want to see the more pearl…where you would use either an ink or a mica. So depending on what the customer wants, we have got a lot of range to do different things."
Another product unique to Boltaron, according to Mellen, is the firm's translucents, as seen on United Polaris. "Sometimes a designer would want to see through but have some privacy so that's why we put just a little bit of transparency there, a little bit of design."
Similarly, the trick to developing a translucent divider for premium class seats, says Mellen, is ensuring passengers can see the shapes and design "but you don't necessarily want to see through". RGN deputy editor John Walton demonstrates the translucent, FAR-rated material with embedded print, in the photo at top.
Additionally, Boltaron can accommodate custom textures for clients. "So not only can we do a basic extruded texture, but if you were to say to me, 'hey I really like something like the fabric on your jacket', we can duplicate that and create a texture for that. You will be able to get [a] whole stack of textures…"
"In the aerospace business the minimums [required to produce] are not outrageous. So now one of the limitations in plastics in general is people can do that but then they will say, 'well you need to buy 10 truckloads of material'. We can do that [with] super reasonable minimums and that's really one of the great appeals to designers is, not just colour but texture and with the [three] disciplines."
Related articles: