The market for new business jets may be in a slump, but the refurbishment business is another matter entirely. Operators are holding onto their aircraft longer, and upgrading their interiors. As such, we're seeing new innovations, both big and small, emerging inside business aircraft.
INAIRVATION, a 50:50 joint venture between the aerospace specialists at Lufthansa Technik and Austria's F/LIST, is among the entities doing interesting things in the #BizAv cabin space. It offers smart cabin upgrades for a variety of jets, and boasts that it adds "real value to your aircraft" by replacing legacy cabin management systems (CMS) and inflight entertainment with Lufthansa Technik's fully-digital, high definition 'nice'-branded CMS/IFE system, which is seamlessly integrated with new ergonomic sideledges and modification kits.
"LIST builds the whole integrated ledge, including 'nice', the latest and greatest CMS/IFE from Lufthansa [Technik]. It hasn't been as available in the aftermarket in the past because it's always been an OEM product," explains Sean Gillespie, executive VP sales & marketing at Canadian modification house Flying Colours, which recently delivered its first refurbished Bombardier Global Express aircraft featuring the INAIRVATION integrated sideledge. The installation has left both the aircraft owner and Flying Colours delighted.
Although Flying Colours has full manufacturing capability in-house, Gillespie says the INAIRVATION retrofit unit adds to its offering, providing customers with additional choice. And it's customisable. In the case of the launch Global Express, a 2003-model aircraft, the installed product reflects the owner's preferred olive palette, down to the carbon fibre sideledge finish.
Heavy maintenance checks – which require interiors to be removed for access to the underlying airframe as a matter of course – offer the ideal opportunity for cabin refurbishment. Some customers opt for new-build sideledges, but many prefer to update the existing units. The issue here, Gillespie says, comes when CMS/IFE upgrades are required. "We can always change the seats and refurbish the cabin, but if you're changing the CMS, you often have to cut into the sideledge as switches change size for example, which means you have to redo the wood.
"It's usually doable, and we've done a lot of it in the past, but INAIRVATION changes the view, changes the angle, gets you a little more storage, including for the iPad, and you wouldn't have that in an older airplane. Plus you get the Lufthansa CMS, which is pretty innovative."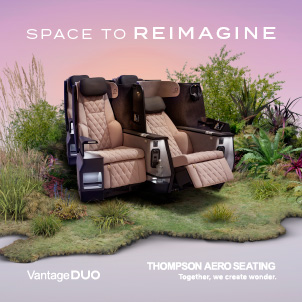 Though an important part of the Global Express project, the sideledges were, of course, only part of the completed effect. Flying Colours also introduced new Rockwell Collins (previously B/E Aerospace) seats and Tai Ping carpet, all in keeping with the olive theme.
Also, the owner's particular enthusiasm for high-quality sound led Flying Colours to fully leverage the new IFE's capabilities, with "four large monitors and a full speaker system. We also installed every software 'gizmo' available," says Gillespie. All-new cabin lighting, including mood effects, completed the package.
Speaking at the EBACE business aviation show in May, Gillespie confirmed that the Global's owner was extremely happy with the refurbished cabin and the spectacular exterior paint that Flying Colours also applied. "He was wowed when he first saw it. From our point of view, INAIRVATION was great to work with. As the launch installation there were inevitably challenges, but we delivered on time and on budget.
"Now we've completed the engineering and the launch installation, we can sell it as part of any Global maintenance package or interior update, including wood, seats, carpet and Ka- or Ku-band [connectivity] install, or air-to-ground for Gogo," Gillespie says. Essentially, INAIRVATION enables Flying Colours to offer a full package of customisable, high-end, off-the-shelf products at a reduced cost compared to completing all the manufacturing work in-house.
Flying Colours' second customer for INAIRVATION, another Global owner, is imminent. Meanwhile, the company is also offering the innovation to Challenger and Gulfstream operators.
Related Articles: