On the sidelines of last week's Paris Air Show, after converting 737 MAX orders to the double-stretched MAX 10 version, Malaysia Airlines CEO Peter Bellew sounded a remarkably positive note about the future of his six-strong Airbus A380 fleet — and about the superjumbo's future in general.
MAS' half-dozen A380s have struggled to find a place in his carrier's mainline fleet, and will be converted to dedicated charter use.
"The six of them will be dedicated to charter services, so the predominant market will be the hajj and the umrah, but they'll also be available for other ad hoc charter work, and we have already had enquiries from people who want to take one or two long-term," Bellew said in Le Bourget, noting that the project "is running a little bit ahead of where I thought it would be, to be honest. They come out of our scheduled fleet round about May-June next year. They'll be moved into an independent company with its own AOC."
"There's a lot of airlines out there that are interested even in longer-term operations," Bellew suggested. "There's a lot of people moving in the leisure sector, people that haven't got the list. Some of the Chinese operators are very capacity-constrained at the moment. There's a lot of people interested in that aircraft, but they don't want to make the huge investment it costs to step into a smaller fleet of it."
Despite arguments about overcapacity — particularly in the Middle East with softening demand to some key markets — Bellew said that, "on the hajj and the umrah charter work, that's developing quicker than we thought, and we've captured a lot of business already that I wouldn't have expected we would do, because the separate company isn't up and running yet. But we've already signed contracts in the last couple of weeks with operators to do a significant amount of work, some of it actually starting at the end of this year."
Malaysia Airlines' charter operation will offer some premium seating, Bellew confirmed to Runway Girl Network. "On the charter airline there'll be some business and mostly economy. The A380 is such a huge aircraft that you can do 630 seats at 33 inch seat pitch and have 20 or 30 business class seats."
In terms of product, though, "we don't know yet. The existing seats we have we could reupholster — the existing seats we have are beautiful, they're huge, very comfy," Bellew said.
But most surprising was Bellew's take on the future of the A380, which Airbus has been attempting to densify for the last 18 months or so, with new proposed winglets gaining a four percent fuel burn boost.
"The aircraft are not showing any signs of wear and tear at all," Bellew said of the MAS fleet. "The airframes are spotless. I think these A380s are going to be flying still in forty years' time, a bit like the 707s that are still flying in America, nearly 55-60 years later. I think the A380 will end up being like that."
Geopolitical and macreconomic forces are key to Bellew's predictions. "My own personal opinion is that renewable energy is really at a huge inflection point right soon, round about 2019-2020. You'll see the proliferation of renewable energy, autonomous cars, electric-powered cars. I think demand will level off for oil, and I think that maybe the next decade will be the golden decade for airlines. I think you could see the oil price levelling off at 30, 35 dollars per barrel for ten years, because the renewables are going to be an unstoppable force."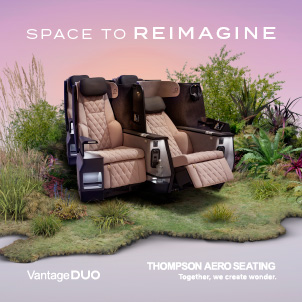 At that point, Bellew suggested, "you suddenly start seeing aircraft like the A380 and older 777s starting to make incredible financial sense because the fuel is not going to be the blocker in the utilisation of these aircraft. It's a fine aircraft — I know more about this aircraft than I would wish to know about anything in my life, and from what I know about it, it was incredibly well-built and possibly even over-specified at the time. I don't think anybody has used the aircraft properly. I think this nonsense of showers and apartments and snooker tables and bars is not what they were meant for. I think they were meant for moving 650-700 people 8-11 hours, and I think we've proved the case for that with this charter arm, and I think other people then will probably copy it in years to come, or scheduled airlines will get faith in it again."
Bellew's position about the world's largest commercial aircraft is rather reminiscent of the early Boeing 747, with its lounges, pianos and bars, which developed — thanks to the macro situation of supersonic air travel failing to spread beyond the Concorde niche — into one of the most successful aircraft of all time. In an atmosphere of doom and gloom about the A380's order book, Bellew's take is unusually positive for the superjumbo's future.
Related Articles: