Today's business aircraft passenger typically chooses from a proliferation of smart phone and tablet apps offering everything from cabin management system functionality to inflight entertainment options. Yet the humble moving map, projecting an 'own aircraft' image and ground track over the terrain below, remains enduringly popular.
Recognising this, Gogo Business Aviation now offers Rockwell Collins' popular Airshow moving map app to its air-to-ground (ATG) connectivity customers, adding further value to its expanding IFEC packages.
Here's how it works: passengers take out a free Rockwell Collins subscription and then download the Airshow Mobile 2 app onto their iOS or Android phones and tablets, via the Apple App Store or Google Play. A one-off charge, which varies according to Airshow options, is paid to activate the app on an aircraft.
Gogo Business Aviation's director of corporate Communications, Dave Mellin, says once the app is on a device, it works on any activated aircraft. "So if a charter operator has paid for the service on an aircraft, it will be available if someone's downloaded the app, and that's true for all passengers who've done so. You can have multiple people using the app on the same aircraft, on a mixture of iOS and Android devices."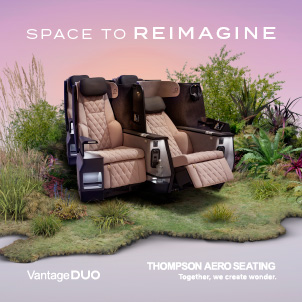 It seems logical that the app's usefulness be restricted to Gogo's North American ATG network, but… "The flight data it uses comes from the aircraft flight computers; it doesn't require an ATG or satellite network and therefore doesn't consume data or bandwidth," Mellin explains. "Airshow Mobile gets its flight and positional data directly from the aircraft.
"But it's important to note that flight data has to be passed to it. On the ground, data passes to Airshow after the onboard Gogo ATG unit has been powered on; the unit resets when the transition from APU to engine power happens, but is back online in about five minutes."
The Gogo ATG unit can be likened to the 'hub' or router common in many homes and offices. Operators routinely feed data from avionics and other aircraft systems into their routers for transmission to flight and maintenance departments, and the Airshow app taps into this information.
Mellin says: "Customers need a Gogo ATG 1000, 2000, 4000 or 5000 unit at software level 2.7. The Gogo ATG systems require specific ARINC labels to be connected [essentially, the unit needs to receive information from the relevant system via the correct interface]. Depending on the individual aircraft configuration, some rewiring might be required, but many units already pass the correct ARINC labels."
Gogo says the app appeals to passengers on larger aircraft, as a personal alternative to similar data available on large cabin monitors, but particularly to those using smaller aircraft. Given the diminutive size and weight of the ATG antenna, it's a popular means of delivering connectivity on lighter jets and turboprops, where a device-based moving map is a genuine value-add.
And that's not all. Airshow generates multiple viewpoints, including cockpit and head-up display, while 'points of interest pop-up panels', containing images and information relevant to features below, are also available.
Perhaps coolest of all and proof that Airshow Mobile 2 is more than a 'humble moving map', are the personalisation options. Harking back to a Minecraft-esque world of 'skins' and customisation familiar to the latest business traveller and those of the next generation, Mellin notes: "There are options for purchasable paint schemes and logos, so your airplane type and livery will appear within the app for a very personalised experience, even on a charter aircraft, as long as it has the service enabled."
Gogo doesn't share specific data on service uptake, but Airshow Mobile 2 is already available and Mellin reports: "It's very popular with our current customer base."
Related Articles: