Perhaps most surprising to me was how quiet it was. A steady breeze blew across the causeway at Cape Canaveral and other than a countdown playing on a handful of cell phones in the area, we heard nothing as the SpaceX rocket lifted off from pad 39A carrying the Inmarsat I-5 F4 satellite into orbit.
Whenever I've watched a satellite launch on TV or online, the roar of the engines has been contemporaneous with the rocket taking flight. But it does not happen that way in person, something I discovered on Monday as Inmarsat's guest at the Kennedy Space Center in Florida.
I watched as the towering giant lumbered off the pad, amazed that such a slow-moving, heavy ship would ever reach orbit. Mere seconds later it was moving too fast for me to track through the viewfinder of my camera. I put my equipment away and watched as the rocket sailed into space carrying the most recent installment of new communications hardware into space. In just a couple of minutes the rocket was no longer visible to the naked eye.
The most amazing part to me, however, came about 45 seconds after the nine Merlin engines at the base of the 70 meter (229 feet) tall rocket ignited: I finally heard and felt the power that comes from a rocket launch. It was intense, even 6 miles away from the launch pad. The sky crackled more than it roared. I understand from colleagues who watched at the press center, just under 3 miles from the pad, that their experience was even louder, a chest-rumbling wave of energy that washes over you. It is a difficult set of sounds and feelings to describe for those who have not managed to see it in person, but it is truly spectacular.
Some 30 minutes later the rocket successfully placed the satellite into geostationary transfer orbit, allowing it to transition to a geostationary orbit some 22,000 miles above the earth in the coming months. Once positioned it will be tested and, ultimately, readied for service as part of Inmarsat's Global Xpress network, providing Ka-band satellite connectivity to commercial aircraft (the Lufthansa Group went live just a couple weeks ago with GX, a service I got to see being installed and test in-flight earlier this year), ships and government needs.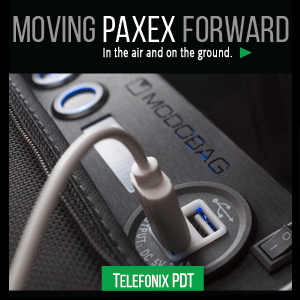 Just what the service will support remains a tad unclear at this time. Inmarsat CEO Rupert Pearce described the satellite's initial role both as an in-orbit spare (i.e. not actively serving customers at all), while also suggesting, "The most likely initial orbital slot will give it coverage of EMEA."
The EMEA region currently has the greatest demand from the aviation and government sectors (Inmarsat counts Lufthansa and Qatar Airways as GX inflight Internet customers) so it's no real surprise that EMEA is a focus, but the fact that a decision has not yet been made is slightly strange given that it is now headed towards that uncertain location.
For passengers the new satellite would not mean much of anything if it were to remain an in-orbit spare, but given the capacity needs of connectivity-addicted travelers, that is an unlikely outcome. When it enters service, it could simply be used to double capacity across a third of the globe or open access to new markets. India currently does not permit inflight internet service, for example, but many are hoping to see that paradigm change. That would likely require the ground portion of the satellite service to be located in India and Inmarsat could build such a facility for the F4 satellite.
Interested in learning more about the business behind the I-5 F4 satellite? Check out RGN Premium's coverage from earlier in the week:
Inmarsat provided hotel and airfare to RGN to aid in coverage of this event.