In emerging South American domestic markets dominated by two of Latin America's biggest carriers, LATAM and GOL, Brazil's Azul Linhas Aéreas Brasileiras and Chile's SKY Airline have prospered as fast-growing low-cost carriers even though growth in their respective national economies hasn't been smooth.
In an interview session conducted at the 37th Annual North America Airfinance Conference in New York, John Rodgerson and José Ignacio Dougnac, respectively the chief financial officers of Azul and SKY Airline, detailed how their carriers were able to take on dominant incumbents – and beat them.
While both carriers have relied on low unit costs and low fares to grow their national domestic markets enough to, first, let their large incumbent competitors tolerate their presences and then to let the two upstart LCCs grow quickly, Azul's strategy has differed from that of SKY Airline in one major respect. Where SKY's business strategy is that "we always do point to point and we utilize our [aircraft] assets as much as we can", to nullify incumbent LATAM's hub-and-spoke network, according to Dougnac, Azul adopted a connecting-network model from the outset.
"Point-to-point doesn't work in a massive country like Brazil," says Rodgerson. What Azul – the fourth carrier founded by serial airline entrepreneur David Neeleman – did was to introduce low-fare service to vast population catchment areas of Brazil that previously had little or no access to air travel at all.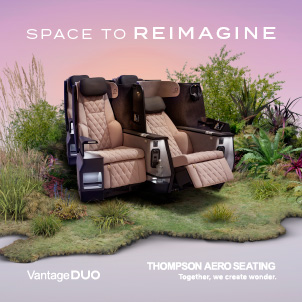 "Nine years ago in Brazil, there were only 47 million enplanements," says Rodgerson. "Last year, even in a deep recession, there were 90 million passengers. Azul will carry about 25 million this year. Our competitors were only serving the largest 40 cities – Azul serves 100 [Brazilian] cities. The pie has grown overall. We didn't steal traffic from our competitors – we opened up pockets in our country that our competitors don't even serve and we bring traffic to connect" at Azul's three domestic hubs – Campinas, Belo Horizonte and Recife.
"It's a very defensible strategy and it allows us to bring new traffic" into the Brazilian domestic and international markets, adds Rodgerson. Without Azul, "The market would only be 60 to 70 million passengers." When Azul began operations, choosing Campinas as its first base because the city not only had a sizable population catchment area of its own but it also was only 60 miles by road from the vast São Paulo market, "Campinas had 10 flights a day. Now it has almost 200. That's primarily Azul, which has a 98 percent market share."
In Chile, LATAM has a 70 percent domestic market share "and is very efficient and is growing on domestic point-to-point", says Dougnac. But SKY has taken "almost 30 percent of the domestic market", and is remaining nimble by adjusting its network to maximize aircraft utilization. Extensive use of IT and low fares have also helped it outrun the competition, which late this year will grow to include new Chilean LCC JetSMART, formed by Arizona-based investment firm Indigo Partners.
"One of the main differences [between SKY and LATAM] is our point of sale – 70 percent of our sales are through the Web," says Dougnac. "We changed our PSS (passenger service system) and made a huge investment in IT." Unlike LATAM, he says, "We can now provide most of our services via self-service," keeping ticket-distribution costs extremely low.
Fares are another key differentiator favoring SKY, according to Dougnac. "If you want to do a round-trip in the same day with LATAM, it charges its highest rate. We don't." SKY prices all its fares on a one-way basis, so a round-trip – even if both sectors are flown on the same day – costs only twice as much as the basic one-way fare. SKY has been particularly careful to cater to the Chilean domestic business traveler and has a special website dedicated to corporate-travel sales.
Fleet composition and utilization are also important tools for Azul and SKY, their CFOs believe. "In 2017 we have expanded 24 percent [so far] and we are planning 19 percent growth for the year," says SKY's Dougnac. "But we're doing it with the same amount of aircraft. We're changing our network and we're utilizing our assets more."
Today SKY operates 13 Airbus A319s and two A320s and serves the biggest cities in Argentina and Uruguay as well as blanketing the Chilean domestic market. But SKY plans to continue growing aggressively. Dougnac reveals that SKY will take delivery of six new A320neos in 2018 – all on operating lease, at least three coming from lessor SMBC Aviation Capital. In the next two years SKY plans to add 12 new aircraft; presumably all will be A320-family jets.
SKY uses operating leases to provide all of the aircraft for its fleet. "It's not a point [in time] to put an order in directly," says Dougnac. "We have a strong cash position but we want to remain stable, to go through the roughness in [economic growth in] Latin America."
Today Azul has about a 75/25 ratio of aircraft on operating lease to aircraft on financial lease, its preferred aircraft-ownership method, according to Rodgerson. However, Azul wants to adjust the ratio to about 50/50 "over the next couple of years". But where SKY Airline's fleet strategy relies on one aircraft family to maximize commonality efficiencies, Azul's fleet strategy differs drastically.
From the start, Azul decided to operate smaller aircraft than its competitors, in order to right-size its capacity for the new markets it was opening. Azul became the largest customer for the Embraer 195 and today operates 63, as well as 10 Embraer 190s. But fleet diversity was also important to Azul in tapping local markets of all sizes and in 2012 it bought TRIP Linhas Aéreas, Brazil's largest regional carrier. This gave Azul a large fleet of ATR turboprops and vast new domestic-network reach – though Azul quickly switched out TRIP's older-model ATRs for new ATR 72-600s it ordered. Today it operates 39 of the type.
"On 72 percent of our routes, we're the only airline serving them," says Rodgerson. "Our competitors have bigger aircraft, but having diversified fleet types distributes our traffic through Brazil and internationally. Nine years ago, LATAM and GOL had 95 percent of the market as a duopoly. But they [and now Avianca Brasil] overlap almost 100 percent with each other. They only serve the top cities."
"We had to grow quickly" in terms of fleet size, so Azul's competitors couldn't kill off the start-up by allocating a few aircraft and using below-cost fares to flood its fledgling network, says Rodgerson. "We raised $250 million in start-up capital and in five years we had almost 200 aircraft. Our competitors can't dedicate a significant amount of aircraft to sit on top of us."
Remaining privately owned was a key growth decision for Azul. This helped it attract as strategic investors United Airlines and HNA Group, which injected $100 million and $450 million respectively and have stimulated Azul's growth not only through their cash but by agreeing commercial partnerships with it. Azul has raised almost $1 billion in private equity in the past 24 months, according to Rodgerson. Another strategic relationship for Azul blossomed when it invested $100 million to be an equal partner in a joint venture which bought an 80 percent stake in TAP Portugal.
Its relationships with TAP Portugal and HNA Group have provided valuable outlets for aircraft that Azul suddenly found surplus to requirements in the past two years as a result of Brazil's plunge into deep recession. Azul quickly managed to meet TAP Express's urgent need to replace its aging Fokker 100 fleet by transferring nine Embraer 190s, nine ATR 72-600s and one Embraer 195.
Azul has now grown into a mainline carrier, agreeing orders and/or leases for 53 A320neos, 10 A321neos and five A330-200s, with which it began long-haul flights to Orlando, Fort Lauderdale and Lisbon. But Brazil's sudden deep recession made Azul realize it had overreached in agreeing in 2014 to lease five new A350-900s from ILFC. However, Azul's strategic relationship with HNA Group has come to the rescue: Rodgerson reveals HNA Group has agreed to take all five of the A350-900s instead.
Related Articles:
Featured image credited to JTOcchialini/CC BY-SA 2.0