Global Eagle Entertainment Inc. (NASDAQ:ENT) ("Global Eagle" or the "Company") and SkyLights today announced a strategic relationship to advance commercialization of video headset technology and immersive inflight entertainment (IFE) solutions.
Global Eagle, through its EIM distribution subsidiary, will provide SkyLights with award-winning content from its extensive, fully licensed film catalogue. The two companies will also explore current and next-generation virtual reality (VR) opportunities for IFE.
Global Eagle is the world's foremost supplier of satellite connectivity and content for the commercial aviation industry. SkyLights is an innovative enterprise that has developed a signature VR headset-based, entertainment solution for premium passengers. It enables them to enjoy 2D and 3D films, series or 180-degree content on a wide-angled cinema-style screen.
Earlier this year, the SkyLights Bravo Theater system was deployed on an exclusive fleet of private jets and France's XL Airways fleet of A330-300 and A330-200 aircraft. Early feedback from passengers revealed a 90 percent recommendation rate with average usage times of four hours per passenger.
"This is a total 'win-win' proposition for all parties," said Alexis Steinman, Global Eagle's senior vice president for digital media solutions. "SkyLights gains access to a broad portfolio of fully licensed films, including early-window, award-winning movies from our EIM portfolio. Global Eagle will also work collaboratively with SkyLights to bring to market immersive entertainment solutions that will give airline customers a competitive edge among premium and business passengers."
"This strategic partnership brings together our expertise in video headset technology and immersive media, and Global Eagle's unmatched connectivity and content solutions in the global IFE market," said David Dicko, SkyLights' CEO. "This will accelerate market penetration and help airlines offer their premium passengers an innovative IFE experience never before possible."
For a high-resolution image, visit: https://www.dropbox.com/sh/oj691lxbtphtesn/AAAOQR96unPfTaLT-E0ApL35a?dl=0.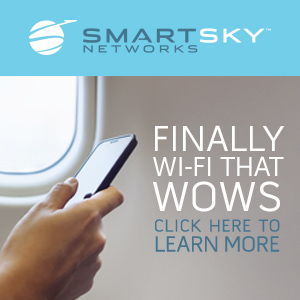 About Global Eagle
Global Eagle Entertainment Inc. (NASDAQ:ENT) is a leading provider of satellite-based connectivity and media to fast-growing global mobility markets across air, land and sea. Supported by proprietary and best-in-class technologies, Global Eagle offers a fully integrated suite of rich media content and seamless connectivity solutions that cover the globe. With approximately 1,500 employees and 50 offices on six continents, Global Eagle delivers exceptional service and rapid support to a diverse base of customers around the world. Find out more at: www.globaleagle.com.
About SkyLights
SkyLights is an American-French company founded in February 2015 by David Dicko, a former Air France executive and pilot, and Florent Bolzinger, a VR enthusiast with a PhD in Biomechanics. With their respective experience and expertise, they set out to transform the inflight customer experience with an outstanding entertainment solution. The company's strategy aims to partner with airline customer experience managers to help differentiate their business class and ultimately improve their Net Promoter Score with premium passengers. SkyLights has offices in San Francisco, Paris and Toulouse and counts 20 employees with expertise in: airline strategy, marketing and operations, content catalogue and licensing, software and hardware development.