Satcom Direct (SD) today announced its agreement with Astronics AeroSat to sell the FliteStream T-Series tail mount connectivity system through SD's global dealer network. The first of its kind in the business aviation market, the FlightStream T-Series solution employs the Panasonic Avionics global communications network to enable business jet passengers to watch live television and use the internet simultaneously through a single antenna.
"At SD, we have a holistic approach to the connected aircraft through innovation and targeted investment," said Jim Jensen, Satcom Direct chairman. "Our industry-leading products and services address the increasingly complex needs of flight departments, aircraft owners and operators to keep the aircraft and passengers synched with ground operations and business commitments over secure networks. This agreement with Astronics AeroSat will help us advance our vision of delivering the most innovative and effective solutions to the business aviation marketplace."
"Astronics AeroSat's best-in-class hardware, partnered with our SD dealer network, allows for a rapid market deployment on a global scale," says Chris Moore, chief commercial officer at SD. "By incorporating the Astronics AeroSat solution with our existing robust suite of products and services, we are creating a one-stop shop for hardware and value-added services. SD is in the unique position of offering genuinely complete solutions for the whole business jet ecosystem."
"Early recognition of the pent-up demand for comprehensive inflight connectivity was the impetus behind our FliteStream T-Series tail mount solution," notes Matt Harrah, Astronics AeroSat President. "Our collaboration with Satcom Direct expands our channel for providing FliteStream solutions to the global business aviation market. We're pleased to enter into agreement with SD, a global leader in delivering smart connectivity solutions for business jets."
More about the FliteStream T-Series system and the Panasonic network
Targeted specifically at business jets, the FliteStream T-Series system includes all required Ku-band system components needed to use the Panasonic Avionics global communications network to deliver high-speed internet and live television. The single antenna results in weight and fuel savings, and improves system efficiency. Astronics AeroSat's patented Rexolite lens technology increases efficiency and signal sensitivity by eliminating the need for a signal blocking feed horn.
Optimized network bandwidth, prioritized for business aviation through a scalable open network architecture, means Panasonic can easily meet current and future bandwidth needs. The system leverages the same network that has been successfully proven in commercial aviation and is active on more than 1,000 aircraft today. For example, passengers can now watch TV via an app and use the internet with their mobile devices. Additionally, this solution can be configured to play over bulkhead monitors.
Satcom Direct offers a variety of hardware—including the SDR and Optelity solutions— and value added services to complement the FliteStream T-Series capabilities and enhance the Panasonic network.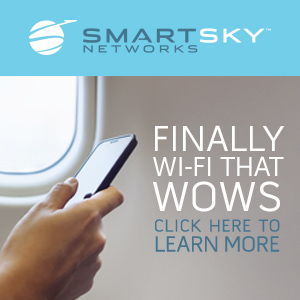 About Astronics Corporation
Astronics Corporation (NASDAQ: ATRO) is a leading supplier of advanced technologies and products to the global aerospace, defense and semiconductor industries.  Astronics' products and services include advanced, high-performance electrical power generation, distribution and motion systems, lighting and safety systems, avionics products, aircraft structures, systems certification and automated test systems.  Astronics' strategy is to increase its value by developing technologies and capabilities, either internally or through acquisition, and using those capabilities to provide innovative solutions to its targeted markets and other markets where its technology can be beneficial.  Through its wholly-owned subsidiaries, Astronics has a reputation for high-quality designs, exceptional responsiveness, strong brand recognition and best-in-class manufacturing practices.  The Company routinely posts news and other important information on its website at www.astronics.com
About Satcom Direct: Satcom Direct (SD) provides global connectivity solutions for business and general aviation, military, government, and heads of state aircraft, as well as operations in areas with connectivity limitations such as remote locations, large scale events, and disaster recovery. SD is a technology innovator. Since 1997, its teams have worked to advance the technology of connectivity, making SD the first in the marketplace to deliver numerous advancements and capabilities. The company is a premier Inmarsat Distribution Partner (including Jet ConneX). SD World Headquarters and primary operations center is in Melbourne, Florida, with additional office locations in the United States, Canada, UK, UAE, Switzerland, Hong Kong, Australia, Russia, Brazil, and South Africa. For more information regarding SD, visit www.satcomdirect.com, email sales@satcomdirect.com, or call U.S. +1.321.777.3000 or UK +44.1252.554.460.