Honeywell (NYSE: HON) announced the latest version of its GoDirect toolkit mobile application for airlines using Honeywell's JetWave connectivity hardware to connect to Inmarsat's global, high-speed in-flight Wi-Fi service, GX Aviation. This tool uses an iPhone or iPad application to help airlines easily troubleshoot any potential internet issues, allowing them to get their aircraft fixed more quickly than before so passengers can continue to enjoy high-speed inflight Wi-Fi anywhere around the world.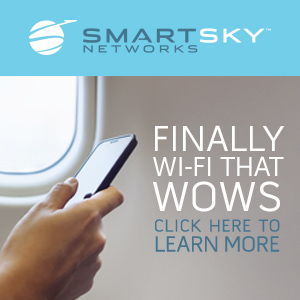 The updated GoDirect Toolkit application makes it easy for maintenance personnel to pull performance information and maintenance logs from the JetWave high-speed data system and provide those logs back to Honeywell's Network Operating Center for immediate analysis and diagnosis, all from an iPhone or iPad connected to an airplane that's sitting on the ramp.
The latest version of Honeywell's GoDirect Toolkit application will be available for airlines and maintenance providers starting this summer. Visit Honeywell at the Aircraft Interiors Expo, April 4‒6, in Hamburg, Germany, at stand #2E78 to learn more about Honeywell's Connected Aircraft products and services.
Supporting Resources
Honeywell (www.honeywell.com) is a Fortune 100 software-industrial company that delivers industry specific solutions that include aerospace and automotive products and services; control technologies for buildings, homes, and industry; and performance materials globally. Our technologies help everything from aircraft, cars, homes and buildings, manufacturing plants, supply chains, and workers become more connected to make our world smarter, safer, and more sustainable. For more news and information on Honeywell, please visit www.honeywell.com/newsroom.